SAFER brings students together to discuss important issues
120 students packed into one classroom to discuss a prevalent issue in our society: rape culture. A new club called SAFER, which is an advocacy and awareness group for rape and rape culture, has attracted students of all grades and genders to learn, discuss, and ask questions.
Julia Kohn-Brown, junior, is the creator and president of the club. Anna Del Savio, senior, and Annabelle Schwartz, sophomore, are co-administrators.
"SAFER has not only changed personal relationships and personal views, but it's creating a community around talking about [rape culture] and making it not so taboo," said Kohn-Brown.
Topics SAFER has addressed so far include dating violence, consent, street harassment, body image, and more. They meet every other Wednesday during lunch, totaling 18 meetings so far.
"We talk about consent and being respectful towards women. It's a place where people can talk about hardships that they've gone through," JamYang Dorjee, junior, said.
"I think it's really great that we're getting people all throughout our school of different grades to come together and talk about something that is not often wanted to be talked about," Mallory Clawson, junior, said. "We have an area for discussion, a safe place for people to come to with anything they want to talk about."
"SAFER is simultaneously a support system for survivors and people who are affected by these issues and also a place to educate those who don't know that much and have a desire to learn more," Del Savio said.
In a meeting, there is usually discussion, a form of media or statistics, and more questions. Occasionally there is a guest speaker and they talk about their work, plus how students can apply the learning into their daily lives.
"I think it's really great when people can feel comfortable enough to come to a community like SAFER and be able to get good feedback on questions rather than being yelled at or told that they are wrong," said Del Savio.
Although there have been large turnouts for meetings and many positive reactions, there has also been negative feedback and misunderstandings within the Cleveland community.
"There are a lot of misconceptions about SAFER," said Kohn-Brown. We don't hate men. Also, any opinion is an ok opinion. We accept various viewpoints and welcome everyone with open arms."
"I think people, especially males in the community, think that SAFER isn't a safe place for guys to be," Schwartz said. "I wish that everyone, no matter their gender, could understand that this is an issue that affects all of is. It doesn't take just women or just men to make change. We have to all work together."
"Every single person that goes to Cleveland is thought about in the process of SAFER to ensure we are making this a safe community for everyone to thrive," Kohn-Brown said. "In choosing SAFER, I think the important thing is we're making a safe community and school for everyone."
Leave a Comment
About the Contributor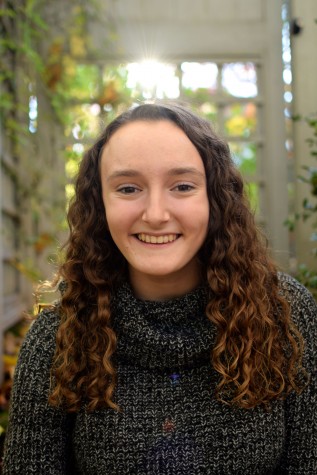 Emily Diamond, Editor-in-Chief
Grade:

Senior

Favorite food: 

Sushi

Favorite movie:

The Internship

Favorite Artist/Album:

The Shins