Sophie's Style Watch: Summer is here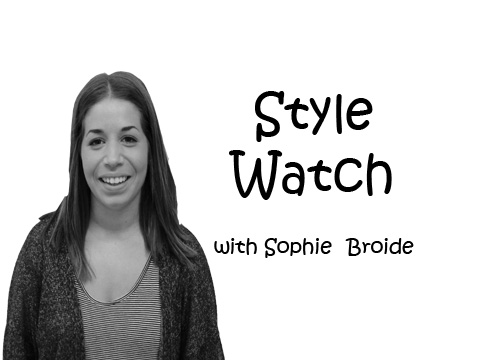 Hello Warriors! Sadly we have come to the final edition of Sophie's Style Watch. Since I am graduating this year, I won't be around next year to continue writing or taking photos for the newspaper. The end of the school year is always a bittersweet time; there is excitement as well as some sadness about concluding the year. I've had so much fun writing this fashion column and and learning more about the trends around Cleveland. So, with that being said, let's take a look at what students are wearing to school this month!
Since it's almost summer, I thought it would be nice to share some ideas of what kinds of outfits you can put together. It can be hard to switch back to summer attire after a long winter season.
I took a photo of two girls who are wearing summery outfits that are perfect for a hot day. The first student created a simple outfit with a black halter tank top, light wash jeans, and black high-top Converse. High-waisted mom jeans are popular right now, and go well with shirts that are more cropped. The second student paired a light tee with a printed wrap skirt and mary jane-style clogs. I like how she let her dark purple skirt stand out by wearing a lighter colored top.
There are lots of different people at Cleveland who each have their own unique style, and I have enjoyed capturing them throughout the year. I think one of the most important things to remember is that you should always wear something that you are comfortable in, something that expresses who you are, and something that will make you feel confident no matter what. To me, fashion is not about wearing clothing that is popular, but rather creating your own looks that stand out among the rest. I hope you have enjoyed reading these past 10 columns as much as I have writing them. And don't forget to stay stylish, Warriors!
XOXO, Sophie
Leave a Comment