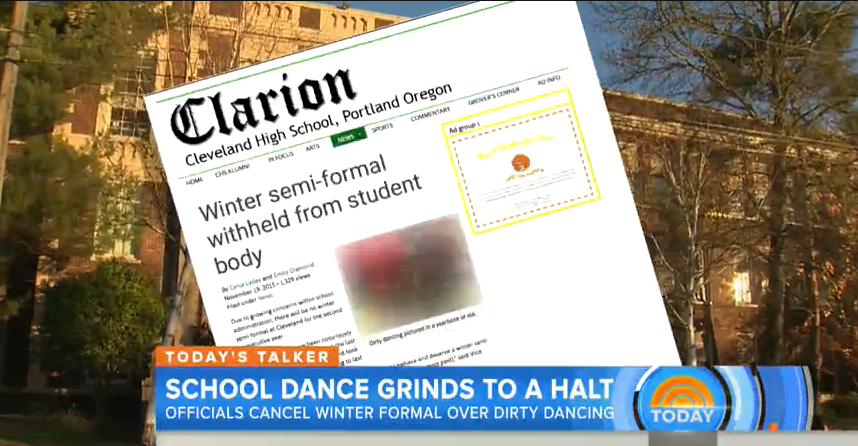 Today Show Website
After the Clarion released an online story Nov. 19 announcing that Cleveland would not be putting a Winter Formal on the school calendar, the news topic moved on to receive national and international coverage.
First the Willamette Week published the story. From there, KGW and KATU ran stories on Cleveland's school dance issues. With the quick speed of social media, the story took off, receiving coverage from around the world. The story's attention served as proof that although the Clarion is just a high school paper, the publication produces news that is applicable to the world outside Cleveland.
"It made me realize that even though we specifically cater to a relatively small audience, we can still break news that is topical and relevant to the entire population of the U.S. and even the world. It is super exciting for me because it validates me as a journalist and shows that I can break news that becomes this big," said Editor-in-Chief Cyrus Lyday, who co-reported the dance story.
Earlier this month, a Cleveland story about our school's homecoming court policies also received attention from secondary news sources.
"I think [the web provides] a great opportunity but it also carries a great deal of responsibility," Andy Sorensen, newspaper advisor, said. "We always try to be responsible to our local community, but now we see that there is an impact beyond our Cleveland community that wasn't there five years ago."
In total, the Clarion's winter-formal story was referenced on 80 national news sources, including the NY Daily and the Today Show, as well as two international news outlets in the UK and Ireland.
The Clarion highlighted three main factors the administration used into not adding a winter formal into the calendar: inappropriate dancing (based on observations at this year's Homecoming dance), financial risks, and delayed departure time for students. As the story continued to switch hands, the sole angle became dirty dancing, broadcasting Cleveland in a very negative light. The Today Show compared our story to the popular movie Footloose, in which a town bans dancing altogether.
"It's a snowball effect that ends up blowing things out of proportion in a way that doesn't feel relevant," said Camille Adana, activities director.
The media presented our school inappropriate dancing issues as a large crisis and controversy. The Today Show, along with many other news outlets, stated the dance was taken away as a punishment. In reality, the dance was never cancelled; it was never put on the school calendar to begin with.
"I think the media naturally spins it so it becomes a better story and people are more interested," said Lily Hillerns, senior.
Despite the media misconceptions, Cleveland can't deny the fact that school dances are a serious problem.  
"There is touching without consent, which is a big deal right now…The invisible stuff going on in the middle is very dangerous," said Adana. "[We didn't want to] risk that type of money to a venue with these types of outcomes," Adana said.
"I think this depiction is disgusting to me because I don't believe it is representative of our entire student body," said Jan Watt, special projects coordinator. "However, after learning about some of the incidents that occurred at this dance, it is now apparent to me that students have to make decisions about their own behavior and the safety of their peers."
Watt addressed the severity of Cleveland's dance problem and stated that it can not be ignored. "There needs to be a more honest discussion among the student body…This is an issue that needs to be addressed."