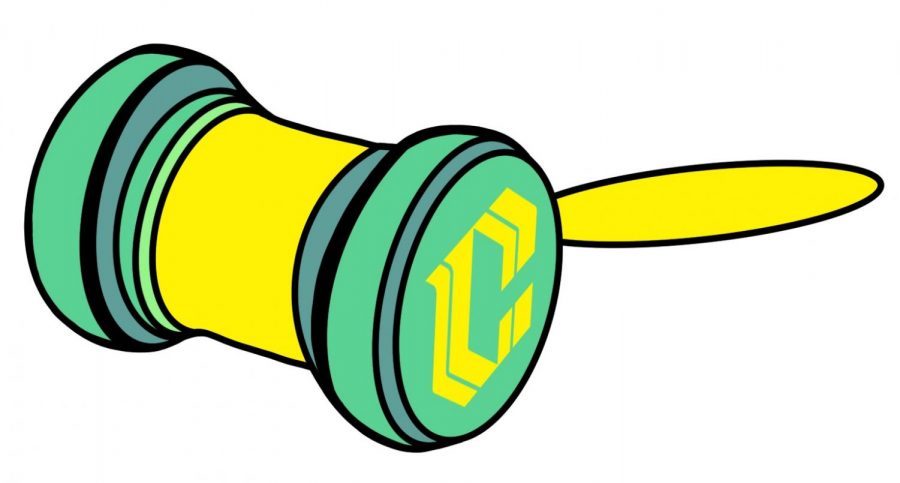 Becca Roso
The Cannibals, Cleveland's speech and debate team, claimed its 10th PIL title after a weeklong virtual competition ending April 10.
With 219 points, Cleveland easily outpaced second place Lincoln (156), Ida B. Wells (85), Roosevelt (22) and McDaniel. It was the largest PIL championship in 25 years due to the 133 entries, said Patrick Gonzales, the Cannibals head coach, who lauded assistant coach Matthew Parker for running a "flawless" event.
"Cleveland accomplished something that has never happened in my 34 years of coaching: we qualified a speaker in all 18 events to state," Gonzales said.
State will be held the week of April 19-25.
Below is a list of all the state qualifiers from the league tournament.
2021 District 13 State Qualifiers
Impromptu
Alt: Wilson. Noemie Veillette
3rd: Lincoln. Soren Westrey
2nd: Cleveland. Adley Schwartz
1st: Lincoln. Samantha Block
Extemporaneous
Alt: W –Preston Bushnell
3rd: C– Gus Glasheen
2nd L– Alyssia Menezes
1st: C– Eli Kruger
Policy Debate
Alt: C — Nichols and Ruhoff
3rd: C–Goldberg, King, and Chan
2nd: L — Faik and Leung
1st: L — Truknova and Leung
Lincoln Douglas Debate
Alt: L– William Gao
4th: L– Alex Wei
3rd: W– Preston Bushnell
2nd: C — Adley Schwartz
1st: L — Samantha Block
Parliamentary Debate
Alt: L — Menezses and Weesner
3rd: C– Starr and Robertson
2nd: W — Sottoway and Friesen
1st : L– Weesner and Adams
Public Forum Debate
Alt: L — Nahm and McCalla
3rd: W -Lo and Taylor
2nd: C – Kruger and Wittenberg
1st: C — Guite and Gonzales
After Dinner Speaking
Alt: W — Zoe Carver
2nd: C — Sophie Jacqmotte-Parks
1sr: C — Flannery Gonzales
Dramatic Interpretation
Alt: C — Sophie Evans
2nd : W — Cara Weathers
1st: C — Felix Cohen
Dual Interpretation
1st: C — Flynn Arnold and Erskine Wells
Humorous Interpretation
Alt: Roosevelt — Rose Davies
1st tie: W–Zoe Carver and C– Sabina Oldham
Literary Interpretation
Alt: C– Samuel Obrezha
2nd: C — Jenifer Espinosa dela Rosa
1st: C — Damaris Yu
Oratory*
2nd Alt: L — Bella Lehmann
*1st Alt: R — Audrey Nelson (goes to State)
*3rd: L — Tara Subramaniam (does not go to state)
2nd: C– Simone Guite
1st: L — Kate Bingham
Poetry Interpretation
Alt: R — Aili Deibert
2nd: L — Angel Liu
1st: C– Sabina Oldham
Program Oral Interpretation
Alt: C– Ellie Howard
2nd: L — Jina Lim
1st: C — Anna Sherwood
Prose Reading
Alt: C — Ellie Howard
3rd: L — Catherine Latimer
2nd: C — Stella Greenvoss
1st: W — Cara Weathers
Radio Commentary
Alt: L — Amy Henrickson
3rd: C — Flynn Arnold
2nd: L — Alyssia Menezses
1st: W — Hannah Lo
Student Congress
McDaniel: Zane Emerson, Lincoln: Tara Subramaniam, Cleveland: Liam Anthony. Wilson: Cedar Tatarek. Lincoln: Isabella Hartmann
Informative Speaking
Alt: L — Leo Westrey
3rd : C — Flannery Gonzales
2nd : L — Kate Bingham
1st: C — Stella Greenvoss
Sweepstakes points (State Qualifiers plus alternates)
McDaniel: —
Roosevelt: 22
Wilson: 85
Lincoln: 156
Cleveland: 219
Sweepstakes points (State Qualifiers without alternates)
McDaniel: —
Roosevelt: 6
Wilson: 67
Lincoln: 134
Cleveland: 196