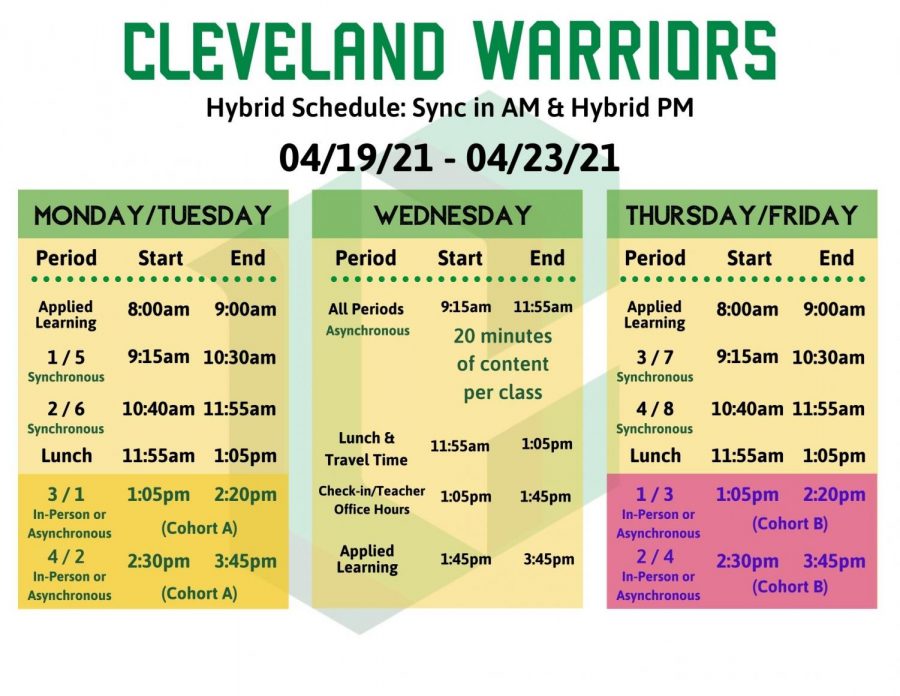 As we come closer to returning to the building for hybrid learning, students and parents have many questions around what is happening with protocol and scheduling. 
The Clarion asked students and parents on social media what they wanted to know about schools reopening. Principal JoAnn Wadkins then answered these questions for us. 
Concerning scheduling, cohorts have been organized using an algorithm to balance the number of students with social distancing limitations in mind. Each classroom has been measured and organized with social distancing in mind and room capacities have been established. Cohort A students will be in the building Monday and Tuesday while cohort B will be in building Thursday and Friday. 
The big thing to remember about scheduling is that all students, whether signed up for hybrid or Comprehensive Distance Learning (CDL), will attend synchronous class time virtually in the morning. The afternoon asynchronous time will be done in person for hybrid students and online at home for students who chose to remain in CDL. 
Another common question was this: can students change the option they initially selected on the back to school survey? Yes, students can change from hybrid to CDL or CDL to hybrid. However, changing from CDL to hybrid is more complicated because of the organization of cohorts. Students who initially joined hybrid, but who want to switch back to CDL full time, should reach out to Cleveland to make the change. 
As new information is released it will be sent to students and families as well as posted on Canvas, the school website, and @chspdx on social media.