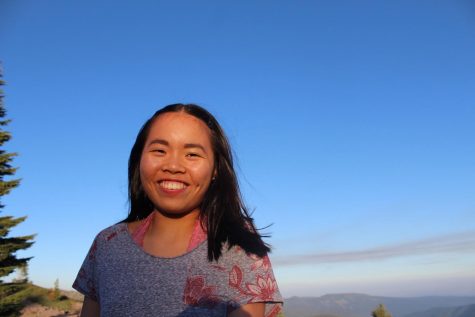 My name is Yanling, and I'm a junior at Cleveland. This is my second year on the Clarion, and I'm the co-anchor of the warrior update and online content editor. My favorite movie is
Crazy Rich Asians,
my favorite TV show is
Jack Ryan
, and my favorite food is soup dumplings.
Yanling Joslin, Reporter
May 28, 2020

Clarion in Quarantine

(Story)

May 27, 2020

Warriors in Quarantine: Senior Edition!

(Story)

May 10, 2020

Warrior Update: Quarantine Edition ep.2

(Story)

Apr 27, 2020

Warrior Update: Quarantine Edition! 4/27/2020

(Story)

Mar 02, 2020

Warrior Update March 2 – 6

(Story)

Feb 27, 2020

Students Vote For Rose Festival Princess

(Story)

Feb 24, 2020
Feb 19, 2020
Feb 09, 2020

Warrior Update February 10-14

(Story)

Jan 31, 2020

Warrior Update February 3-7

(Story)

Jan 16, 2020

Warrior Update Finals Week January 20-24

(Story)

Jan 06, 2020

Warrior Update January 6-10

(Story)

Dec 09, 2019

Warrior Update 9-13

(Story)

Nov 21, 2019

Warrior Update December 2-6

(Story)

Nov 15, 2019

Warrior Update November 18-22

(Story)

Nov 11, 2019

Warrior Update November 12-15

(Story)

Oct 24, 2019

Warrior Update Oct 28-31

(Story)

Oct 18, 2019

Warrior Update Oct 21-25

(Story)

Oct 10, 2019

Warrior Update Oct 14-18

(Story)

Oct 07, 2019

Warrior Update Oct 7-11

(Story)

Sep 24, 2019

Cleveland Football Defeats Franklin To Win Southeast Cup

(Story)

Sep 16, 2019

Warrior Update September 16

(Story)

May 30, 2019

WARRIOR UPDATE JUNE 3-7

(Story)

May 24, 2019

Cleveland Students Take Action Against Climate Change

(Media)

Apr 18, 2019
Mar 21, 2019

Did you "C" the New Logo?

(Story/Media)

Mar 21, 2019

Four Cleveland Alumni Awarded Distinguished 'Order of the Feather'

(Story/Media)

Dec 04, 2018
Oct 31, 2018

High Notes and High Hopes For Cleveland

(Media)

Sep 26, 2018

New Start New Art

(Media)