The Sexism Facing Our Girls Sports Teams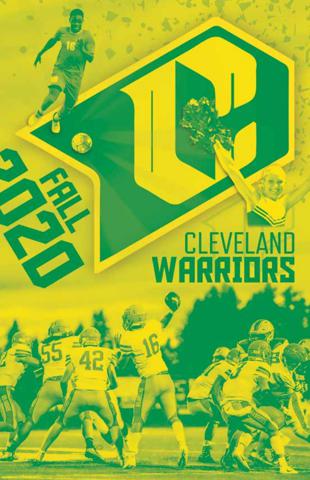 What people witness is that we have equality in our sports programs. But in reality, just because there are women's sports teams doesn't mean that sexism in our sports program isn't transpiring. The lackadaisical attitude shown on this issue is pathetic. And quite outdated. Why do we still have these issues, especially when the fix is so easy.
Let me finally uncover and spread the word about these inequalities with different teams. I have gathered this information through personal experience, and speaking with coaches and players.
If you attended a PIL game, you may have received a "Cleveland Warriors Fall 2021" sports pamphlet. If we were to take a look into the Cleveland archives and see the 2019 sports pamphlet, we would see the girls' soccer section showed the wrong picture for the junior varsity team and misspelled soccer. This is annoying that proper editing wasn't given to the girls' soccer section. But this was nothing compared to the atrocities found in the 2021 pamphlet. Why does it seem these issues are becoming more prominent?
The layout of the sports pamphlet has always been the same. It's important to point out the amount of pages each section gets. Volleyball gets four pages with two full pages of ads, no team pictures and each roster shown. Girls soccer has two pages with two full pages of ads, no team pictures and no JV2 rosters shown. Boys soccer has nine pages with only one full page of ads, the coaches' picture, senior pictures, and a team picture. There are also rosters for each of their sub teams. There is a clear difference, but the difference I personally feel is the most disrespectful is where the football team comes in. Before I explain their section, it needs to be mentioned that this year there were only enough players to make one team that plays in the junior varsity league. The football team has nine pages with three full pages of ads, coaches pictures, senior pictures, and a full team photo. I don't think there is any explanation needed of why each team does not get the same attention or recognition in the fall sports pamphlet. Pick a fall sports pamphlet up if you wish to view this for yourself.
This examination is not needed to see how unjust the pamphlet is. You don't even really have to open it. Just take a gander at the cover. All that is depicted is boys soccer, football and one cheerleader. This leads me once again to the conclusion that it's outdated. Looking at the cover just reminds me of how sports used to be viewed through a stereotypical lens. This imagery affects our community by giving us a subtle message that this is what high school sports looks like. And that rests there in our subconscious.
These problems need to be brought to light not to just complain about them but to show the simplicity of the solutions. There are so many levels where people are failing the girls soccer team, to be specific. It all starts with the scheduling. Personally, I think it's odd to schedule varsity boys games and girls games almost always at the same time, because it forces students, parents and fans to make a choice of which game to go to. This leaves one team with significantly less supporters at their game.
One specific scheduling incident really highlights the school's priorities. The homecoming game this year was well known to be a boys soccer game on Friday. This is usually a football game, but being a soccer game, there was a sad attempt to divide this with the girls team. In this they gave the girls team their own homecoming game. On a Monday. With barely any advertisement. This scheduling isn't a problem that the school can really control because it has to go along with other schools that the team plays within PIL and outside of it. The major issue is the advertisement.
How do you divide attention equally between both soccer teams? Just do the same thing for both teams. This means start announcing the girls' games and updates at the boys' games, like how the boys games are at the girls. Maybe try to include the girls' games in the freshman hall where boys soccer, football, and volleyball games are posted. Give encouragement to the school accounts on social media to not just make a flyer about the boys game. To start this, maybe inspire the leadership account to also post about the girls' games.
There does not just need to be equal promotion in our soccer program, but also equal opportunities. Powell Park is not a great place to have soccer practice. This is the site of the boys JV2 team's practice area. But I feel the small, muddy, grass area behind the Cleveland field is worse. And without surprise, this is where the JV2 girls end up having to practice. Although the quality of these fields is just a personal observation, it is very clear when going to Cleveland's turf field that the sliver of grass behind it isn't really soccer practice worthy. I applaud the JV2 team for suffering the use of it.
Volleyball is a strange case because the school doesn't have a boys volleyball team. Despite that, there are absurd inequity occurrences. One is how volleyball refs will give the players a red card if they change in the gym, which specifically could mean simply switching jerseys on the sidelines. This means they get expelled from that game and the next one. This is extremely harsh punishment for something that is allowed in male focused sports.
Maybe people knowing about these issues will put pressure on our school to make these elementary changes. There are always harsher methods to turn to to force a change. There have been lawsuits over less.
Last year there was a lawsuit from the Grant girls softball team. They sued the school and district because the boys team got an on campus turf field while they were forced to practice on an off campus dirt field. This is a direct Title lX violation. This law applies to many of the discrimination violations that I've written about. For more information about this lawsuit visit an article written in The Oregonian: Grant High softball coach, players sue Portland school district, alleging discrimination over off-campus dirt field.
Title lX protects from discrimination based on sex and includes athletics. I am sure the school and administration didn't mean to create these problems because they have genuine prejudice. But it's the internalized misogyny that sneaks up on people. I haven't confirmed that they haven't taken notice but I believe that the problem I am really trying to highlight is the fact that this has been going on for a while. And mostly, I'm just trying to bring it into light, so that the administration can have the opportunity to fix it.
It may be argued that if female athletes are so distraught about these problems, then why don't they bring them up to their coaches and other people in power? This seems logical, but this statement also brings up the sad understanding that in this day and age these problems even still exist. So much so that athletes have to bring it to the administration's attention for even the possibility that there might be change.
This is a new administration than that of past years. And from brief interactions with the new hires I believe they have the student body's best interest at heart. I hope they see this plea and are as angry about this as I am. They haven't been here long so in some ways it is reasonable that they haven't taken notice of these deep-rooted problems. But here is their chance.
In no way am I saying that these problems are being purposely caused or that they wouldn't be fixed if brought to the attention of the school administration. One of the main reasons I am writing this is to bring awareness to this issue – so change can happen from those who have the power to do so. But the true discrepancy is that these issues have to be brought to their attention and couldn't have just been seen and thus taken care of – or that they occurred in the first place without question. I don't know if people just generally didn't notice or just didn't care enough to think they warrant fixing. But either attitude is inexcusable to have in this day and age.
There are most likely even more inequalities that need to be addressed facing our girls sports teams. I hope all who read this hear this call to action. That means take any other sexist issues that you find in the school and report them to administrators. Know that any discrimination due to sex is a violation of Title lX and therefore warrants fixing.
View Comments (3)