Apple's watchin' out for your wrist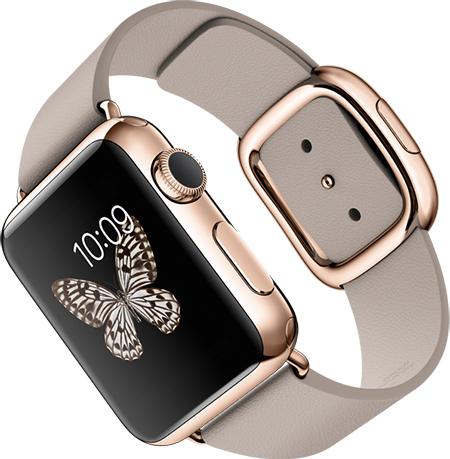 Apple believes that it can succeed in the smartwatch market where others like Samsung and Motorola have failed. In the past they have capitalized and improved upon the designs of previous products, like the smartphone and music player, and with the Apple Watch, they are planning to deliver something that is both small and simple to use and navigate, yet complex in its practicality and scope of features.
The Apple Watch is meant to be an extension of your iPhone — you can control many of its features and settings from the Apple Watch app. It has an estimated 18 hours of battery life so it "can be worn all day" and is "simple to charge at night," according to Apple CEO Tim Cook. The watch features a magnetic inductive charging system that easily attaches to the back of the device.
The smartwatch places a big emphasis on fitness tracking. You can use it to track your activity and movement throughout the day, set exercise goals for yourself, and monitor your heart rate with its special built in sensors that make it a formidable fitness assistant. It tracks the amount of time you are standing, moving, and exercising and displays it in a simple circular graphic.
For those less inclined to make use of the fitness features, the watch can do many things that you do on your phone, but without the inconvenience of taking it out of your pocket. Since the watch is attached firmly to your wrist, it can alert you to incoming notifications to your phone with just a light tap. The watch makes use of a haptic engine, which can provide a haptic feedback vibration to your wrist that is subtle enough to be not intrusive, but unmistakable so that it won't go unnoticed. Things like texts, emails, and other social media notifications will all prompt this subtle tap on the wrist.
Thankfully, Apple didn't try to include a keyboard on the watch, so you can send messages through voice dictation either as an audio message, or as text that the watch translates your voice into. The watch also includes a heartbeat sensor, which opens up what Apple calls one of the most intimate features on a device this size. People can "record" their heartbeat in haptic vibrations and send it to a friend or loved one, who will feel it on their own wrist.
The Apple Watch will be featured in three different models at varying prices. The Watch Sport, featuring an aluminum body and colorful elastomer strap, starts at $349, and the regular Watch Model, made of stainless steel and utilizing a classic metal buckle, starts at $549. There is also a premium "Watch Edition" model made of 18-karat yellow or rose gold, with prices ranging from $10,000 to $17,000. The watch became available for pre-order on April 10, and will be releasing on April 24.
Leave a Comment