Studs and Duds: Calipari rakes in the awards
Studs
John Calipari: Despite the Final Four loss to Wisconsin, Coach Cal and his Kentucky Wildcats had an incredible season. The Wildcats started 38-0 before suffering a 71-64 loss to Wisconsin on April 4. With 38 wins on the season, Calipari ties the most in a single season in NCAA history. He shares that record with only himself which he achieved in '11-12 and '07-08. On April 3, Calipari was named Coach of the Year by the Associated Press, and two days later, he was named the Naismith College Coach of the Year and it was announced that he would be elected into the Naismith Memorial Basketball Hall of Fame.
Cristiano Ronaldo: On April 5, CR7 and Real Madrid faced off against Granada. The outcome was ugly for the latter. Real Madrid took the match with a final score of 9-1, with Ronaldo scoring five of Real Madrid's nine goals and Granada having only 10 shots on goal. At the 30 minute mark Ronaldo scored his first goal of the match, then six minutes later he nets his second goal, and only two minutes later he nails his third of the day and an eight-minute hat trick. It was the fastest hat trick by a Madrid player since 1992. I guess when you're the best player in the world, anything can happen.
Duds
Andrew Harrison: During the media press conference following Kentucky's loss to Wisconsin in the Final Four, a question was directed at Wildcat forward Karl-Anthony Towns about Frank Kaminsky, Wisconsin's star and Player of the Year. After hearing Kaminsky's name, Harrison mumbled to himself, "**** that *****." But when you are speaking to the media, there is no mumbling to yourself. The microphone picked it up, and the media started to buzz. I understand where Harrison is coming from; he just lost one of most important games of his life on national television, and Wisconsin isn't exactly a team of the nicest kids. I'm no Frank Kaminsky fan, but Harrison needs to know that during the press conference is not the time to trash talk. He can say whatever he likes about Kaminsky when he isn't being recorded–when it isn't anybody's business except for his.
Social Media: After the NFL announced that the first female referee, Sarah Thomas, would be hired, social media had some ignorant comments. Says twitter user @JrichAlmighty: "Why lol it's a tough sport played by tough men." News flash Rich, she isn't playing in the game. Her job is to know the rules, and call the right calls. Says twitter user @devancantu: "No good can come of this." I disagree, only good can come of this. Refs were bad to begin with; getting new ones can't hurt the game.
Leave a Comment
About the Contributor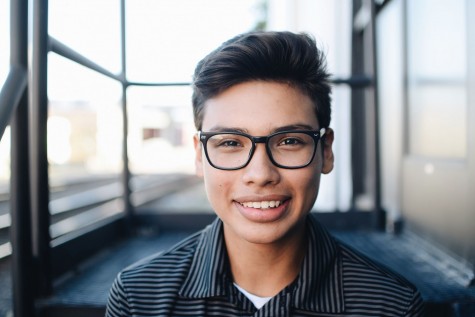 Cyrus Lyday, Editor-in-Chief
Grade

12



Favorite album?

1999 - Joey Bada$$

Favorite food?

Hot Cheetos

Favorite thing about Cleveland?

The people. Cleveland...