NFL Season Recap 2022-23
The 2022 NFL season recently ended in Glendale, Arizona, with the Kansas City Chiefs defeating the Philadelphia Eagles 38-35 to win Super Bowl LVII. The season featured several milestones and important scenes, which are mentioned about in this article below:
Seahawks are surprise contender while Broncos struggle
On March 16, 2022, the Seattle Seahawks traded Russell Wilson to the Denver Broncos for a haul of five draft picks and three players: Drew Lock, Shelby Harris, and Noah Fant. While the move wasn't extremely shocking given Wilson had been voicing dissatisfaction with the Seahawks organization and his play had been starting to decline, many Seahawks fans were saddened by the trade of the former Super Bowl Champion. Two weeks later, eight time Pro Bowler and former Seahawk linebacker Bobby Wagner signed with the Los Angeles Rams after Seattle released him on March 9. With the releases of Wilson and Wagner, Seattle lost the last two members of their 2013 Super Bowl championship team.
Many football commentators and fans predicted Seattle would have the worst record in the league. It seemed to be a logical prediction, as Seattle was starting a career backup quarterback in Geno Smith, and football experts continued to voice concerns about the Seahawks' offensive line and defense. There were also people voicing that Seattle's head coach Pete Carroll should be fired or retire, since he was 71 years old at the start of the season. The Broncos, on the other hand, were predicted to be a top contender because of their improvement at quarterback, top tier defense, and new head coach Nathaniel Hackett, who led the Green Bay Packers to be one of the top scoring teams in the NFL three straight years. It seemed as though Seattle would have a while to get back to the playoffs, while Denver would be a perennial contender over the next five years. Fans were excited for the season, where Wilson began his career in orange by traveling back to Seattle to take on his former team on the Monday Night Football opening game.
The Seahawks opened the season in a game they weren't expected to win. Geno Smith was expected to falter against the stingy Denver defense, and people believed that Wilson would expose his former team's defense. It came down to the wire, but Seattle pulled off a surprise 17-16 victory after a missed field goal in the final seconds, questionable coaching decisions by Hackett, and relatively mediocre play from Wilson. Smith, who had a strong performance (23-28, 195 yards, 2 touchdowns), was emotional in his postgame interview, saying, "They wrote me off, I ain't write back though."
The surprises continued for Seattle. It came down to the final week of the season, but with a 19-16 win in overtime over the Rams, the Seahawks returned to the playoffs. Despite losing their wild card matchup to the San Francisco 49ers 41-23, Seattle far exceeded critics' preseason expectations. Familiar faces like Tyler Lockett and DK Metcalf were key faces, as well as rookies Tariq Woolen, Coby Bryant, and Kenneth Walker III. However, the biggest reason for Seattle's success was Smith. He had the best season of his career ever, and for his sudden resurgence, Smith was awarded the NFL Comeback Player of the Year.
On the other hand, Denver had a season to forget. Despite the Broncos' defense performing very well, Wilson and the Denver offense were last in the league in scoring, and near the bottom in many other offensive categories. Head coach Hackett didn't even last the whole season: he was fired two weeks before the end of the season after a series of lackluster performances and questionable clock management. Overall it was a season of promise for Seattle, who finished 9-8, and one to forget for Denver, who finished 5-12.
Brock Purdy: 49ers quarterback of the future?
The San Francisco 49ers were expected to be a Super Bowl contender in 2022 after narrowly losing the NFC championship to the Los Angeles Rams. Fans were excited to see their sophomore prospect, quarterback Trey Lance, who was a top prospect because of his athleticism. Lance had a slow start, as the Niners lost their season opener 19-10 to the lowly Chicago Bears. In the next game against Seattle, Lance suffered a season ending ankle injury. San Francisco returned to a familiar face under center in quarterback Jimmy Garoppolo. Although Garoppolo has led San Francisco to a Super Bowl and a NFC Championship game appearance, his play has been relatively mediocre and doesn't show up much on a stat sheet, which is often why the 49ers have struggled against top NFL quarterbacks. Garoppolo kept San Francisco in the middle of the pack, but their 4-4 record at the bye week was not what fans wanted.
Behind steady play from Garoppolo, San Francisco won their next three games to move up to 7-4. But injuries struck again when Garoppolo went down in Week 13 with a foot injury. The reins at quarterback went to the next man up, rookie quarterback Brock "Mr. Irrelevant" Purdy, the final pick in the 2022 NFL Draft. Suddenly the Niners' playoff chances seemed to be decreasing, but Purdy performed efficiently, going 25-37 with two touchdowns and one interception. Purdy proved his performance was no fluke when he beat Tom Brady and the Buccaneers the following week, becoming the first quarterback to beat Brady in his first career start. The 49ers won their final six games under Purdy, and suddenly everyone was taking notice of Mr. Irrelevant.
In his playoff debut, Purdy performed excellently in a 41-23 win over the Seahawks, going 18-30 with 332 yards and four total touchdowns. The 49ers won their next matchup over the Dallas Cowboys, 19-12, even with a bad performance from Purdy. Fans were excited about the possibility of Mr. Irrelevant playing in the Super Bowl, but like the quarterbacks before him, Purdy fell victim to injury. In the NFC Championship against the number one seed Philadelphia Eagles, Purdy tore his ulnar collateral ligament (UCL), and the 49ers had to resort to 36-year-old journeyman quarterback Josh Johnson, who didn't perform well before he then got hurt. San Francisco put Purdy back in, but because of his injury, he could not throw the ball more than 10 yards, and a weak 49ers team fell 31-7 to Philadelphia. Purdy will miss significant time because of his injury, but fans are looking forward to his return.
Final year of Brady's career
On Feb. 1, 2023, Tampa Bay Buccaneers quarterback Tom Brady announced his retirement from the NFL for good. Brady announced his retirement after the end of last season, but unretired just 40 days later to return for his 23rd season in the NFL.
The season was a rocky one for Brady and the Buccaneers. In October, Brady and his wife, supermodel Gisele Bundchen, announced their divorce after 13 years of marriage. Brady had an excellent season, breaking his own record for single season completions, and breaking NFL records in game winning drives and playoff completions. Brady's stellar individual play did not benefit Tampa Bay; they finished 8-9, giving Brady his first losing season as a starter.
Even with their losing record, Tampa Bay made the playoffs as a result of playing in the weak NFC South division. They opened with a wild card matchup against the Dallas Cowboys, a team Brady had been successful playing against with a 7-0 record. Brady threw for 351 yards and two touchdowns, and Cowboys kicker Brett Maher missed four extra points, but Dallas came out with the 31-14 victory.
Two weeks after the loss to Dallas, Brady announced on social media that he was retiring for good, stating that "he wouldn't change a thing about his career." Brady's post-NFL future still remains in football, as he accepted a 10 year contract with FOX Sports worth $375 million to become a commentator for their NFL coverage.
Brady is considered the greatest quarterback of all time by almost everyone, and he holds many records and accolades. These include seven Super Bowl championships, five Super Bowl MVPs, three NFL MVPs, and 15 Pro Bowl selections, and NFL records for wins, winning percentage, touchdowns, and passing yards. Most of all, Brady has been the face of the NFL for over 20 years, and this generation of NFL fans have never experienced the league without number 12.
Hamlin's survival is an inspiration for the NFL world
The Monday Night Football game on Jan. 2 was expected to be an exciting affair. It featured two of the best teams in the AFC, the Buffalo Bills and the Cincinnati Bengals, and their star quarterbacks Josh Allen and Joe Burrow. However the game was remembered for the tragic incident that caused the game to be stopped, and the aftermath of the incident.
Midway through the first quarter, with the Bengals leading 7-3, Cincinnati receiver Tee Higgins caught a pass near the middle of the field and was tackled by Bills safety Damar Hamlin. It was a routine play that had been seen thousands of times. After the play was over, Hamlin stood up momentarily before passing out and collapsing backwards. He remained down while trainers and paramedics attended to him. Hamlin had gone into cardiac arrest, and he received CPR and oxygen. Hamlin was then taken off the field in an ambulance to the University of Cincinnati Medical Center, where he was placed on a ventilator. Players from both teams prayed for Hamlin as he was taken off the field.
Hamlin remained in the hospital for several days following the game. Eventually he regained consciousness and the ability to speak. The first thing he asked his doctor was "Did we win?" to which the doctor told him, "You won the game of life." He was flown back to a hospital in Buffalo a week later, and was then released. We don't know if Hamlin will play football again, but the greatest news is that he is still alive.
The NFL world united around the Buffalo safety following the game. Fans gathered outside the medical center in Cincinnati to support Hamlin, and the Bengals' stadium was lit up blue to honor him. All 32 NFL teams changed their profile pictures on Twitter to Hamlin's jersey, and individual players sent out prayers and condolences to Hamlin. But the biggest impact was on Hamlin's charity, the Chasing M's Foundation. Hamlin started the foundation in his hometown of Pittsburgh, Pennsylvania to support youth through toy drives, camps, and other activities. His initial goal was $2,500, but the number rose to over a million dollars following the game, with donations from fans, coaches, players, and owners. Currently the foundation has raised over $9 million dollars. The reactions after Hamlin's collapse show how the world can make a positive impact out of a terrible situation.
Will the Chiefs become the next dynasty?
On a slippery field in Arizona Feb. 12, the Kansas City Chiefs claimed their second Super Bowl trophy in four years with a 38-35 victory over the Philadelphia Eagles. Kansas City came back from a 24-14 deficit at halftime to beat a tough Philadelphia defense. Now it's time to look at the future for Patrick Mahomes and the Chiefs, and see if they can continue to collect trophies for coach Andy Reid.
The Chiefs have already been picked by the bookies in Las Vegas to win the Super Bowl next season. No team has won back-to-back Super Bowls since the Patriots in 2004 and 2005, but the Chiefs seem to be up to the task. With seven consecutive AFC West championships and five consecutive AFC championship game appearances, no one is doubting Kansas City's postseason success. They also have the current Super Bowl and NFL MVP Patrick Mahomes, who is also the best quarterback in the league, as well as the best tight end in the league in Travis Kelce.
There were people doubting Kansas City at the beginning of the season. With the offseason trade of receiver Tyreek Hill to the Miami Dolphins, critics thought that Mahomes losing the speedy Hill would significantly impact Kansas City's offense. But the critics ignored one thing: you don't doubt Mahomes and Kelce. With his postseason performances over this season and previous years, Mahomes has shown that he is head and shoulders above his quarterback competition. And Kelce, who has cemented his place as the best tight end in the NFL, is looking to take Rob Gronkowski's place as the best tight end of all time. From watching Kelce and Mahomes, one thing is present to every NFL defense: if you think you can stop them, you're wrong.
In my opinion, the thing that separates the Chiefs from the rest of the NFL is their young core, which was a big factor throughout the season for Kansas City. Rookies like George Karlaftis, Isaiah Pacheco, Skyy Moore, and Trent McDuffie were all contributors to the Chiefs' Super Bowl Run, as well as second-year players Creed Humphrey, Nick Bolton, and Kadarius Toney. The best thing about these players for Kansas City is that they will only continue to improve. General manager Brett Veach has put together an underrated and fearsome young core, and he will only continue to make the Chiefs better.
Leave a Comment
About the Contributor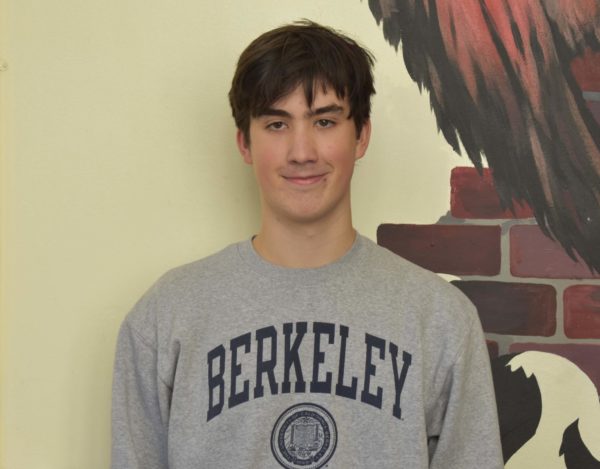 Rio Madrone, Sports Editor
My name is Rio Madrone and I am a junior at Cleveland. This is my 2nd year on the Clarion, and I work as the editor for the sports section. I enjoy watching...