Emily Welch Crowned Rose Princess
Cleveland made history Thursday, March 23, when Emily Welch was crowned Rose Festival Princess, marking the first time in the school's history to have two princesses in the same graduating class.
Zinnia Sirokman, last year's princess as a junior, crowned Welch at a ceremony at the end of the school day as supporting students and families gathered together to watch and cheer.
Clutching her bouquet of flowers from the student body and administration, and newly crowned, Welch thanked a number of people in her acceptance speech, including the student body, her friends and family who took time off work, the people who helped her with her dress and hair, her teammates and coaches. "I appreciate you all!" she said.
Welch has plans to head off to a four year university next fall to study nursing and explore other subjects through a liberal arts program. Her career goal is to become a travel nurse or, specifically, a pediatric nurse to work with children.
Welch enjoys playing sports and throughout her high school years she's been a member of the Cleveland swim, soccer, tennis and cross country teams. She is also co-president of Cleveland's Red Cross club.
Outside of school activities, Welch enjoys exploring the outdoors, snowboarding, and playing musical instruments like the piano and guitar. She also works as a lifeguard and swim instructor, where she loves interacting and working with children of all ages.
Welch's proudest accomplishment of her high school career is completing the full IB Diploma.
"It has allowed me to develop into a critical thinker to create my own educational path that challenges me and helps me unlock my full academic potential," she said.
She is specifically proud of her completion of the 4000 word extended essay, where she chose to focus on the topic of how reincarnation beliefs affect Buddhist views on abortion.
The Grand Floral Parade is Welch's favorite Rose Festival event. As a little girl, she had such a magical experience at this event. Her family would set up a picnic blanket along the curb and watch all the bands and floats go by. She fondly remembers practicing her princess wave throughout the entire show. Now that she is older, she still appreciates the magic of the parade as it brings the community together.
Claire Yeates, the other candidate for Rose Festival Princess, plans to double major in English and history and minor in music performance at Brigham Young University next fall.
Since she was four years old, she had big dreams of becoming an author. This goal started when her older brother overheard her narrating the lives of her toys and informed her that she should pursue writing and become an author. Since the beginning of the pandemic, she has completed first drafts for multiple novels. She is also weighing her options as she has interests to pursue a career in music as well as visual arts or history and keep being an author on the side.
Yeates spends a lot of her time with music and is involved in multiple choir groups, one including the Cleveland Diaries. She is involved in the full IB diploma program, the cross country team, the Rose Festival court, the National Honors Society, the Red Cross club, and is also a National Merit Scholarship finalist.
Outside of school activities, Yeates takes part in the Portland Metropolitan Youth Symphony as a principal cellist, and the Aureum choir. She also plays the piano, organ and viola, and she writes and paints. Most of her art centers on her novels, including characters, maps, and covers.
Yeate's proudest moment in her high school career was this year's winter choir concert. It was her second winter concert in person and her first time singing tenor for all songs.
"The concert felt unusual due to having a substitute choir director, and then on the 12th, our school had a shooting, deeply affecting us all, but we decided to have the concert anyway," she said. She enjoyed singing with "alumni, middle school choirs, and my fellow choir kids." Considering the tragedy and stress of the week, she had fun and felt proud of everyone for doing so well.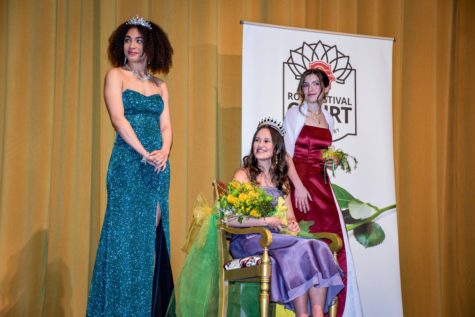 The Starlight Run is Yeate's favorite Rose Festival event. Throughout her childhood, she completed races, running little 1Ks to completing 5Ks as she grew older. She enjoys running and loves how the festival hosts a special 5k where you can run in costume.
Last year's Rose Princess, Zinnia Sirokman, shared that her experience was very special to her. "Since I was a kid, I have always dreamt about being on the court and I finally made that wish come true."
Sirokman got the chance to volunteer, assist in living facilities and learn more about the history of Portland. A highlight from her year as princess was getting to meet all of the princesses for the first time.
"It's truly a once-in-a-lifetime experience," Zinnia shared and recommends this opportunity to anyone who is eligible.
Students are encouraged to see which school princess will be crowned queen at the coronation on June 6.
Leave a Comment