Artist Favianna Rodriguez headlines PPS Climate Summit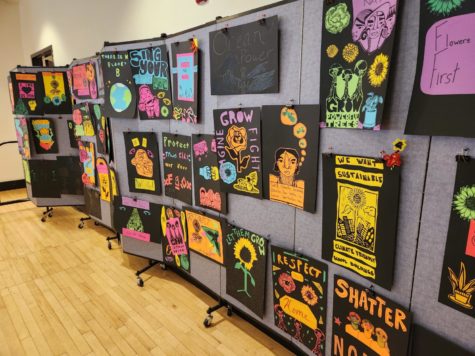 On April 24, PPS climate justice coordinators held a climate summit to "Celebrate everything climate related in PPS." The summit featured a student panel, arts and crafts and even a tour of the brand new PPS electric buses that were recently unveiled.
The most memorable event however was the keynote speaker, Favianna Rodriguez, who spoke about her experience with climate justice and how she was impacted as a person of color by climate change. Rodriguez is an "interdisciplinary artist, cultural strategist and entrepreneur" who has won multiple awards for her work around immigrant detention, racial justice and cultural organizing.
In her speech, Rodriguez discussed how she believed artists must be at the forefront of the climate movement, saying, "…No, art is not nice, art is a necessity. We absolutely need stories that are going to help people think differently."
This theme of how artists must be the people leading the climate justice movement was central to Rodriguez's speech, and afterwards, the summit made posters together to help illustrate how to best deliver a message to the people in charge.
Afterwards, an Oregon Green Schools Student Voices Panel was held by Shiva Rajbhandari, JJ Klein-Wolf, Adah Crandall, Phoebe Jared, Sariah Albers and Ellie Weiner, who discussed their experiences with climate justice, as well as how they got and stay involved in the movement and how it has impacted their worldview.
The summit hosted over 250 students representing nine out of the 11 PPS High Schools, plus a few non PPS high schools. Overall, the summit was a success, and exactly what it planned to be: a celebration of the progress that PPS, Portland, Oregon, and even the United States as a whole has accomplished towards the goal of climate justice.
Editors Note: This article also appeared in the May Sustainability at PPS Newsletter.
Leave a Comment