Gwen Frost crowned city Verselandia champion
A microphone and her mind. Those were the only items needed for senior Gwen Frost to earn first place at Verselandia, a slam-poetry competition for PPS held on Monday, April 20 at the Newmark Theater.
After the competition, Frost said she felt like "a goldfish" because she "couldn't stop smiling."
"I was in a state of pure shock," said Frost. "I never expected to win the entire contest."
Starting in 2012, Cleveland has had many finalists in Verselandia, including a second and third place finisher. However, this year marks the first time a Cleveland student has received first place.
There was a multiple-step process to be able to perform in the final round of Verselandia. First, Cleveland held its own slam poetry competition, where 12 people performed. After two rounds, Cleveland judges chose the top two students—Frost and Maiya Coleman—to proceed to the citywide competition.
Every school in PPS sent two students to Verselandia, amounting to 22 total. Each contestant recited one poem in front of a crowd of nearly 1,000 people and was assessed by five judges on a 10-point scale. The 10 students with the highest scores qualified for the second round of presenting poems.
Frost earned the top score for both rounds of the competition, resulting in the highest composite sum.
Her first and highest-scoring poem, called "A picture of a house," was about the idea that a picture can have contrasting meanings for different people. Frost used a juxtaposition of sensory words to describe a photograph of her house, including deep emotions the photograph provoked. After writing this poem in Mr. Hillis's I.B. English class a few weeks before the Cleveland competition, Frost decided to enter Verselandia.
"I really wanted to speak out about this poem," she said.
Frost's second poem, titled "God Creating Fire," was about myriad bad relationships she has had with boyfriends and father figures. She compared a burning house to a person in an abusive relationship, alternating between both sides of the metaphor.
"The poems were dynamic, powerful, and raw," said Hillis, Frost's English teacher. "She is incredibly talented with language, communicating with other people, and commanding an audience."
"Gwen's performances were very deep and emotional, but also inspiring. She is completely deserving of this title," said Bryan Smith, library media specialist who coordinates Cleveland Verselandia.
After winning, Frost received multiple job opportunities, as well as a free macbook pro. She was offered to do independent film study with some of her poems, and she is currently in contact with a publishing company that wants to print 1,000 copies of a 40-100-page book of her poetry.
Although Frost was poised, confident, and inspirational onstage, she remembers feeling extremely nervous prior to the performance.
"I have never felt stage fright until I did Verselandia. I've done speeches, talked to crowds of thousands, sang in front of people, but nothing was comparable to this…Verselandia was nerve-wracking because it was like reading my diary to a thousand strangers," she said.
This was Frost's first time seeing and participating in slam poetry, so she went into the competition without previous background or expectations.
"Coming into it, I didn't know if I would be theatric enough. My poems weren't about rhyming; they were about raw emotion, symbolism, and metaphors," she said.
Instead of many students who write poetry about society or injustices, Frost says she uses poetry to express herself, process her thinking, and resolve internal conflicts.
Channeling her own experiences into writing helped Frost stand out amongst other talented poets. She advises future students interested in Verselandia to write about a topic that is unique and different from the expectation.
"Anyone can stand up and talk about feminism or racial issues in America," she said. "But no one can stand up and tell your story."
Leave a Comment
About the Contributor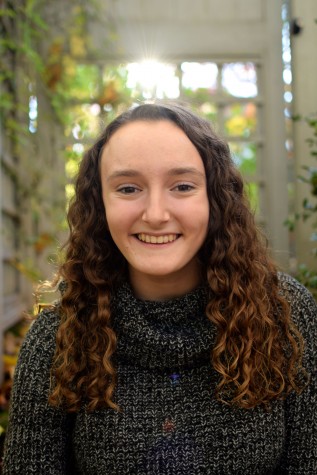 Emily Diamond, Editor-in-Chief
Grade:

Senior

Favorite food: 

Sushi

Favorite movie:

The Internship

Favorite Artist/Album:

The Shins