Cannibals Win Fourth State Championship
Cleveland's speech and debate team, the Cannibals, conquered the state championships held Thursday, April 23 through Saturday, April 25 at Western Oregon University to take their fourth win in a row, with a 6A Sweepstakes of 108 points.
"There has been no other school in the history of the state to run the table four in a row with the exception of Ashland in the '90s," said coach Patrick Gonzales with a smile on his face, taking in the glory of the debate team's wins.
Senior Keegan Williams-Thomas and junior Teddy Wyman were the highlight of the tournament with their win in the category Lincoln-Douglas debate. This surprised many, considering the fact that only one person could win. "What it's called in the speech and debate world is a closeout," said Gonzales, clarifying the wins of Williams-Thomas and Wyman. "There were 37 debaters that started the state championship and they went all the way down through the octa finals, quarter finals and semifinals, and the last two debaters remaining were from the same school which never happens. Keegan and Teddy were both co-champions."
"I thought it was pretty cool, because I have to beat a few kids who were probably better than me to get there, and I was really happy that we both got it too, because we've been kinda working together on a lot of our cases and stuff, and we support each other through the rest of the year," said Wyman of winning with his buddy Williams-Thomas.
A round of applause to Henry Harding and Emily Erickson on their win in Public Forum Debate, third place Michaella Joseph in Prose Reading, third place Roselin Eh in Literary Interpretation for beginning English language learners, second place Evan Billups in Expository speaking, and another congratulation to Williams-Thomas and Wyman for getting second and third place in Extemporaneous speaking.
Speech and debate is not like being in a sports environment. They're in a yearlong season. Unlike sports, speech and debate allows students to join the Cannibals team whenever they want, meaning that kids can have time to decide whether or not they would devote their time after school and during school to be a part of the crew. This may be why the team has around 117 kids altogether. Next to track, it's the most competitive activity at Cleveland.
"We start at the bottom, and then the kids push to be better and better and better, and by the time we get to the district final, I can only take 28, 25 of those 117 so it's only the best kids at the top, and we get into the state championship qualifying kids from district. They're very good," said Gonzales.
When asked how he felt about Williams-Thomas and Wyman's win, Gonzales had this to say about how they have grown the past few years: "Keegan and Teddy both follow parallel paths. They were good as freshmen, saw some really good signs that they would do well, and they would do well in state early in their careers as freshmen or sophomore year, but as we start to move along, they did better and better. Keegan qualified for state tournament four years in a row, which only 20 kids in the state are able to do. Keegan, and Michaella Joseph are among those 20. They work hard, they think a lot about the topics, they're both fine team captains that think a lot about their teammates. They're both thoughtful people, kids of excellence. Teddy qualified for nationals, so he's going to Dallas in June to compete in a different event. They really enjoy it. They like the intellectual challenge of it all, they love the competition."
Overall, it has been a buoyant and blissful season for the speech and debate team at Cleveland.
"It's been a great season. Every single tournament that we sent the full squad [to], we did really well," Gonzales said.
Leave a Comment
About the Writer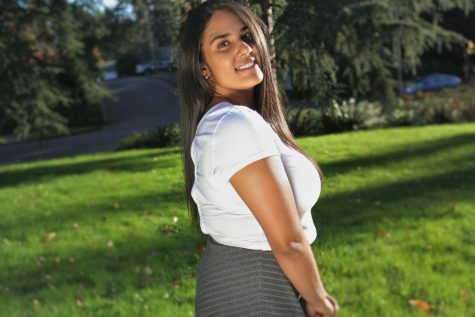 Adriana Milian-Hernandez, Reporter
Position within Newspaper: Reporter

Graduation year: 2017

Favorite thing to do: I love traveling, cooking, and reading a good novel

Favorite book:...