Tastebuds: Harlow offers delicious food for the food conscious
Nothing screams Portland more than the restaurant Harlow, located in the heart of Hawthorne and open from 8 a.m. until 9 p.m. Monday through Saturday, and until 3 p.m. on Sundays. With a plethora of beards, dreadlocks, 20 year olds, and health-food lovers, Harlow's undeniable energy and nutritious menu caters to nearly every food restriction.
Everything served is gluten-free, sugar-free, dairy-free, and vegetarian, with a vegan option. You may wonder what could be left to offer, but Harlow's detailed and thorough menu diminishes any worry. Gluten and sugar-free myself, I have scavenged for a restaurant that will satisfy my dietary limitations, and I definitely approve Harlow as an outstanding option.
Upon entering, I was struck by the elegant and earthy ambiance, with chandeliers, various plants suspended throughout the restaurant, rustic wood tables, and a horizontal mirror above booths. The layout of the restaurant is very spacious and inviting, despite the crowd of people. There was a line out the door that persisted throughout my stay and the entire restaurant brimmed with energy and liveliness, yet wasn't chaotic in the least.
Customers order at a counter before proceeding to find a spot at the variety of seating options: high stools by the window, booths, or table and chairs. I chose a booth in the corner that allowed a view of the entire restaurant. The service was a bit slow, but expected due to the sheer number of people in the restaurant at all times.
Once my food arrived—I split the Apple Walnut Flapjacks and Bridgetown Hash with one other—my mouth started watering as I smelled the sweet and savory aroma, my eyes were drawn to the colorful vegetables, and my taste buds were ready to be included in the fun.
I started out with the Bridgetown Hash, which included seasonal roasted vegetables, crispy herb polenta, kale, spinach, parsley, sautéed onion and roasted garlic with a basil olive oil sauce and two poached eggs. The dish was warm, fulfilling, and comforting. Although everything was very nutritious, it didn't feel like a chore to eat. All the vegetables complemented each other with multiple flavors and the basil sauce added an extra touch to the delicious plate.
After the savory dish, I started eating the flapjacks, which satisfied my craving for something sweet. There were two oatmeal, spiced apple and banana, walnut pancakes topped with vanilla toasted walnuts, coconut, salted maple cashew cream and cinnamon. The cashew cream—although it sounded unappetizing at first—was the star of the dish. It added sweetness to the banana pancakes without overpowering them. The coconut and walnuts also enhanced the flavorful pancakes; I didn't even need the syrup.
After splitting the pancake dish and the Bridgetown Hash, my hunger was completely vanquished and I felt satisfied.
Describing two dishes doesn't do justice to their lengthy menu, however. They offer scrambles, bowls, soups, salads, smoothies, drinks, and pastries during their day time menu (8 a.m. to 2:30 p.m. daily, and 3 p.m. Sundays).
Their eggs or tempeh (choose one) are accompanied by a variety of vegetables and a choice of rice or quinoa. The homemade granola is also a tasty breakfast option. If you come more towards lunch time, you may want to try one of their bowls, which are similar to the scrambles but without eggs. They also offer hearty mac and cheese, using quinoa pasta and daiya cheese, which don't have gluten or dairy.
In addition, there are over 15 beverages, including cider, kombucha, teas, hot chocolate, chai, and more. The long list of juices and smoothies are also delicious and nutritious.
The meals are a little towards the pricey side, but portion size is large and the taste is astounding. The Bridgetown Hash was $10.50 and Flapjacks were $8.00. Most of their meals are close to that price, and their smoothies and drinks are around $6.
Harlow's menu reads, "We believe everyone deserves a warm, healthy, organic meal." They definitely live up to this statement. With friendly employees, an inviting environment, and a nutritious and filling meal, one can't walk out of Harlow disappointed.
Leave a Comment
About the Contributor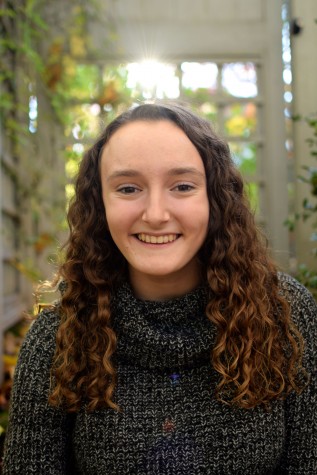 Emily Diamond, Editor-in-Chief
Grade:

Senior

Favorite food: 

Sushi

Favorite movie:

The Internship

Favorite Artist/Album:

The Shins