Girls tennis fifth in PIL
The girls tennis team did not send any players to state this year, but the team finished a solid fifth in the PIL standings and junior Bridget Garland brought home the singles consolation final at the district tournament May 11-16.
Along with Garland, Cleveland's other top finisher at the district tournament was number one singles player Madison Morrow, junior, who made it to the quarterfinals before being knocked out by the second seed in the tournament, Kalli McCollister from Grant, the eventual tournament champion. Morrow fell one win away from the semifinals and an automatic bid in the state tournament.
Garland swept all her competition in the consolation tournament in straight sets. The bracket was made up of the eight first-round losers from the main draw. Garland beat Madison's number one singles player, a player from Grant in the semifinal, the toughest match of the three, and then took down Benson's number one singles player 6-4, 7-5.
"The first game I played (in the main draw) was against the third Lincoln player, so she was pretty good and she ended going fourth in districts, so I kind of accept that loss. Then the rest of them weren't too difficult, but I'd say the semifinal game was definitely the more difficult because I played a girl from Grant," summarized Garland on her road to the final.
Despite not sending any players to state, coaches and players were happy with their first season at the top 6A level. "I thought the season went really, really well. But again, with Grant and Lincoln you're in the mix with players in those schools that take private lessons, that go to private clinics, that put a lot more time into tennis. So it's tough to compete against them, but with everybody else we're in pretty good shape," assessed head coach Darryl Kealy.
The higher level that Grant and Lincoln play on that Coach Kealy referenced was put on full display at the district tournament. The semifinals of the doubles bracket consisted of only Lincoln teams and the semifinals in the singles bracket held three Lincoln players and the champion, Grant's Kalli McCollister.
With Cleveland only graduating one senior this year, the future looks bright for the tennis program. "Everybody's looking forward to next year, they're looking forward to playing in the summer. Everybody should be stronger (next year) and it should be a good showing," said Kealy.
Leave a Comment
About the Writer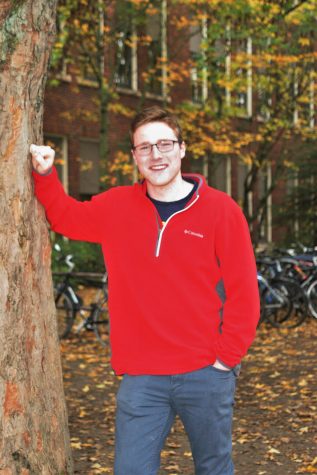 Conor Bergin, Editor-in-Chief
Position within Newspaper: Editor-in-Chief

Graduation year: Class of 2017

Favorite thing to do: Hang out with my brothers

Favorite book: Harry...