Tastebuds: The laid-back Latin style of Teote
Walking into Teote, the first thing I noticed was color. The restaurant inhabits an old converted house near the bottom of Hawthorne (Ladd's Addition area) that has been reconstructed to allow a large amount of seating on both the upper and lower floors of the building. The decor is bright and eclectic, with walls painted in warm reds and yellows. It is an "order at the counter" establishment, which contributes to the laid back feel of the place. Never having been to Teote before, I will sadly admit that I stereotyped it as typical Mexican food, given the name and appearance. I couldn't have been more wrong. Their menu is a collection of items inspired by the whole of Latin America, and their genre of eatery can be described more specifically as Venezuelan-fusion.
The menu is grouped into five categories: platos pequeños (small plates), arepas, la cena (dinner), más comida (more food) and lastly their bowls. Each of these sections offers a unique selection of flavor and ingredient combinations. Teote is known for their arepas, Venezuelan style corn cakes, and is often called an "areparia" because of this specialty. These come topped with a South American stew, with grilled meat, or as an appetizer with jalapeños and cheese.
After scanning the menu I decided upon a dish called the Sid's Simpatico. Ingredients included black beans, rice, cabbage salad, fried plantains, an arepa, verde sauce, fresh cheese and cilantro. I was impressed with how accommodating their menu was for those with dietary restrictions. I am a vegetarian and there were a number of great options for me as well as for anyone who is dairy free. I learned later that Teote is also entirely gluten free. Their dishes focus mostly on corn, meat, rice, and other vegetables.
When my food arrived I had to take a moment to admire the beautiful arrangement of my plate. Each food item had its own little section, and the colors looked like summer. There was perfect harmony between the warm, cooked items (like the beans and arepa) and the fresh ingredients (like the cabbage salad, beets and cilantro). My arepa proved to be great for scooping and eating things on top of. All the flavors paire
About the Contributor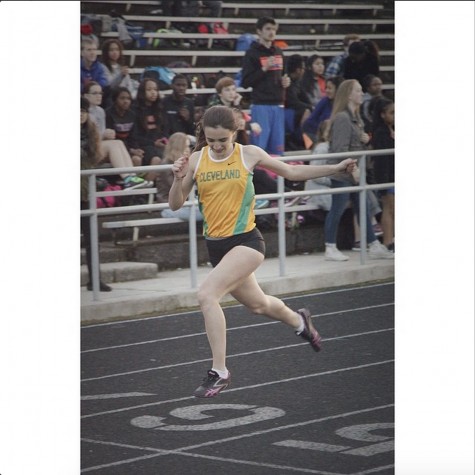 Annalena Eckton, Reporter
Grade

What's on the bookshelf?

Favorite food?

Favorite thing about Cleveland?