Boys Lacrosse slides into playoffs
The boys lacrosse team ended the 2015 regular season campaign on a slight slide, but the team did just enough throughout to clinch a play-in game with Aloha for a spot in the OHSLA state playoffs. The game became the last of the season, as the team fell 22-7.
After the team was on a 3-1 run midway through the season, they finished the season on a 1-4 skid as the competition heavily picked up. During that 1-4 skid, from May 2 to May 13,  the team suffered defeats to 10th-ranked Central Catholic, seventh-ranked Lincoln, and eighth-ranked OES. Head coach Ben Henderson admitted the team knew what type of guns they were up against in those contests and the team's mindset did not get rattled by the losses.
"It's tough to play that level of competition after playing a team like a Hood River…They're just at another level of competition than us right now. Cleveland will get there someday, but for now they are just at another level," said Henderson.
In the midst of the slide, there were certainly bright moments. On May 11, the Senior Night and home-finale, the team got back to their winning ways with a 10-7 victory against a quality program in Oregon City.  "That was a great team win that we really needed because we had been on a slide. From the goalie to the attackmen to the defenders, everybody stepped up," assessed Henderson.
A handful of Warriors got into the scoring act that night, including senior captain Alex Dellacorte who returned May 7 for the game against Hood River after missing practically all of the season with a broken hand. The resurgence of Dellacorte, who was named to the Columbia First Team All-Conference list as a junior, was another big boost to the squad near the end of the regular season. Dellacorte was the team's leading scorer against Oregon City on the night that the offense was really clicking. "We had a lot more assists, not just one-on-one dodges which was good," said senior Indigo Justice, who also scored in the game.
While losing Dellacorte, the conference's leading goal-scorer from a season ago, was a big blow to the offense, Coach Henderson argues it was ultimately beneficial for the team's growth and future, "Losing Dellacorte definitely hurt, but it helped other players step up and be more confident. We used to run everything through him (Dellacorte)…now on offense we have a lot of new weapons."
As the season came to a close at Aloha, the team was fondly reflective on how the 2015 season went and a lot of it had to do with that growth and improvement that Henderson talked about.
"The season went pretty well. We hit some marks we wanted to hit, we didn't hit some marks that we wanted to. We had a lot of our players get injured, some of our best players, but then we had some players who really stepped up, juniors and seniors. Players like Cassidy Seihl at goalie, Indigo Justice, Austin Boyd, Anthony Romanaggi, and Jake Heins," said senior captain Simon George.
Improvement and players "stepping up" became the story of this Warrior team's season. George is confident this upward trend will continue as the program moves forward and tries to break into the league's elite level of competition. "We did better this year in our rankings heading into playoffs compared to last year. I expect next year they will do even better with the up-and-coming juniors and sophomores stepping into varsity positions and carrying on the tradition of Cleveland Warrior lacrosse."
Leave a Comment
About the Contributor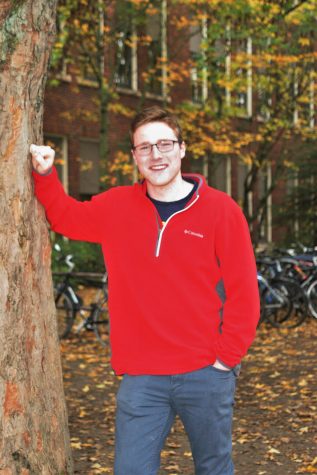 Conor Bergin, Editor-in-Chief
Position within Newspaper: Editor-in-Chief

Graduation year: Class of 2017

Favorite thing to do: Hang out with my brothers

Favorite book: Harry...