Yoga and Mindfulness is Mindful of Your Busy Life
Yoga and Mindfulness, a new class at Cleveland this year, is an amazing opportunity for students to explore the therapeutic effects of yoga, while exploring themselves as well. Not only is the class eye opening, but it is also beneficial to students to have a class that promotes stress relief and having positive mental health. The class is led by Cara Cocchiarella, who also teaches health. You could say she is an expert in self love and making discoveries about yourself.
"I think this can be a very valuable class for students because we really focus on each person coming in exactly as they are every single day," said Cocchiarella. "We have a mindfulness part of the class and a movement part of the class, and in both we really try to emphasize to the students that how they feel is totally ok at any given moment."
A study led by researchers at John Hopkins University found that, "just eight weeks of meditation training was just as effective as medication in treating depression, anxiety, and pain." A study found that when a school in Connecticut required their students to take yoga/meditation classes three times a week, a stress hormone called cortisol was significantly lowered after every class.
Katy Wagner, a vice principal at Cleveland, was a big supporter of getting this class to actually happen. When asked about why she thinks this class is important for students to take, she said, "Taking time during the day to reflect on and develop your own sense of self and to learn to be open to multiple perspectives are important executive functioning skills that can impact one's entire lifespan."
She also wholeheartedly believes that this class with benefit students in the long run. "By practicing mindfulness skills, we are actually changing how we process information through a more integrated brain network and learn to use language to help us organize our thoughts and actions. By focusing on breath, we are also calming our bodies and able to practice focused attention, which are also important to do throughout our entire lives because that can make us happier and more productive."
Overall the class has been a huge success, and has received overwhelming positive feedback. "I leave feeling lighter and knowing I can manage any stress I feel," said sophomore Darby Gillis. "We go through exercises that teach us to focus on one thing instead of the millions of thoughts that go through our minds every day. I am relaxed throughout my daily life because I've found ways to manage stress, and learned about myself as a person."
Another student, Olivia Osbourne, added, "I am loving the yoga and mindfulness class. It has been a really incredible opportunity to experiment with mindfulness and yoga in a safe, accepting environment. Having a break during a busy school day to just relax and focus on myself has really helped this year."
About the Contributor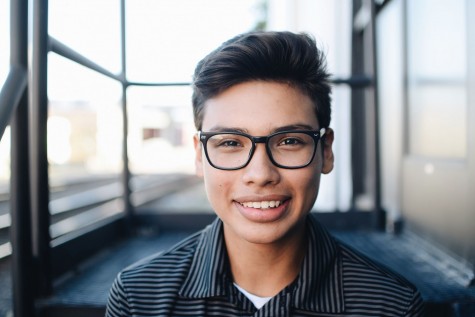 Cyrus Lyday, Editor-in-Chief
Grade

12



Favorite album?

1999 - Joey Bada$$

Favorite food?

Hot Cheetos

Favorite thing about Cleveland?

The people. Cleveland...