Spooky Conditions: The Best Kind of Running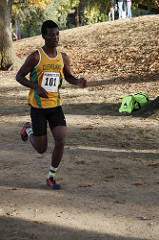 Under spooky terms and crazy weather, Cleveland senior Jalato Sultessa made history alongside his brother, Roba Sultessa, on the cross country team this season by competing in his fourth consecutive state cross country meet at Lane Community College on Oct. 31, placing 45th individually.
With the slight change to the competition this season at the district meet, the top three teams in PIL qualified for state whereas it used to be the top two teams. "Although we had over a hundred runners on the team and there were three other teams with even more athletes who placed ahead of us at districts, 60 percent of the team set season best times at districts this year showing that their consistent training resulted in improvement at the biggest race of the season. Next season we hope to turn up the level of training for the more seasoned runners," Coach Mark Hale-Brown said.
There was very big competition coming from the district meet where Cleveland was edged out of qualifying as a team on both the girls and boys side by Grant, Lincoln, Franklin and Wilson, but Sultessa managed to place sixth overall with a time of 16:00.5.
"My goal was to just make state, but after I made it and got a nice personal record, I was very happy," said Sultessa.
The switch to 6A made the travel down to Lane Community College a small one this year. Though many fellow cross country athletes have come to support the individual state qualifiers, the team hasn't qualified for the state meet since 2013, when both girls and boys teams finished in fourth place.
The state race culminates with some of the fastest people, bringing them together for a head to head battle under what most runners would call "not ideal" conditions this year.
"Running at state all by yourself is really hard because everyone who's around you isn't your teammate. It makes it really hard to have confidence," Sultessa said.
Jalato has been racing alongside his brother Roba Sultessa, who also had the privilege of running all four years at state. "I'm glad to be on the same page as him. He is my brother, but Roba and I are also best friends," Sultessa said.
Sultessa has been a huge asset to the team, especially his sophomore year, contributing to both teams' fourth place finish at state.
"Cleveland was glad to have Jalato return to the team after he attended Parkrose High School last year. He was our fastest runner and this year had his best race of the season at the district meet to qualify for state as an individual," Hale-Brown said.
With a difference in size, it changed the outcome of races for Sultessa. "I'm really happy that I got back to where I started high school and running. I competed in my first ever cross country race with this school. Parkrose was in the 5A district so that changed a lot of the competition. I used to get a lot of first place finishes and it wasn't the same compared to at Cleveland. The 6A district is one of the fastest districts and it's really hard, but it's nice to be back with that higher level of competition," Sultessa said.
Now that the season is over for everyone who didn't place in the top 10 at state, Cleveland looks to the finale of the season, the Royal C awards ceremony on Nov. 18.
"The Royal C award is a culmination of a series of efforts that benefits the entire team. Of course, being competitive throughout the season, having outstanding leadership, and showing great heart towards the team are all important factors," Hale-Brown said.
With the eight captains and the more than 100 athletes Cleveland had this season, the prestigious award could go to any of them.
"To reach the higher levels of competition, the distance runners need to stay healthy, continue to push their bodies in a variety of training, and gain more race experience. Sultessa and Noah Adams are both experienced on the track and being their senior year, it will be fun to see if they can improve upon the high standards they set last track season," said Hale-Brown.
"Young runners like Adam Nayak and Jack Nelson are all showing great talent and drive to improve. For the women, Anna Rollins and Lizzie Edwards both had big improvements at the district meet as they led the team as our fastest runners. Two freshman, Deirdre Replinger and Ellie Bamer both got valuable experience competing at the varsity level and it will be exciting to see how they continue to build upon their successes they both experienced this season," said Hale-Brown.
There will be winter practices starting very shortly preparing the distance runners for track season that starts in late February-beginning of March.