FBLA raises money for the March of Dimes organization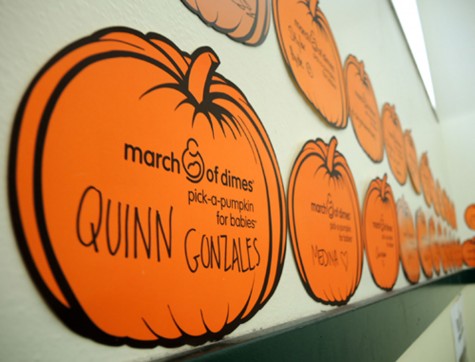 On Wednesday, Oct. 14 during lunch in Linda Owen-Cooper's room (378) the Future Business Leaders of America (FBLA) held their meeting with guest speaker Rebecca Bell, who talked about the March of Dimes organization to raise money to find ways to reduce the incidence of premature birth, the number one killer of babies.
The club sold paper pumpkins throughout October for $1 to raise money for the March of Dimes organization. The pumpkins were placed in the stairwell off the main hall by FBLA members who sold them during lunch near the library, or some sold them to family and friends off campus.
Said Owen-Cooper, "Participation in the March of the Dimes fundraising campaigns gives students the opportunity to learn about the mission of a charitable organization, raise funds for them, and complete one of their national award criteria."
For future fundraisers, the FBLA will sell tulips during the spring for $5 dollars a bunch and participate in the organization's walkathon in the spring. The 5k walkathon has check points that give you things like an orange, water bottle, or a fun prize. After the walkathon is over you get a free lunch.
The March of Dimes has helped eradicate polio and many birth defects and now focuses on the issue of premature birth. It was founded just prior to World War II with Franklin D. Roosevelt's help and got its name when singer Eddie Cantor asked Americans to send their dimes to the White House to help defeat polio, a disease Roosevelt suffered from.