SBAC testing results in 'poor' grading
The Common Core controversy has reanimated after a recent article in the Oregonian that labeled Cleveland high school as "poor." The school rating was based off data from the Smarter Balance tests that many juniors completed last spring. The state didn't rate any schools in Oregon, as they wanted the first year of SBAC to act as a trial for future years. Rather, the Oregonian compiled their own set of ratings, taking into account performance in English, math, and overall participation.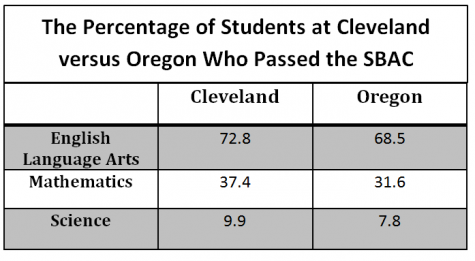 The rating stirs various emotions and opinions among the Cleveland community. For many administrators, a feeling of disappointment and apprehension has surfaced.
"The bottom line is that was our worst fear," Jan Watt, special projects coordinator said. "I think it is a disservice to our students who took the test, tried their best, scored well, but their results were negated by the number of kids who chose not to take the test."
Now that the rating is in the public eye, many are worried that it will affect families' decision to send their students to Cleveland. "When someone looks for a home to buy or is deciding whether to send their kid to public or private, they google… Our grade, whether it is with communities, businesses, or homeowners, all translates into their decisions and ideas," Principal Tammy O'Neill said. Watt noted that she has already received phone calls and emails from concerned parents with students in middle school and at Cleveland.
Another concern is that the grade will negatively impact our overall reputation and doesn't reflect Cleveland as a school. "When people don't have access to information and don't see the amazing things our students and staff are doing, they form opinions based off of sound bites of information," O'Neill said. "We want the information that gets put out for public consumption to accurately reflect our student body, teachers, administration and community."
However, senior Marley Schlichting, leader of Portland Student Union and the opt-out campaign last spring, argues that the score won't negatively impact our reputation, saying that our school isn't just a number. "When people talk about Cleveland, they don't talk about our rating. They talk about the I.B. program, our political activity, and the community as a whole."
John Golden, instructional specialist, noted that we should be careful about making conclusions about the scores, saying that it isn't a representation of all students, since many opted out. He added that several kids didn't take the test seriously, which may have altered the results. "If part of my job is to help student achievement at the school, that data is unhelpful to me. It could be helpful if students took the test seriously and gave us an accurate sense of performance."
"You take piece of data for what they are: pieces. A test is just an additional piece of information," O'Neill said.
Many other schools in the Portland Public district received poor ratings, so it may help people realize that the data is not an accurate representation of the schools. Roosevelt, Wilson, and Grant were also ranked as poor, possibly due to numerous opt-outs; Lincoln was rated positively.
Schlichting believes that the school's rating is of small importance considering that large goal she is trying to achieve. "There is a much broader perspective than looking at Cleveland's score," she said. My goal is to make public education as good as it possible can be in this country and when I look at that goal, honestly, Cleveland's score is irrelevant for me…It's important to remember that this is a movement."
Despite numerous opinions regarding the actual test and the effects of the poor grade, there is an overall consensus that Cleveland high school is more than this one rating.
"A school, just like a student, is more than one test score or one day," O'Neill said.
Concluded Golden, "This test does not reflect Cleveland. Maybe no test ever will truly capture Cleveland. We are not a poor school."