Sundancers' competition season rapidly approaches
The Cleveland Sundancer's New Year's resolution is to "come back better than [we've] been and walk away from performances with a feeling of pride," said junior Sundancer Anna Litchman. Sundancer Coach Ana Reiser has similar hopes. "My hope is that the team will come back full force and be just as successful as we have been this fall season," said Reiser.
With good scores coming out of their fall season, the Sundancers are excited to see what's to come during their state season. Starting in February, the Sundancers will begin performing their state routine at competitions as a prep for the big competition in March. Said Reiser about how much the state competition has changed since previous years, "With such strong competition in 6A, only the top 50 percent will qualify into finals after the preliminary round on March 17." The Sundancers' hope is that they will make it through to the finals.
The Sundancers have a lot to look forward to during state season this year. Not only have they scored well in fall season, but they are going into the new season with a very unique theme, "Shadows."
Senior Captain Emeri Lyons mentions the new dance theme as "really different and something none of us have ever done."
Said Reiser, "Unlike past years, we have decided to work with music and a theme that is much darker than anything we have done before. It will be challenging, but the end result will be amazing."
Everyone seems to be excited about the theme. "It's different from anything we've done in the years I've been on the team, and I think that this team is the one that will be able to pull it off," said Litchman.
The Sundancers are coming back after their winter break full force and are ready to compete to their full potential during their state season. Catch them at their competitions in February and their state competition in March.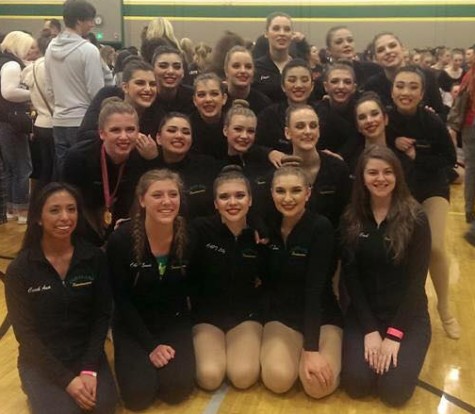 Dance team is preparing for their upcoming competitions – Alex Larson photo.