Five flying feet run their way to first place
Cleveland's five speediest male distance runners, better known as the Flying Feet, won the 51.3 mile Civil War relay and set a new high school record for the event. On Dec. 6, 2015, seniors Noah Adams, Kieran Moylan, Jalato Sultessa, junior Brenden Walsh, and sophomore Adam Nayak covered the course from Albany to Eugene in five hours, 23 minutes and one second.
"I don't think we had a clue of what to expect," said Adams. "We just wanted to go [run], have fun and compete as well as we could. We had no idea what the record was or that we could even reach that. It was exciting to cross the finish line and have them say we'd broken it."
Cleveland's top five distance women: senior Bella Forrest, juniors Lizzie Edwards, Anna Rollins, Emilia Witt, and freshman Deirdre Replinger also took on the challenge, finishing 15th.
The male Warriors were neck and neck with this year's second place finisher and last year's first place finisher, Newport High School. Newport took on the team name, undertrained and overconfident. "At first I didn't know the guys that were running against us were the ones who won it last year," said Sultessa. "But after they told me I thought…we gotta win." Newport pushed Cleveland to compete, leading to the Warriors to an average mile pace of 6:13.
The course took the boys through Albany, into the countryside, over mountains and eventually into Eugene. There are 25 legs in the sprint relay, and each runner runs five legs, averaging 10 miles a day. As a runner, for much of the time, you are either running or in the van driving from one exchange zone to the next. It is easy to tighten up between the scattered sections of running. But as Nayak put it, "the whole thing is really fun. After you'd run your leg, you get to cheer on the next people, you are all working together."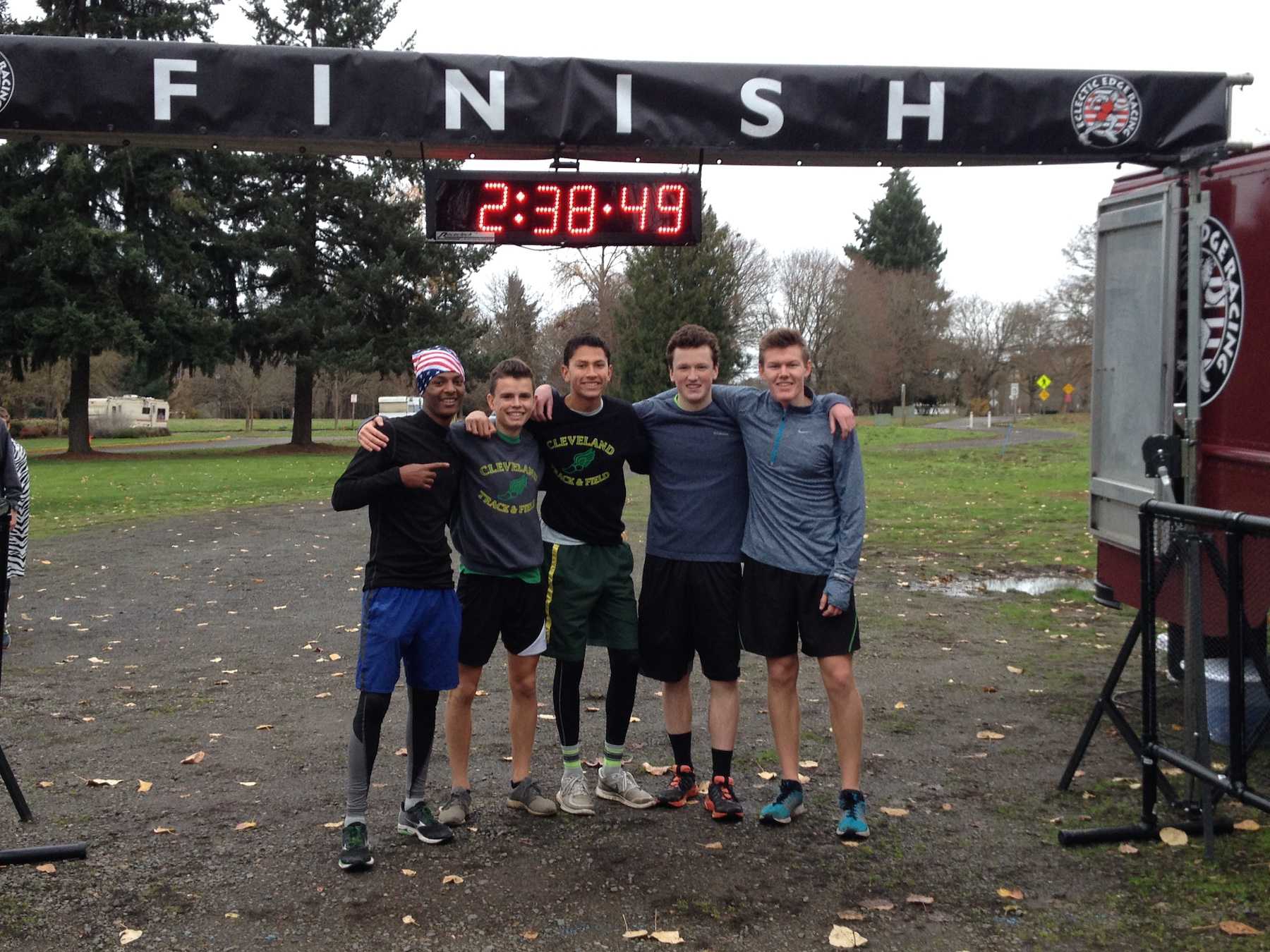 Another challenge in the course, was the unfortunate wind. "The head wind, there was so much headwind," remarked Adams. "My first leg was a two and a half mile run, straight down the highway, with full-on headwind down the whole stretch of it." Moylan was hit with distance and hills. "I had the three mile leg, the longest leg in the race with the hill right after that," he said. This was not just any hill though; it began gradually then built itself up to a sort of mountain. When he reached what he believed was the top, around the corner lay another steady climb.
Along with its hardships, the relay holds much excitement. "Everyone at the end is yelling at you and voting for you," said Sultessa. "In the bus, we were just playing around with the guys. That was my first time going a long way with them. It was fun to get to know them." Moylan said, "The best part was after I finished, I got back in the car, got some food… a fig newton bar, that was good," Moylan said.
This was the Warriors' second year competing. Last year Cleveland's co-ed team took second to Newport. "Last year was more for fun and this year we wanted to come back and have more competition," said Adams. The boys took hold of their competitors and ran with them. "I would like to say we did [know we were going to win], but I didn't really know what to expect. You just go in and see what happens; it worked out for us," said Moylan.