A showcase of immense knowledge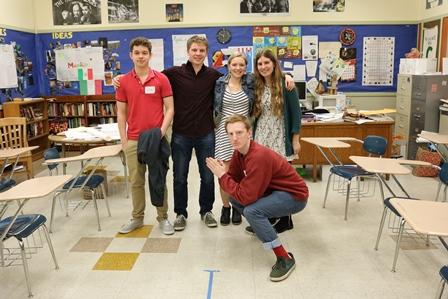 Earning an International Baccalaureate diploma is no piece of cake. Among other requirements, each diploma senior must give a 15-minute presentation on the 4000-word essay they have written, displaying a deep understanding on the topic they have chosen.
The graduating class of 2016 has 27 I.B. Diploma students. Since junior year they have been preparing their essays. In the words of Jennifer Wiandt, I.B. coordinator, "It is an enormous accomplishment for the students. It gives meaning to what they've done. The subjects they've chosen are widely varied and very interesting. I think there should be a celebration for all of this, of the spirit of inquiry and initiative and persistence and research. This is an opportunity for them to share what they know with the community."
Each year, Wiandt coordinates an I.B Extended Essay Showcase to allow students to share their work with the Cleveland community, and give inspiration to juniors who will be working toward the achievement next year. Here is a sampling of some of the work showcased.
Katie Hastie uncovered the art of Muay Thai kickboxing. She addressed what is lost when the highly cultural, aesthetic, Muay Thai of Thailand was brought to the United States.
Evan Billups explored the Appalachian dialect and the way in which it was formed over time. As people began to leave their countries because of famine, violence or disease, dialect leveling (when groups near one another change their way of speech to better understand one another) often occurred.
Emma Fox went into detail about how adoption affects childhood development, as she had an adopted brother. She found comprehensive research on how age plays a large role in an adopted child's attachment to their families.
Bridget Garland went into detail on the novel, "The Otherwise Hero: Winston Smith" written in 1949. She asked and answered the question, how does the main character showcase the negative effects society has on him? This dystopian novel deals with a society "consumed by their government" and a man who can't seem to conform.
Each student has a faculty supervisor in their area of study. The faculty help the diploma students in their study and throughout the paper process.
From this heap of challenging work comes huge advantages for the future. "It is an excellent college building skill experience," says Wiandt. "In fact there has been a number of studies done recently on the extending essay and how well it prepares students for research in college. I think that is one of the reasons we are starting to see more colleges recognize the IB diploma with some more credit and prestige." It gives students a feel for what is ahead, if they choose to attend college.