A story to tell: Independent Media Productions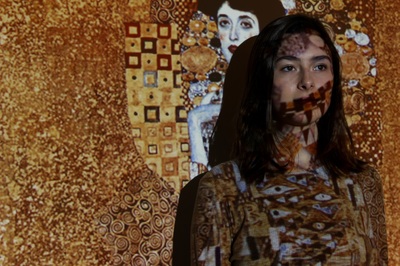 Cleveland's very own Independent Media Productions (IMP) is in its second year and is already gaining speed. English and Media teacher, Vanessa Hughes crafted Cleveland's unique media education courses; prerequisite class, Media and Society and the advanced program, Independent Media Productions. They are part of a Career and Technical Education Program of Study (CTEPOS). This means, "in high school, you are getting experience, that will either help you get a job out of high school or, more technical expertise going into a particular program," said Hughes.  
Media and Society Class was formed seven years back. "I started it because I believe media literacy is a very important skill, a crucial skill for the 21st century," Hughes explained. As for IMP,  Hughes stated that "the inspiration came from the students… because the students at Cleveland are madly talented and had no outlet for their talent. As the media and society class began to include more production, with photography, videography and audio, it became very clear that this is something that students are interested in, are doing anyway. The media and society class was growing I noticed that the kids were hungry for it."
Independent Media productions is the advanced media program. It pushes the students to acknowledge, act upon, and fully answer this question within their projects: "Of all the stories you could tell, why did you tell this story?"
Hughes' media career began in the film and advertising industry. It was there that it became evident to her that a huge part of the understanding of media storytelling was lost. "I became really interested in that concept, as media producers, as tellers of stories, are we asking ourselves the question, why are we telling this story? And then are we holding others accountable for the stories that they put out into the world."
She began down the path of media literacy, looking at media's impact on culture. Hughes formed a media literacy organization in Portland by the name of Media Think. She started working with educators and students. As time carried on, Hughes was "disenchanted" by the advertising field; it was a "soulless profession" in her eyes. As she traveled on, Hughes found teaching and was able to patch all of her skills together, creating Cleveland's original media courses.
Each semester, the IMP students create several small projects and one large individual Passion Project. When making their Passion Project, Hughes reminds us, "You can tell any story you want. The limiting factor for students when it comes to their Passion Project is their imagination." They must only remember to ask the question, of all the stories I could tell, why am I telling this one?  With the showing of their projects, they have a panel critique with industry professionals. "People come in, view the product and offer a critique," said Hughes.
This last semester, there were photographers, videographers, documentary filmmakers, and more on the panel. Executive Director of Oregon Film/The Governor's Office of Film and Media for the State of Oregon, Ted Williams, is an IMP advisory board member and part of the Passion Project critique panel. Williams explained, "I try to support, recruit, and develop creative media projects, companies and individuals working here in the state and outside creative media projects coming into the state. I believe that's a great connection to make for students learning how to use various forms of media to tell their stories."
Williams and the other panel members spoke with the IMP students after experiencing their projects and "tried to be both critical and constructive" with their feedback. "I think we all agreed that the level of creativity and work we were seeing was very encouraging and it was exciting to be able to watch and discuss it."
"I personally loved the diversity of the projects and how that diversity reflected the many different forms of media students were using," explained Williams. "From a big-scale sci-fi narrative, to animation, to music video, to graphic novel, to photographic installations – really impressive and very reflective of the personal creators. I think if there was a weakness it was that some projects could've been even better if the students had put a bit more time into them – some were put together too quickly without an attention to detail and therefore some of the 'power' of those pieces were lost in too-hasty execution."
Jackie Weissman was the second of four on the critique panel. She is a freelance producer/director and documentary filmmaker, with her own production company, Rock Mama Films. "I was generally impressed with the student work," said Weissman. "A lot of the work was well thought out and well implemented. All [of the] students could work on their presentation skills more [but]…overall, I really enjoyed watching the student work and appreciated all the students creativity."
Below is a look at some of the IMP members Passion Projects.
Daisy Smith
Daisy Smith, sophomore, is a cartoonist. She has been creating stories and drawing cartoon characters since eighth grade. The Independent Media Productions class is Smith's way to express her talent as she wants at Cleveland. She explained, "I saw the opportunity to make something that I would really love, so I did it."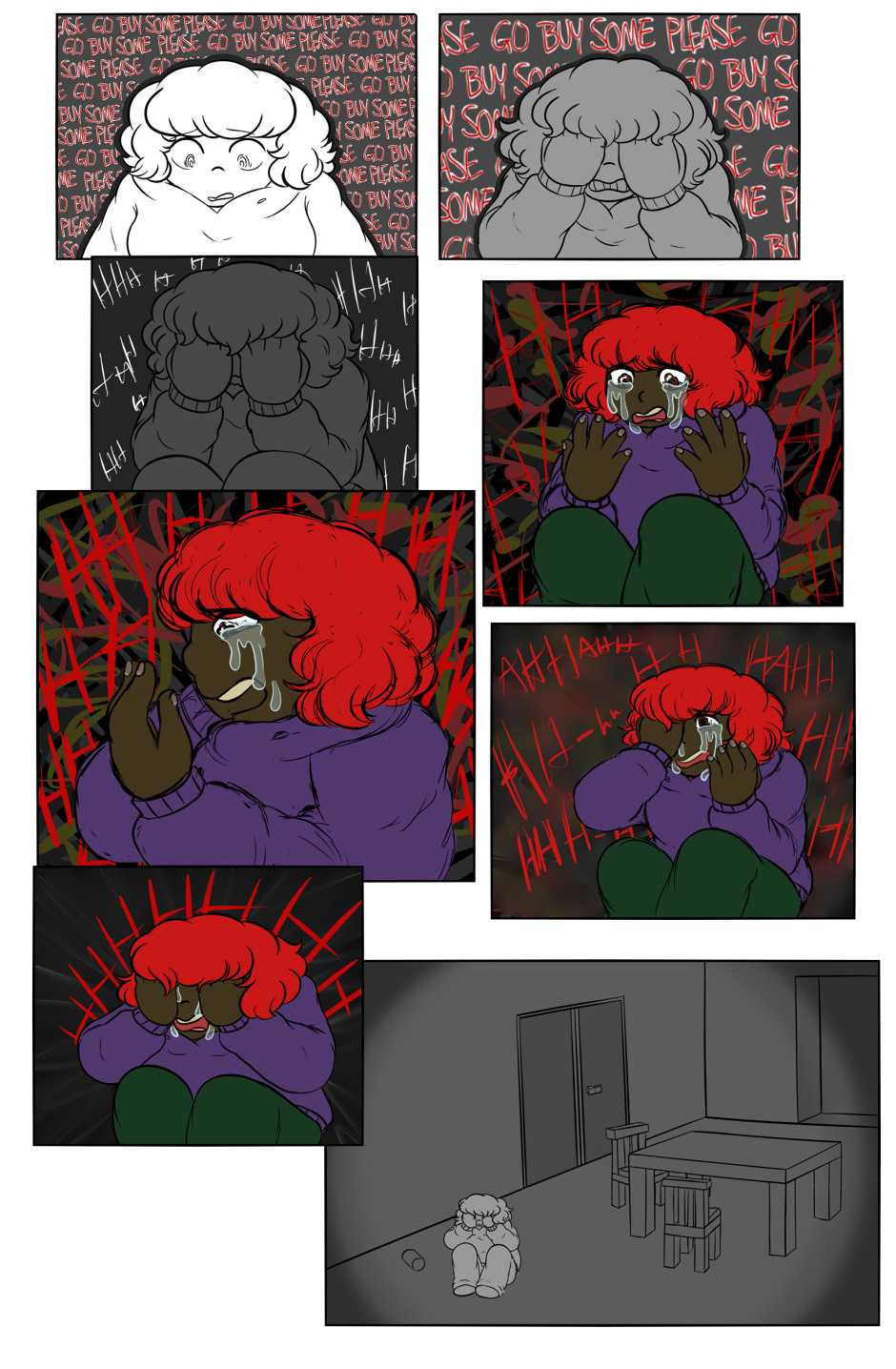 Smith, through storytelling and drawing has created Daniela, the comic form of a 15-year-old girl who has suffered from a social anxiety disorder her entire life. For her Passion Project, Smith introduced Daniela in the Prologue of her comic, OtherHaven. She began to show how Daniela's social anxiety affects her everyday life drastically through this online cartoon. "I drew really sketch-y panels in my sketchbook. Then I scanned them onto my computer. I have a drawing tablet that hooks up to it and I used a drawing program to fit the panels together into individual pages, line them and color them in."
Her drawings are simple, mostly black and white outlines. As conflicts enter the story, Smith enhances the sketches with dramatic shadows and bold colors.
You can see her artwork at her media website, http://daisyosmith.weebly.com
Clara Wolff
In a world so big, there are exceptionally few people that we know on an intellectual level. Senior Clara Wolff made this statement through photographs for her Passion Project. "I went around to different locations in Portland and asked strangers to participate [in my project]. The purpose of the project was to show how people present themselves on the outside versus who they are on the inside. I would take picture of the people I met first and then I would interview them about who they were and their lives…later I went back and drew over the images that I had taken with a visual representation of their internal lives."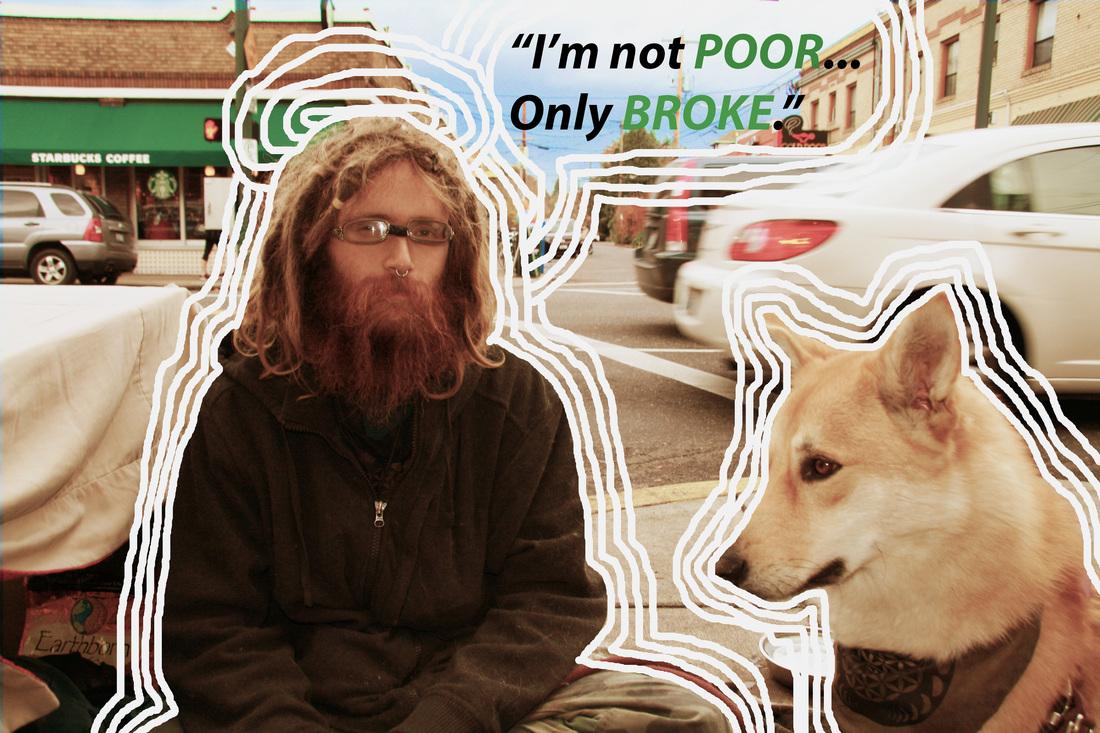 Wolff made six pieces. First is "Doc." Externally, he is a younger looking male with dreads and a beard. He wears glasses that look similar to a shrunken version of those Amelia Earhart wore on her travels in the sky. He sits beside his dog with traffic speeding by behind him. On the photograph, Wolff outlined him and his dog, giving "Doc" a sort of halo. Above his head in quotations it states, "I'm not POOR…only BROKE."
        It came as a surprise to Wolff how willing people were to talk with her. "I thought that would be my challenge," she said. "You go up to a stranger and say, 'Can I take your photo?' and you wouldn't think they would always say yes. It was easy to get people to talk about who they were and I thought that was really cool and a great experience."
You can find more of her work at http://clarawolff.weebly.com
Deva Gaynor, Niki Gaynor, and Enzo Kurmaskie
Some of Cleveland's most talented skateboarders, sophomore Enzo Kurmaskie and juniors Deva Gaynor and Niki Gaynor fabricated a skate video together. For their first semester Passion Project, they shot clips of them skating and performing skate tricks on the streets of Portland and in Thailand.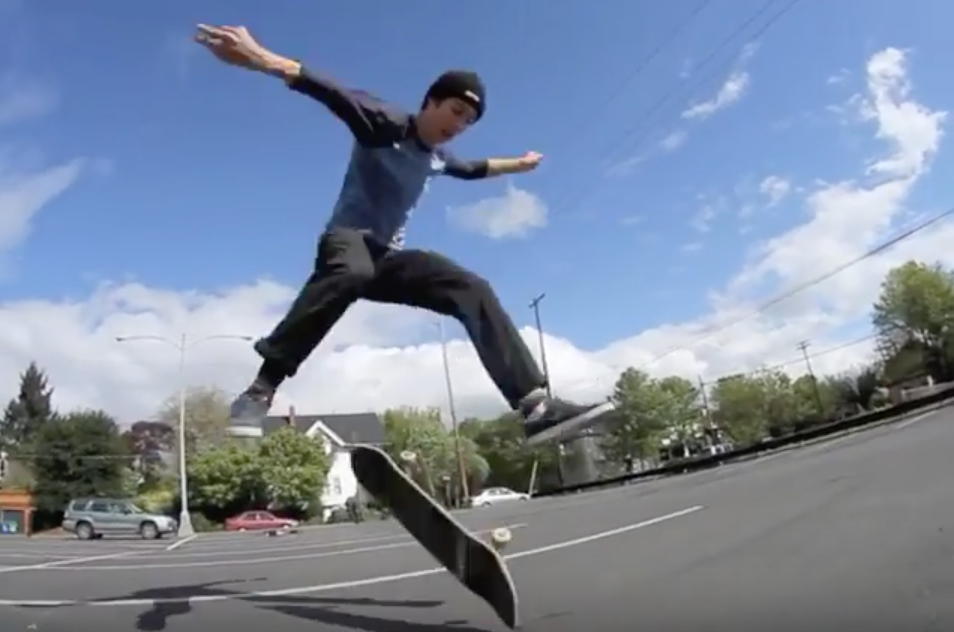 The Gaynor twins have been producing videos for some time now. "Freshman year, my brother got an iPhone," said Niki Gaynor. "We started filming each other and making videos. Then we got a camera and made better videos…this one was more structured." Kurmaskie explained, "I've been interested in video since I've started skating because there is a whole culture with it and there are videos everywhere."
Independent Media Productions class drew Kurmaskie in because to him, "it sounded extremely interesting to use the tools we have at school to explore new medias and mediums and to express our ideas."
The skate video showcases the skating and editing skills of all three of them. The boys shot clips at different angles and slowed the film down at times to highlight the complexity of their tricks. In the background, the song, "Grandpa Can't Drive" strikes. It is an original mix a friend's punk band, Lemonade Stand.
        You can access their portfolios at http://devagaynor.weebly.com, http://nikigaynor.weebly.com and http://lorenzokurmaskie.weebly.com.
Eli Huckabee
If you love or live in Sellwood and have a sweet spot for pizza, sophomore Eli Huckabee can be your guide to cheesy happiness. Huckabee made a hilarious podcast rating cheese pizza slices in the Sellwood neighborhood with the help of his friend Sam Stefano for his Passion Project. "We eat them and review what they taste like and how they are made," Huckabee explained.
The pizza shops are chosen by convenience, how close they are to home and how much cash the boys have to lay down. First up was Bellagios. "The crust meshes well with the cheese and the sauce. Though the cheese kind of sticks out in a bad way, it's still a good pizza…Bellagios is better from the fridge. If you usually eat a pizza and then you reheat it the next day, the cheese, if it's up at a level seven out of 10, I'd say it drops to at least a three, just because the microwave or the oven warps the tastes so much." If you are looking for some good leftovers, check Bellagios out. "It's got some snap to it," said Huckabee.
Huckabee is also an avid podcast listener. "I've always liked podcasts since I was young and listened to the radio. Last year I started really getting into it and I wanted to make one this year." You can find him perusing the National Public Radio (NPR) and other great podcasts of its likeness.
Find out Huckabee's overall, well-weighted rating for a slice of Bellagios cheese pizza at, http://elihuckabee.weebly.com/about.html
Eva Bryner
Again, the similar idea of understanding the internal spirit of a person before their external representation was played with. Junior photographer Eva Bryner expressed this through mixed media photography. "I got all my friends together and I asked them to choose a few images and a few words that they thought were either a valid representation of them or that they felt a connection with. I projected it over them as a way to see what they thought of themselves before you saw them," said Bryner.
Bryner overlaid her images of friends with their own chosen images into a mosaic like assembly. Heads spring from trees and faces fall into the shadows of Starry Night. In others, swirling red spirals dance across her models and grow from their heads.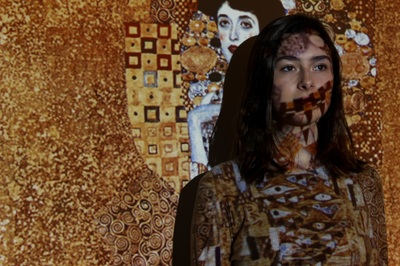 Since two and a half years ago, Bryner and her camera have traveled around, giving her the ability to capture time. Her interest in photography led her to the IMP prerequisite class, Media and Society. As a student of media, Bryner explained, "[Ms. Hughes] was always talking about IMP and…I just thought, 'I guess I just have to do it now, it sounds so interesting.'"
You can find her work at http://evabryner.weebly.com
Vanessa Hughes does not see Independent Media Productions stopping nor slowing anytime soon. "I see this program dovetailing into other programs at Cleveland to almost being the audio visual center for things that can be made, not just for the students and their interests but also in the school itself," she said. With the prevalence of technology in our modern society, it seems obvious to give them an outlet for their talent. "What impresses me the most is, it's kind of like gorilla tactics. I say, 'Let's do audio,' and the kids just make it happen, they figure out how to use different pieces of software and teach themselves to a certain extent. Some of our students are experts in some things and bring their expertise. We teach each other. The technology is changing all the time."
This is a class for people who enjoy collaborating in many different media forms. It is for students willing to ask themselves, "Of all the stories I could tell, why am I going to tell this story?" In the words of Media maestro, Vanessa Hughes, "I just feel really privileged to be part of the environment. My job really is just to get out of the way and let the kids shine."