Sundancers mentor the next generation of stars
It's a tradition of sorts that a Cleveland Sundancer or cheerleader will coach the dance team at Sellwood Middle School, the Sellwood Stars, and for the past two years, juniors Kylie Haney and Hannah Proctor have taken on that role.
They were appointed the position following their freshman year when the previous coach of the Stars graduated. Both Haney and Proctor were on the Sellwood Stars when they were in middle school, but had started their dancing careers long before that. The experience has been great for the two, Proctor commenting on the best part being able to be a role model for the young dancers, as well as spreading her love of dance to others. Her favorite moment is "when I see a dancer struggling with a certain move but then they finally get it, or when I see my vision of the dance truly come to life," said Proctor. Haney also feels this sense of pride when watching the girls dance. "Nothing feels more rewarding than helping others pursue their talents," she said.
Recently, the Sellwood Stars won their first competition. "They were all so ecstatic," said Proctor. "We tell them that winning isn't everything and it is more about forming a bond as a team and having a good time, but getting first place really boosted their confidence and they definitely deserve it!"
The opportunity to coach the Stars has been a really great opportunity for both Haney and Proctor. The coaching position is a huge commitment, with practices starting in late September and ending around the end of the school year. It has improved both of their dancing and choreography, as well as encouraging the love they have for the sport.
Proctor explained how coaching the young girls has helped with her dancing. "By coming up with my own choreography and teaching it to others, I have come to understand dance in general better and am able to apply the advice I give to the girls, to myself," she said.
Haney agreed, saying, "I apply the corrections and tips Hannah and I give to Sellwood's team to my own dancing."
You can see Haney and Proctor's choreography not only in Sellwood Star performances, but also many Cleveland assemblies and special performances of their own away from the Sundancers.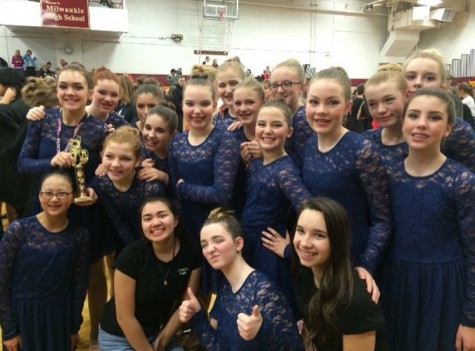 Cleveland Sundancers Kylie Haney and Hannah Proctor with their Sellwood Stars dance team.