I.B. students learn the importance of giving back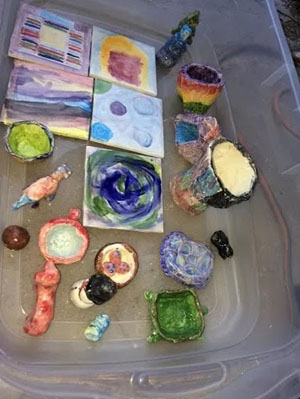 Many people strive to give back to the community.  Whether it is volunteering at a local hospital, tutoring students, donating money to the Oregon Food Bank, or advocating to end sexual violence, all of these activities strive to improve the world.
Numerous students in Cleveland have been lending their expertise to aid problems they are passionate about. Through the full I.B. diploma program, students are required to participate in 50 creative hours, 50 active hours, and 50 hours of community service, commonly referred to as CAS hours.   
In addition, students complete a CAS project, which is a volunteer endeavor that combines two of the three disciplines. For example, holding a 5K run at a local middle school would combine the areas of active and service and making a video about improving school resources integrates creativity and service.
This past year, full I.B. students divided into small groups, identified an issue they care about, and then planned how they were going to help alleviate the problem. "One of the things CAS projects require is for students to collaborate and plan together. I've envisioned it as an opportunity to identify and embrace an issue students are passionate about," Jennifer Wiandt, I.B. coordinator, said.
Wiandt believes a crucial aspect of CAS projects is student involvement and interest. "Over the years, it's been important to me to preserve the aspects of choice and investment…There is something so much more sophisticated with asking someone who in the community what they need and trying to develop your own plan of action as opposed to just showing up at the Oregon Food Bank and being asked to do certain tasks," she said.
This year, students participated in a variety of activities. Emma Fox, Evan Billups, and Nikita Wolf held a clothing drive for Mt. Scott Middle School. After the drive, they collected over 600 articles of clothing. "The most rewarding part was knowing that the closet was growing and knowing that we helped out with it," Fox said.
Other seniors—Monica Arnone, Taylor Prichard, and Christina Tang—led three ceramics classes for English Language Learner students at Kateri Park, the housing complex across the street from Cleveland. They supplied around 20 students with clay, where they sculpted their own artwork. After firing the pieces in a kiln, the students painted them and brought them home in time for the holidays. "In Core class, we talked about art education and how some kids don't have access to a lot of different arts supplies…We really wanted to bring kids supplies that they otherwise wouldn't have been able to use," Arnone said.
Another large group helped register students to vote. Camille MacLean, Teddy Wyman, Julian Lusardi, Aidan Mellies, and Kenny Roberts traveled to all of the senior English classes where they led a discussion about the importance of voting and student participation in politics. They also supplied voter registration forms to those who were not already registered. After travelling to classes, the group registered around 30 new students. "A lot of students were already registered, which was really nice to see," said MacLean. "It's important to show people that they can so easily have a direct impact on politics, especially those that are occurring locally," she said.
Students initiated and planned several other CAS projects. One group tutored biology during lunch on Fridays. Another group created a drop-down menu of goals for the I.B. learner-profile characteristics and made a video about these characteristics. Many students in the Chinese Immersion program went to Woodstock Elementary School and participated in their Chinese tutoring classes; they also presented a slideshow during a PTA meeting at Hosford Middle School about the I.B program. Others students attempted to reduce paper in Cleveland by sending a survey to teachers about their paper usage.
For many, the CAS project has been a rewarding and fulfilling experience. "Volunteering builds characters and helps other people, which I believe is one of the most important things in life," Fox said.
"Generally it can be very empowering for students when it works well," said Wiandt. "Hopefully we'll keep finding ways to make community service relevant because it has so much more to give back to us personally than just about anything else we do."