Conor's Compliments: One more time, shall we?
Please stay, Mrs. K
Mrs. Khvilivitzky has built up a reputation over 39 years of teaching. She is known for keeping her classroom strict and business-like, always focused on the task at hand. After having her for my first two years of high school math, I quickly learned the stories were true. I still remember after my first test freshman year when she told the class how "very, very disappointed" in us she was. I thought she was kidding because almost everybody had earned As. She wasn't. But her high standards soon brought out the best in me, especially because she was so willing to help me get there. She cared so much and put so much into the job, I felt like I had an obligation to not let her down. She constantly stressed how we could ask as many questions as we needed until we understood. And much to the annoyance of my classmates, I took her up on her offer. If I got a dollar for every math question I asked those two years I could have easily fixed PPS's budget problems (What broken ceiling tiles?). Mrs. K remained patient through my questioning and sure enough I soon understood the probabilities and trigonometry that looked like a foreign language at first glance. While I quickly learned that Mrs. K was one of the best, most professional teachers the Cleveland community had to offer, I also learned something else: She might be as stern as a calculus course, but she is sweeter than pi. You will not find a lovelier lady to have a conversation with. Once I got to know her freshman year and experience her great classroom traditions such as "Russia Day" and her inspirational cat posters, I wasn't nervous when I heard I would have her again sophomore year; I was ecstatic. All of these great qualities I just explained are why this retirement is such a bummer. Why do people even have to retire anyway? Now I know how the NBA felt when Michael Jordan retired. That is who Mrs. K is, the MJ of mathematics. "I wanna be like Khvilivitzky." That slogan is a little bit more of a mouthful than "I wanna be like Mike," but trust me, it will catch on. So Mrs. K, I am sad to know that I won't be able to be in your class a third time, but I think it is safe to say after 39 years you deserve a break. I hope the ride wasn't too "disappointing," because you sure didn't disappoint us.
Senior Shoutouts
It is time for the moment you've all been waiting for ladies and gentlemen, the 2016 senior shoutouts! This year I'm going to do this thing like Dumbledore and award points to deserving seniors Hogwarts House Cup style. So let's get to it.
To Emily Diamond, Cyrus Lyday, and Evanne O'Sullivan, for not only being the greatest co-Editors-in-Chief I could ask for, but also for being great friends. Fifty points each to senior class! One hundred points to Stellan "the Stallion" Roberts for being the most prolific athlete and genuine nice-guy I have met in my time at Cleveland. To Stellan Roberts's curly blond afro, for looking like it just came straight out of an advertisement for Head and Shoulders shampoo, but for also making opponents underestimate our basketball team's abilities. Fifty additional points to senior class! To the rest of the seniors on Cleveland varsity basketball team, for always playing with the hearts of Warriors and running more ladders than I'd like to remember. Two hundred points! To the Legend Yearbook staff, for putting up with my insults and humoring me for the past two years. One hundred points! Then to Jamyang Dorjee, Wyatt Starr, and Gunnar Gorsuch, who all rode in the Bergin carpool during its glory days of my sophomore year. One hundred fifty points! To my chemistry partners, Noah Christen and Gabe Beck for carrying the team, but also being really cool dudes. One hundred points! Then, last but not least, to long-time fan of Conor's Complaints John P. King! Never will you find a better man. Five hundred points to senior class! Now let's check the standings: Freshman class finishes with -20 points. Sophomore class with a total of 2. Junior class with a total of 1,000 (all went to me for writing this article #treatyoself). And then, with a score of 12,500 points, the senior class! Assuming that my calculations are correct, I believe that a change of decoration is in order! Senior class wins the House Cup!
Final Goodbyes
Another year down my friends, we did it. I'm sure there was some point during this school year, at 2 a.m. when you were cramming to finish an English essay and you thought to yourself, "I really can't do this anymore! I CAN'T TAKE IT!!!" But if you're reading this right now, it shows we all powered through that moment of weakness and sleep deprivation where we proceeded to destroy the closest piece of furniture in the vicinity. And our reward for that perseverance is a gratifying, peaceful ride off into the sweet, sweet sunset that is the month of June. I had an absolute blast writing this column every issue this year and I am proud to say Year Two of Conor's Complaints was even better than Year One. Thank you to everyone and everything that slightly ticked me off this year and kept me from running out of ideas. Next year, I will be back, with the third, and final installment of my running column. I hope it is more "Lord of the Rings Return of the King," than, say, "Godfather Part III." But if you thought I was whiny, cocky, and self-centered as a junior, imagine the damage I can do with the superego of a senior on my shoulders. BIG MAN ON CAMPUS BABY! I can hardly wait for it. As for the graduating seniors, I will leave you with these parting words: Don't get an MIP during your graduation parties. That will put a major damper on the accomplishment and make your parents forget that you just graduated. Also, please come back and visit sometime next year, but don't be one of those graduates who visit their old high school TOO much. Those guys are lame. Now go out there and make a difference! You got this. "May your hats fly as high as your dreams" –Michael Scott
About the Writer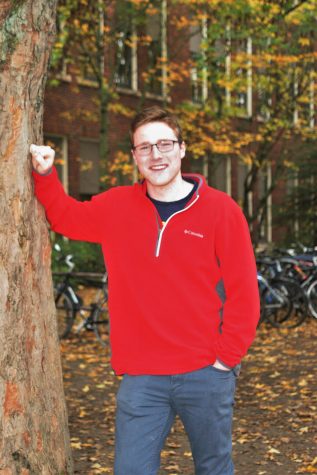 Conor Bergin, Editor-in-Chief
Position within Newspaper: Editor-in-Chief

Graduation year: Class of 2017

Favorite thing to do: Hang out with my brothers

Favorite book: Harry...