Letter to the Editor: Band Praised for CHS Centennial Celebrations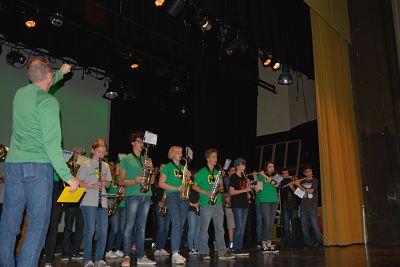 October 25, 2016
Gary Riler, the Jazz Band and Pep Band Members
Band Director
Cleveland High School
3400 SE 26th
Portland, OR 97202
Dear Gary and Members of the Jazz Band,
You are fabulous! The performance you gave at the 100th Anniversary "Reunion of the Century" was outstanding. The choice of music was excellent; the demeanor of the Jazz Band members was exemplary; the volume level was perfect; and all of the attendees commented at how wonderful it was to have CHS students at the reunion to provide a terrific musical background. You all left a remarkable impression on the attendees!
Many attendees commented about how much they enjoyed the music and talking with the students during the reception. "Wow" was often part of their sentences!
The Pep Band was "awesome" at the Open House. The alums really appreciated their enthusiasm, their music, and their talented performance. The tour was really enhanced by their presence and performance. Thanks so much!
Thank you very much for taking time to perform at the reunion functions – even when the weather was a bit less than perfect.
You make us all proud to be CHS alums!
Sincerely,
Members of the All-Class Reunion Committee