It's Still Lit at Misc Mag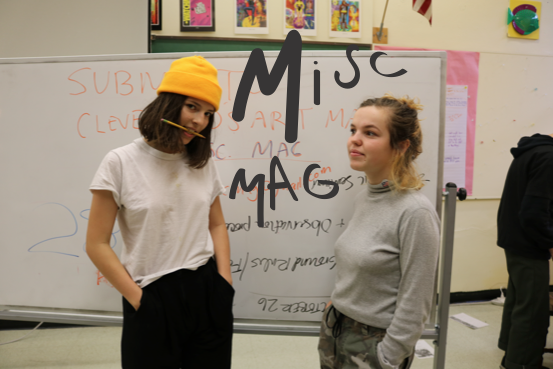 Cleveland's literary magazine, the Era, has undergone a makeover at the hands of seniors Leigh Annand and Lucie Raphael. The senior duo, who are both editors of the magazine this year, have been a part of lit mag since their sophomore year. They have decided this year is the year to revamp the Era, and with that came the new name of Miscellaneous Mag, or Misc. Mag.
"We felt like not enough people knew about lit mag and [we] decided to rebrand," said Raphael. "We wanted to emphasize that this year's mag would be different and wanted a new name to embody this change."
The revamp of the magazine has already sparked an increase in participation. Attendance at the first Misc. Mag meeting had adviser Maggie Appel's room at full capacity. The interest will only help in Annand and Raphael's goals of publishing six overall projects this year, starting with a presidential themed "zine," which will be completed using only staff submissions.
"The staff will be publishing the book ourselves at a co-op printer rather than sending it off to a publishing company," said Raphael. "We really want the magazine to be for students by students and hope that this will resonate with a larger part of the student body."
Misc. Mag has been the talk of Cleveland's hallways since its meetings began in September. The meetings have received consistent attendance, and staff participation is being encouraged by the editors through fun exercises. During one of the meetings, Annand and Raphael had all those in attendance draw or write what ever came to their mind when shown three separate prompts. The creativity and fun isn't lacking at Misc. Mag.
"Misc. Mag is a club where you can release creativity and artistic energy you may not be able to in the average school class," said Annand.
The editors have high hopes for the publication of six projects this year, including four "zines" and two books.
"This year we will also be hosting Misc. Mag events and publishing quarterly zines so that the staff and students can be engaged with the mag, and the art, year round," said Annand.
Lit mag typically only published one book a year, so having to publish two books is a new experience. Annand and Raphael want students to submit their work so that the publication of two books will be made possible.
"We are hoping we will be able to publish two books based off of student body submissions," said Raphael, "meaning anyone who attends Cleveland can submit their writing or art."
Submissions will be accepted through boxes in designated classrooms and the Misc. Mag's email, [email protected].
With the new changes comes the new challenge of fundraising to be able to afford to produce the zines and books. Be on the lookout for Misc. Mag merchandise. Also, make a gap in your schedule for the live storytelling event they will be hosting, their very own Cleveland Moth. The Moth is likely to be held early this semester.