Down the Gridiron Come the Warriors?
A look into the historically troubled Cleveland football program and the age-old question: Can history change?
Before Cleveland football's 2016 season finale, 27-0 victory at Roosevelt Oct. 28, 742 days and 18 games had passed since the Warriors last tasted victory on the field (a 42-8 loss against Wilson in 2015 was later switched to a win due to a rules infraction). The struggles plaguing the Warriors sew much deeper than just short term instability. Since 2000, the program has tallied more winless seasons, four, as winning seasons, three. In the 100-year history of the school, no football team has accounted for more than seven wins in a season, including the state champion 1930 squad. There have been anomalies. In the 1980s, the program captured three seven-win seasons. In 2006, the Warriors came out of nowhere to win the PIL championship. Whenever the Warriors have found success, however, it has been short-lived (Cleveland only won two games in the year following their championship run). With a student body that makes football players the butt of lunchtime jokes, a historically strong soccer program, a recent move up to the top 6A level, and only four freshmen going out for football at the start of the 2016 season, the question remains more prevalent now than it ever has: Why is it so difficult to bring success to Cleveland football? Two former coaches weighed in on the answer.
Problem #1: The Numbers Game
Former Cleveland head coach Gary Sletmoe, currently an assistant at Franklin, coached five seasons for the Warriors from 2008 to 2012. He chalks up a bulk of the systemic problems to the interest level of Cleveland students and the lack of numbers in the program.
"It's a huge numbers game. You need a lot of bodies and you need three levels: freshman, JV, and varsity in order to develop players. I never had 65 players in the program, so it's hard to go against teams with three levels and 90 players," Sletmoe assessed.
Sletmoe cited the strength of the school's soccer program and the lack of a youth football program in the area as major reasons why potential athletes are so difficult to lure to the Cleveland gridiron.
Sletmoe's assessment of the difficulty in numbers was validated this season as only four freshmen came out for the squad, forcing the program to field only two teams and many players to start on offense and defense.
"If you look at the neighborhood, it's definitely a soccer-centered neighborhood, which hurts football. Success starts with the youth program, something I wasn't able to get going successfully. You look at these powerhouse programs and they have great feeder programs with even third and fourth grade teams. That way, by the time these guys are seniors, they've been playing together for seven or eight years," said Sletmoe.
Problem #2: The Jump to 6A
Adding onto the program's number problems, the task to compete did not get any easier when the entire PIL jumped to the 6A, Oregon's top high school classification, in 2014. Current Gladstone Head Coach Wayne Harris, whose tenure as head coach at Cleveland lasted three seasons from 2013 to 2015, calls the classification switch unfair.
"We don't belong in the 6A going against the Jesuits and the Central Catholics. We just don't," he said.
Since Cleveland's jump up in classification, they have fared 0-8 versus traditional 6A programs (teams who had been in the 6A before the classification realignment in 2014).
Problem #3: Keeping Talent in the Area
When the team produces poorly on the field, the school becomes a difficult destination to land the top talent that is in the area, as often times players elect to attend private schools such as Cleveland's Southeast neighbor, Central Catholic, a program that has won two out of the last three state championships with a lot of talent from the Cleveland pipeline. "Kids want to be a part of a winner, not a loser," stated Harris.
Harris believes there is more at play than only private schools when it comes to stealing talent away. According to Harris, the case of kids not playing for their designated neighborhood schools, a rules infraction, runs rampant throughout the PIL.
"You can go around every school in the PIL and trace where these kids live. Most of the good athletes live in the Franklin/Cleveland area, yet they go to other schools. People are treating youth and high school football like AAU basketball."
As justification to his claim, Harris pointed out the comeback story of Madison. "How can you go from almost shutting down your program, to having 80 kids on your roster in two seasons? If kids don't start going to neighborhood schools, Cleveland will never have continuous success."
Problem #4: A Toxic Atmosphere
A problem that both coaches heavily referenced was the bullying and disrespect directed towards the football program from the school community as a whole. The student body has been known to kick the program when it is down, making fun of players after defeats and erasing any honorary status that accompanies a varsity football jersey.
"That was a big surprise when I first got there," said Sletmoe. "Normally it's pretty cool to be a part of the football team and the tradition and wear your jersey in the fall. That wasn't the case with Cleveland."
Harris was troubled most by the fact that mocking would come not only from students, but faculty as well. "It's one thing hearing it from the opposing team, but the hardest part of the Cleveland job hearing it from your own student body and even co-workers. It's hard because then the kids start to believe what everyone's saying."
At one point this season, during a 74-point home loss against Madison, the Cleveland student section started cheering for the Senators. "That hurt those guys–they told me that, the coaches told me that. 'How come they were chanting against us?' When your own high school doesn't back you, and they talk smack to you, that is a bad deal," said Athletic Director Mike Shanahan.
What all these problems create is a repeating cycle of discourse. When not enough players go out to compete–whether it be because of allegiance to another sport, the lure of private schools or even other PIL programs–the team struggles on the field. When the team struggles on the field, it gets pegged with a negative reputation, making even more athletes not want to go out for the team. This cycle has been on repeat at Cleveland for years. With all these systemic problems, the destination is unattractive not only to players, but to most coaches. The task of changing the course of 100 years of history is daunting. How does a coach do what no one has done before and create long-term success inside the Cleveland football program? Cleveland's newest hire, who just put his first year at the helm in the books, believes he is the right man for the job.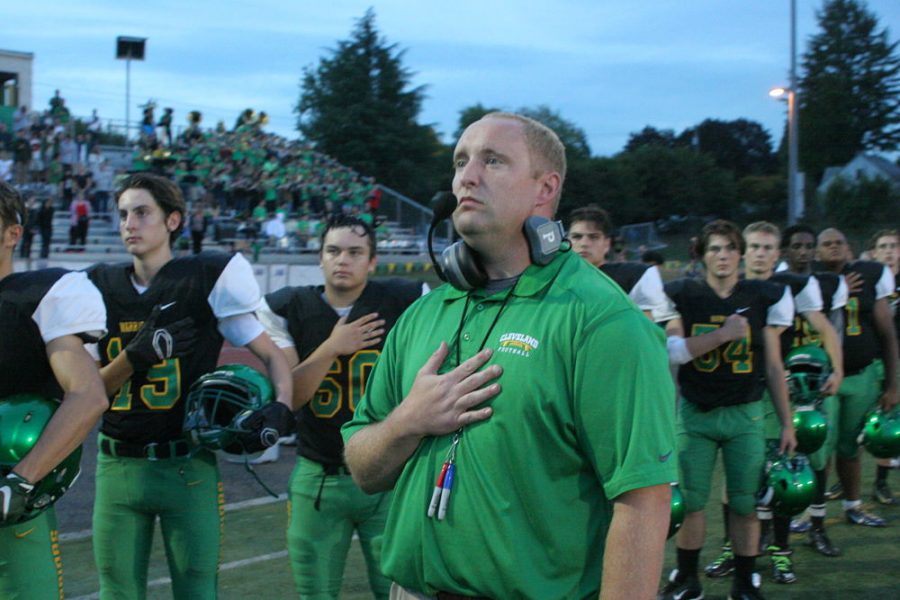 The Answer: Eric Fraser
New Cleveland Head Coach, Eric Fraser, who took the job only weeks before the start of the 2016 season, has experience with turning programs around. Previous to his start at Cleveland, he was an assistant on the staff of historical powerhouses Glencoe, Hillsboro, and Wilsonville. At his last job, as offensive coordinator at Lincoln, he was a part of a staff that took the team from a 5-5 season in 2014 to an 11-1 finish only one year later. He makes it clear, however, Cleveland is a different challenge.
"Here there are systemic issues that run even out of the school and into the neighborhoods, which makes it hard. I think the problem is when you look at the job as a whole in its entirety it gets too overwhelming and you'd probably walk away," he said.
In order to make a change of this magnitude, Fraser says the key is to tackle the situation one task at a time. Success won't come overnight. First on the new coach's agenda: Creating a positive environment amongst the team.
"Coaching took on a whole different meaning for me here. We had to teach our players how to handle discord. If you're not respected in the school, at least you can be respected here, with the team," Fraser said. After working on improving attitudes week after week, Fraser is happy with the new standards the program has set.
"I think we now have a nucleus of guys that knows the expectation that you're going to be positive with your teammates, you're not going to engage in the roast culture, and if nobody outside of our circle cares about our performance or emotional well-being then we're at least going to take care of each other."
Similar to the reactions of Sletmoe and Harris, Fraser was also shocked by the negative culture surrounding the football program from the student body, something he has been working to put a stop to. "It's easy to look down on football and disparage it. I tell guys if you want people to change that, you have to change the way they see you. They can't see you screwing off. This is common everywhere I've been–you tell football players, 'If you miss a class, it's not just Johnny missing class, it's the football team missing class. You're representing all of us.'"
All of this culture change is part of the goal to build up a successful football program in the long run. Fraser is confident that if the team keeps doing things the right way and keeps making off-the-field wins, wins on the field will follow. The program received their first big payoff for their improvement when Fraser tallied his first win as Cleveland Head Coach on the final game of the season, giving many seniors their first varsity win.
"That last win, out of all the wins I've been a part of, that was probably the best feeling ever. Just looking in the faces of the seniors afterward, seniors who hadn't won in two years and thinking they were never going to win a game. To send them out on top. For one night, they were undefeated. It's a small thing, but right now when you're building it from the ground up, small pushes will eventually gain large momentum in the end."
While the win was huge, Fraser knows the program is still a long way away. "Realistically, based off things I've seen–if you're doing things the right way and people are responding to it–three years is about the time it takes for an average turnaround for a place to start showing success," he said.
The now second-year coach plans to be around to see that change take shape. "I'm not using this as a launch pad. All I really want is to build a program where kids go through and they leave being better football players, better people for sure, and come back when they're 29 and invite me to their wedding."
Changing history takes time. Frasier's got it.
View Comments (1)
About the Writer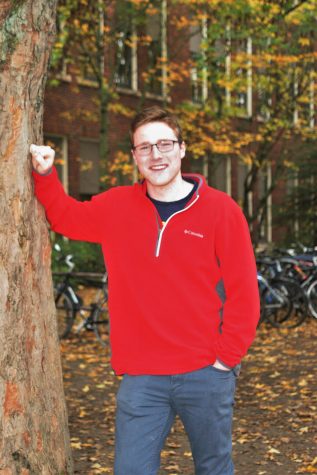 Conor Bergin, Editor-in-Chief
Position within Newspaper: Editor-in-Chief

Graduation year: Class of 2017

Favorite thing to do: Hang out with my brothers

Favorite book: Harry...