Procrastination Nation: A Hopeful Flashback on 2016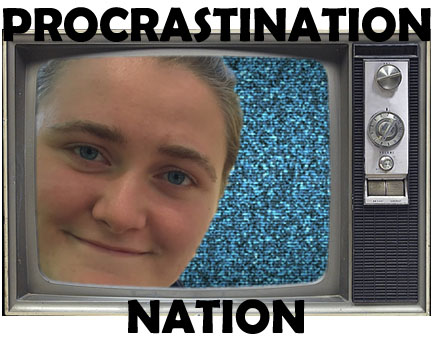 The year 2016 had its ups and downs, but now that it's completely over, what better way to remember the time that was than by watching the best entertainment that debuted last year? Last year had some major problems in the movie industry with white washing, sexist portrayal of characters, and of course just some bad movies. On top of that, the world lost a lot of stars in 2016, from David Bowie to Carrie Fisher. Even though it was no more than usual, 2016 made us feel like every little thing that went wrong was so easy to fixate on instead of trying to focus on a bigger issue. But who even cares anymore? The year is over, and we don't have to remember its bad parts (Think of it like middle school: we can look back and block out the bad and only focus on the good).
Now, you might ask what was good about 2016? Not much, but there were a couple movies and T.V. shows that made 2016 bearable for me. I might not have the same opinion as you as to what movies that made you be able to forget everything (homework that was due, stories to write, your crazy relatives), but I hope that you give these movies and shows a try. And who knows? Maybe you have never heard of these movies. That would be great, wouldn't it? To find something new and somewhat cool about 2016?
Now, there are many other shows that have come out this year, but here are 10 that you might not have heard of that deserve your time.
"Insecure" – HBO
"Stranger Things" – Netflix
"Atlanta" – FX
"Westworld" – HBO
"Luke Cage" – Netflix
"High Maintenance" – HBO
"Search Party" – TBS
"The Good Place" – NBC
"The Crown" – Netflix
"Fleabag" – BBC
Now for movies. Here's a list of 20 that you need to watch!
"Arrival"
"Deadpool"
"Rouge One: A Star Wars Story"
"Civil War"
"Kubo and the Two Strings"
"10 Cloverfield Lane"
"Dr. Strange"
"The Lobster"
"Swiss Army Man"
"Fantastic Beast and Where to Find Them"
"Hacksaw Ridge"
"Finding Dory"
"The Queen of Katwe"
"La La Land"
"Moana"
"Pete's Dragon"
"Manchester By the Sea"
"Zootopia"
"The Witch"
"Ghostbusters"
Now, I know you probably have done nothing to prepare for the new year, but what do you honestly need to do? Everyone knows that you are not going to keep your new year resolutions anyway, so just ignore them. Instead, spend your time catching up to the amazing movies that came out in 2016, before all the new movies from 2017 start to bombard you. Just saying, get ahead with your movie watching while you have the time. Enjoy!