Cleveland Students Attend Women's March in Washington D.C.
On Jan. 21, a small group of 16 Cleveland students and history teacher Sadie Adams set out to the streets of Washington D.C. to partake in one of the nation's biggest protests in history.
Following the decision to not attend the Inauguration on their Washington D.C. trip, the students made the unanimous decision to go to the Women's March on Washington, a movement being held the day after the presidential inauguration to show support of women's rights and honor LGBTQ+ rights, diverse religious faiths, people with disabilities, and others who have previously fought for civil rights. Several students pointed it out as the highlight of the trip, indicating that it was the right choice to go.
"It was something that we decided to not go to the inauguration, but go to the Women's March and I thought that it was a great piece of history, to be a part of that and to be there in support of all these rights that could be in danger in the next couple years," said Nick Paesler, sophomore.
Some students were concerned with the varying political opinions of people in Washington at the time of the inauguration, but attending the march gave reinforcement and justification for why they were there.
"The most meaningful moment on the trip was the Women's March," said Anais Lowe, sophomore. "The rest of the trip, I think a lot of us felt a bit insecure because there were a lot of people with differing opinions, and so the Women's March was just really supportive and beautiful."
On that Saturday morning, they rode on a metro fully packed with fellow marchers into Washington D.C. and joined the other 500,000 people attending the movement. They marched for a total of two hours. Traveling as a group with their signs, they gained the attention of several passersby, including news stations such as Buzzfeed, who interviewed them and took photos.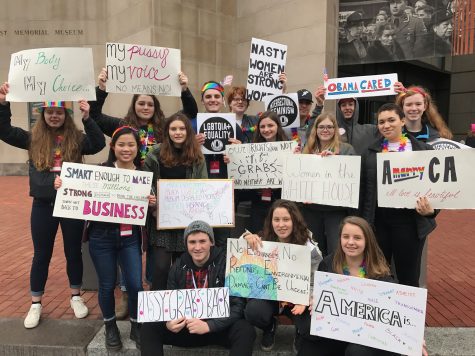 Attending the Women's March had a strong impact on the Cleveland students as they witnessed being in Washington D.C. during the inauguration as well as seeing the public's response and how it brought so many people together. It was an eye-opening and unforgettable experience as they were able to march alongside half a million others who wanted to stand up for the same civil rights.
"It didn't feel as real when we were [in Portland], and then when you get there it's so very real, it's jarring," said Lowe.
This march didn't just show the support and advocacy of civil rights, but signified that there is more to come in the future.
"I think that based on what has happened, hopefully our younger generation, and the people going forward who are actually going to be alive in America in the next 30 years and actually have to deal with it, that we'll take some action and hopefully get things changed," said Paesler. "I think we have motivation now to do that."