Procrastination Nation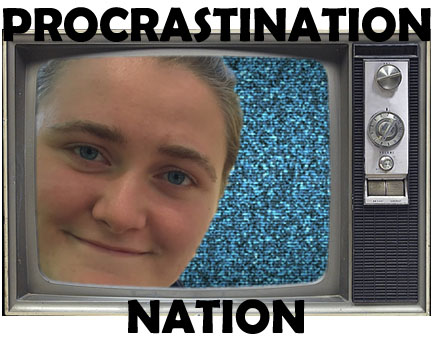 Movies are always being released and the time to watch more movies is approaching, and by that I mean summer. You don't want to spend your money on a bad movie so you have to weed out the good from the bad. The best way to pick which movie to throw your money at is to watch the trailers for new movies before they ever hit the theater. I have watched a lot of trailers over the past few weeks. Seeing as they are only three to four minutes long, I can justify my wasted time. It's better to waste a few minutes on a trailer than a half an hour on a show or something, right? With my newfound trailer experience, I have high hopes for the success of the following movies.
"It"
The novel "It" was a bestseller by Stephen King and was published in 1986. Four years later, a TV show was made based on the book in 1990. Now, 27 years later, this movie is dropping.  Now, if you have ever read the novel, you will know that Pennywise, the clown in the trailer that could give a grown man nightmares, comes out and terrorizes every 27 years. The timing for this movie could not be more perfect. As the trailer starts, we can tell that this story is going to focus around the two brothers, who are shown in the trailer, and their story. The longer the trailer goes on, the more you can tell that some part of this town is messed up and that there is some sort of dark demon lurking. If you like to be scared and want to never look at a clown the same again, go see "It" when it comes out on Sept. 8, 2017.
"The Dark Tower"
This is another Stephen King book series. It was one of his short ones, and it was very popular. In the series Roland Deschain, the last gunslinger, is a white man, but this movie casts Idris Elba to play him. Based on the trailer, Elba looks like he is going to thrive as this character. This preview is looking good and the special effects don't seem to be lacking. In the trailer, we see a kid talking to a therapist about these dreams he is having. Jake Chambers, played by Tom Taylor, has been drawing what he is seeing in these dreams and has drawn parts of another world. As the short trailer progresses, we can see the plot of the story becoming clear: stop the bad guy and save Earth. However, this movie seems to be superior to other save-the-world action movies, with glimpses of the sub plots about the character backstory and life being shown in the trailer. If you are looking for an action movie that looks to have more depth than the ones we have now, go see "The Dark Tower" on Aug. 4.
"Colossal"
This is the trailer that got me the most excited. "Colossal" is about a woman who really doesn't have her life together. Somehow, when she is in a park, what she does is reflected by a monster that is terrorizing the world. As Gloria, played by Anne Hathaway, discovers her odd power, she and her friends from her hometown seem to be mesmerized by this power. The trailer is filled with Gloria fighting planes and helicopters as she messes around with her control over the monster. I have no idea where the plot might go, but I can tell that this movie is going to be a hoot. The release date has not been specified, but it is going to be released in theaters sometime during April of 2018.