Winter Music Assembly 2017
The 2017 Winter Assembly was short and sweet. Held on Dec. 8, the band and choir performed in the auditorium for the annual event while students and staff gathered to watch.
Jan Watt, special projects coordinator, announced the performers as usual, starting off with two festive songs by the band, "Festive Ensemble" followed by "Sleigh Ride." Band teacher Gary Riler was eager to showcase what the band had been working on. He noted that the music being played for the assembly had been ready for about two weeks, so the band was very prepared for this event.
"The music is not extraordinarily hard, we're just preparing for our year. We're doing a piece called Sleigh Ride that's well known in most circles, and actually when I arrived here three years ago, we couldn't play it so we're showing a lot of improvement," Riler said, pointing out that there are 23 seniors in the band this year, almost half the group, who have learned and grown with him since he arrived at Cleveland.
Senior Ivy Hunter, first chair alto saxophone, commented on the large amount of seniors. "I'm definitely questioning what the difference is going to be once all of us leave, but I think Mr. Riler is doing a really good job preparing the younger students and I'm glad that the sophomores and juniors are working so closely with the seniors to learn skills. I'm also really happy with how we performed at the assembly since we only practiced all together with percussion twice," she said. The talent and hard work of the group was evident in their performances.
Next, the choirs performed; The 'Daires sang "Game of Thrones" and the A Choir sang their rendition of "Jingle Bells" with added dance steps and humor to get the audience in the holiday spirit. According to Diana Rowey, choir teacher, the choir's version of jingle bells is a Cleveland tradition dating back before her time here, and has been happening for at least 20 years. "It's been so long that I don't exactly remember," she said.
The band then took the stage again for two more songs — the classic "Feliz Navidad," and the more traditional "Bojangle." Riler added that he is grateful the kids in band got to perform this year since the concert was cancelled last year due to weather. "The kids like to play for their peers and most of the other kids like to come watch it," he said.
All of A choir then returned to perform a traditional African Xhosa song called "Ndikhokhele Bawo" they had been learning featuring Morgan Demetre as a soloist, as well as "Wave in the Water," another deep and soulful song.
"I try to go with a variety of music and mix it up and keep things interesting with some slow pieces, some more uptempo, pieces from other cultures. It takes a long time for me to choose, I do research for hours for every concert to find the right combination," Rowey said. Choir, like band, consists largely of seniors, adding to the musical talent we have in this year's graduating class.
Going off the diversity of music choice in this assembly, Watt recognized the diversity and number of languages spoken at Cleveland, emphasizing the importance of appreciating the people that surround us this holiday season.  
Finally, the staff from the audience joined the choir on stage in a finale of "Winter Wonderland," shortly followed by the fire alarm going off for a drill, yet another one of Cleveland's traditions.
About the Writer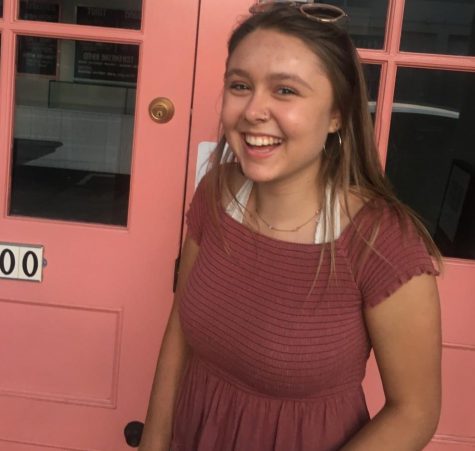 Mia Johnson, Reporter
Hi, I'm Mia Johnson, a Clarion copy editor. I'm a senior here at Cleveland and will be graduating in 2019. I enjoy writing about local news events as...