Friday's in Football: Week of Feb. 2
The Clarion's soccer-centric weekly blog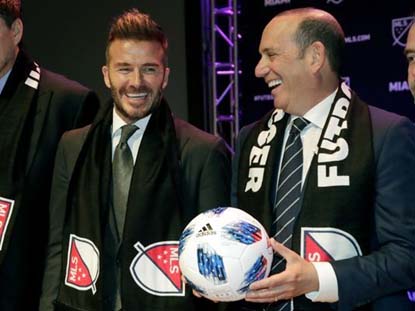 Hello and welcome to Fridays in Football where we, Charlie Snyder and Jaden Rapaport will discuss hot topics in soccer around the world.
Timbers Treats
With the Timbers 0-0 draw in their preseason opener against the San Jose Earthquakes, the Timbers turn their sights toward Saturday's friendly against their northwestern rivals, the Seattle Sounders. Last year, in four competitive meetings, the Sounders got the better of the Portland side as the Timbers fell 2-1 in the US Open Cup and 1-0 in MLS last spring. Their third meeting of the season and the first down in Portland saw the teams fight for a 2-2 draw, thanks to a Clint Dempsey header in the fourth minute of stoppage time. Their final meeting was rather uneventful compared to the prior to MLS fixtures as Christian Roldan found the back of the net for Seattle, but Diego Valeri equalized via the penalty spot just before the half and the match ended 1-1. After Seattle, the Timbers are set to face Houston Dynamo, on Feb. 14 and then FC Dallas on the 17th. Then it's the New York Red Bulls on the 21st and finally, an opponent to be determined on Feb. 24 until the team's MLS opener down at LA Galaxy on March 4.
MLS Mill
David Beckham's dream has finally come true as he has successfully initiated a club in Miami. The expansion side is set to begin play in 2020 in a 26 team MLS. Also, with the beginning of February now upon us, pre-season friendlies have begun.
Here are the results so far.
1/27
New York Red Bulls 7-0 University of Southern Florida
FC Dallas 1-0 University of Tulsa
Sporting KC 2-1 Phoenix Rising FC
Toronto FC 4-0 UC Irvine
1/29
Toronto FC 7-1 Cal State Fullerton
1/31
New England Revolution 4-3 New York Red Bulls
Colorado Rapids 1-2 Columbus Crew SC
Sporting KC 4-0 Sporting Arizona
Portland Timbers 0-0 San Jose Earthquakes
New York City FC 5-2 Jacksonville University
Houston Dynamo 2-0 University of Texas Rio Grande Valley
Toronto FC 3-2 Club Tijuana
Jaden's Judgments
The Real Madrid Crisis
As we enter into February, the defending La Liga and UEFA Champions League title holders, Real Madrid, find themselves with a real dilemma on their hands. After 20 matches, they are 19 points behind the top placed Barcelona and were recently knocked out of the Copa del Rey at the quarter final stage. Sadly, life doesn't get any better for Los Blancos and their hopes of winning a major trophy this year as in less than two weeks time they take on heavy favorites, PSG, in the round of 16 in the UCL. I think that five time Ballon d'Or winner Cristiano Ronaldo needs to go. In my opinion, CR7 is old and slow and needs to learn how to lay the ball off to Gareth Bale or Toni Kroos. Unfortunately, I don't think anything will happen regarding Ronaldo's whereabouts with Zinedine Zidane at the controls, I think the Madrid should sack Zidane immediately as they are in serious risk of not even qualifying for the 2018/19 Champions League.
Charlie's Checkup
More Money More Problems
As soccer has grown, so has the money involved in it. Players are being bought for more and more before the Paul Pogba transfer, which was the trendsetter, it was unheard of for a single soccer player to be bought for more than $100 million, now clubs are willing to spend that on a regular. How much would it cost for a Ronaldo or a Messi in the current transfer market? $300 million? $400 million? With the current inflation, it is going to be impossible to buy the best players. Smaller teams are also losing any chance of competing. Teams like PSG and Manchester City are buying trophies, and a miracle like the year Leicester won the league will never happen again. Many are excited by these mega transfers like Coutinho to Barca for $132 million and Van Dijk to Liverpool for $75 million, but these bring many issues, and make us question what this entire sport is about. It has become so much more than kicking a ball around.        
Upcoming Games
Game of the Week: Monaco vs Lyon
Both these teams are pretty hot, and this is one of the best games in Ligue 1. On Sunday, it is a third vs fourth clash when Monaco face Lyon. Lyon beat Monaco in this same fixture less than two weeks ago, but then went on to convincingly lose to Bordeaux 3-1. Meanwhile, are red hot, losing just one of their last 12 in all competitions, but that loss was to Lyon themselves.  
Jaden's Pick: Monaco 0-3 Lyon
Because Monaco sells all their talent and cash alone can't win you games
Charlie's Pick: Monaco 2-1 Lyon
I predict a very tight game with strong performances from the stars of both teams, mainly Radamel Falcao and Nabil Fekir. However I feel Monaco will be motivated by the last meeting between these two, causing them to just edge the match.
Other Notable Games
Arsenal vs Everton Saturday, 9:00 a.m.
Jaden's pick: Arsenal 3-0 Everton
Charlie's pick: Arsenal 2-2 Everton
Liverpool vs Tottenham Sunday, 8:30 a.m.
Jaden's pick: Liverpool 1-1 Tottenham
Charlie's pick: Liverpool 3-2 Tottenham
Atletico Madrid vs Valencia Sunday, 11:45 a.m.
Jaden's pick: Atletico Madrid 0-0 Valencia
Charlie's pick: Atletico 1-0 Valencia   
Borussia M'Gladbach vs RB Leipzig  Saturday, 9:30 a.m.
Jaden's pick: Borussia M'Gladbach 2-2  RB Leipzig
Charlie's pick: Borussia M'Gladbach 1-3  RB Leipzig
All games in Pacific time
Current Scores
Charlie: 24
Jaden: 23
(1 point for correct result, 2 for correct score, Game of the week has double points)
Table Toppers
EPL- Manchester City, 15 points clear of Man. United, 13 matches to play
La Liga- Barcelona, 11 points clear of Valencia, 17 matches to play
Bundesliga- Bayern Munich, 16 points clear of Bayer Leverkusen, 14 matches to play
Serie A- Napoli, 1 point clear of Juventus, 16 matches to play
Ligue 1- PSG, 11 points clear of Lyon, 15 matches to play
Transfer Talk, Deadline Week Edition
Pierre-Emerick Aubameyang finally an Arsenal player after weeks of speculation. Giroud gets shipped off to Chelsea, who make room by sending Batshuayi to Dortmund on loan, as part of the deal, in a sensational three team trade.

Manchester City spend big on defense again after buying Aymeric Laporte for $71,727,000

New York City send young star Jack Harrison to parent club Manchester City

PSG winger Lucas Moura switches Paris for London after heading to Tottenham Hotspur for $31,339,000

Chelsea bring in Roma defender Emerson for undisclosed fee
Notable News
Mourinho admits Premier League title race is over in light of City's 15 point lead

Chilean club Colo-Colo confirm death of three youth players after bus crash
Special Stats
Stat of the Week- Pietro Pellegri becomes the first player to be transferred born after the year 2000 now that he has switched from Genoa to Monaco at the age of 16

Game of the Week- Liverpool 2-3 West Bromwich Albion

Blowout of the Week- Chelsea 0-3 AFC Bournemouth

Player of the Week- Kevin De Bruyne, 2 goals in 2 matches

Loser of the week- Mario Hermoso for scoring 2 own goals as his cub Español fell 3-2
About the Writer
Jaden Rapaport, Reporter
I'm Jaden, and I'm a junior at Cleveland. This is my second year as a reporter on the Clarion, and I like to write sports stories and take photos. My favorite...