Freshman Sethon Moore makes the jump to varsity basketball
Freshman guard Sethon Moore came into this basketball season with surrounding hype after he locked a junior varsity starting spot before he even played a high school game.
After he became the squad's leading scorer, with multiple 20-point-plus games before the midway point of the season, it became clear the hype surrounding him was warranted. The freshman performed so well he received the call up to swing for the varsity team.
"Sethon is a great kid, and fundamentally the JV level was actually not challenging him, so the coaching staff as a whole moved him up to the varsity where he would be challenged…and have more of a chance to improve," said junior varsity head coach Rick Rier.
Moore did admit making the jump has taken some adjustments, but it is safe to say he found his footing when he broke out for 11 points off the bench in Cleveland's 66-48 win over the then-first-in-league Lincoln Cardinals on Jan. 20. He is not dropping 20 points anymore, but he has found other ways to help the team other than just scoring.
"I play really hard defense and I just attack the boards and get them a lot of rebounds…[on] JV I could get my shot off if I wanted to, and you can do a bunch of stuff. But then on varsity, it's all about timing everything," said Moore.
Moore's solid performance at Lincoln was enough to promote him to a full-time varsity player. Since then, he has served as a solid rotation player, usually being checked into the game as the sixth or seventh man. Due to team injuries, he got to make his first career start Feb. 6 at Franklin in the Southeast Rivalry. "At first I was really nervous…but since I just started playing, it just came to me," said Moore.
Besides his great jump shots, athleticism, and what varsity head coach Don Emry calls "a great nose for the ball," Emry thinks it is Moore's intangibles that separate him from players his age. "He has a positive attitude about basketball. He never gets too high or too low…He's mature beyond his years in terms of being able to play a role and just to fit in with the team," Emry said .
In 34 years of head coaching, Emry has only put one other freshman on varsity, and in his seven years at Cleveland, Emry has never played a freshman on varsity. Emry projects Moore to be the "highest recruited Cleveland player" during his time here, but still assures "he has a lot of work to do." With a size 15 shoe though, the sky is the limit for Moore's potential.
Some varsity players worry that all this hype and attention might go to Moore's head, so they make sure to keep him humbled when they can by reminding him he is still a freshman.
"He is a freshman, so there [are] some things that go along with that, some of them being getting extra physical punishments. We like to push him as hard as he can go and keep his ego down, make sure he doesn't post too many instagram photos talking about how well he does," said senior captain Danny Carr.
Moore's instagram game may be getting weaker, but as his career moves forward, it is no doubt his basketball game will continue to get stronger.
Leave a Comment
About the Contributor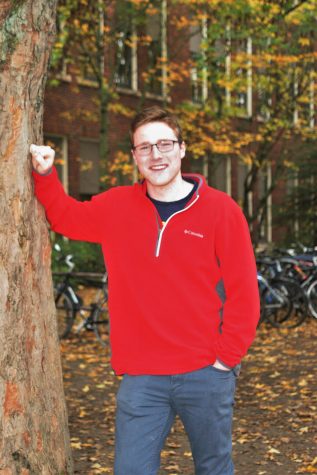 Conor Bergin, Editor-in-Chief
Position within Newspaper: Editor-in-Chief

Graduation year: Class of 2017

Favorite thing to do: Hang out with my brothers

Favorite book: Harry...