Cleveland Junior Releases Debut EP
Junior Nora Burkhartsmeier released her debut EP "With Time" onto major music platforms, including iTunes and Spotify, on Dec. 7, and celebrated with a successful release party on Nov. 24.
"With Time" is an EP, or Extended Play, meaning it's shorter than a traditional album, and contains five songs. Burkhartsmeier explained that the inspiration behind it came from personal experiences that she felt she could put into music rather than words.
"Since I wrote it as a teenager, 'With Time' reflects my state of mind when I was experiencing things that I think are pretty universal for a lot of young people: finding and losing first love, nasty friendship breakups, feeling frustrated at a lack of independence, but also overwhelmed at the uncertainty of the future," said Burkhartsmeier.
The EP contains soulful songs in the jazz and folk genres. Some of the titles include "Crazy Boy" and "Don't Last," with moving lyrics such as "Opportunity won't knock and sleep won't come, and the sky's on fire and I'm all alone."
The process of making the EP started slow and required research. Burkhartsmeier said, "I had known I wanted to record my original music ever since I started writing a few years ago, but I wasn't entirely sure how to go about it. I did a lot of research in 2016 and started by putting out one song, 'Icicles,' so I could learn the basic structure of recording and releasing material."
Her music teacher, Moorea Masa, a Portland-based musician, was a vital part to this release as well. During recording, Masa was on tour, but still in contact with Burkhartsmeier as she went through the process. "She's been my biggest teacher and supporter ever since I started writing songs in middle school," she said. "She connected me with recording studios and musicians who worked on the EP."
The expense of booking a recording studio caused Burkhartsmeier to prepare. "I saved up money I had earned from babysitting and bussing tables until I could afford to buy time in a recording studio. Because I prepared so much before going into the studio, I was able to get everything recorded in three full-day sessions: one to record piano, guitar and lead vocals, one to record strings and one to record vocal harmonies." Burkhartsmeier recorded all vocals and instruments herself, apart from violin, which was played by Margaret Wehr.
While the EP was officially released on Dec. 7, a release party was held to celebrate the occasion on Nov. 24 at the Smile Station, a community building in Portland that hosts events. After advertising on social media, over 100 people came to watch Burkhartsmeier and guests perform. Cleveland junior Zoe Kass and alumnus Jared Watson each had 25 minute sets, followed by Burkhartsmeier doing an hour-long set. Kass and junior Jo Prevatte sang a cover of "America" by The Staves, and Watson sang a cover with Burkhartsmeier as well.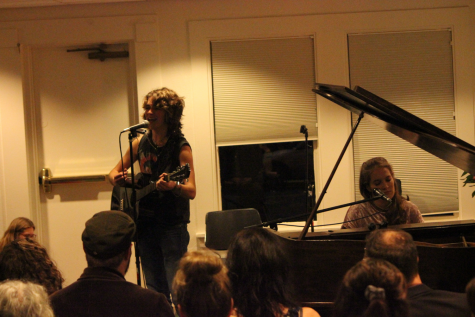 "After I finished singing I got to just enjoy the amazing feeling of having so many of my friends in one room," she said.
Nora's music is amazing," said junior Lainie Pennington, a friend who attended the release party. "She has such an incredible voice, and all of her songs, they had a lot of heart in them and great depth and they're just beautiful. I'm really excited to see what else she does in the future."
Physical copies of "With Time" are sold for $10 at Burhartsmeier's live shows, and possibly at Cleveland soon, with profits going to her future music projects and college tuition. It can also be purchased for various prices on online music sharing platforms such as Bandcamp, a website which supports the artist, as well as found on iTunes and Spotify.
Burkhartsmeier said she hopes to continue with music. One of her goals is to release another project before graduating high school.
"As far as the future goes, I'm going to do everything I can to make a career out of songwriting. I think creating and sharing music is one of the most powerful things that people can do and I want to be a part of that process for the rest of my life."