A Hairy Situation
Jan Watt keeps her word and dyes her hair purple, revealing the look at the Versus Assembly March 16 as a promise to the student body for raising more than $5,000 for CHS Gives Back
One thing you need to know about Jan Watt: she keeps her word.
The beloved Cleveland icon proved this fact at the Versus Assembly, March 16, where she unveiled her purple locks.This hairstyle was envisioned back in December when the freshman leadership class looked for incentives to reach a $5,000 goal for CHS Gives Back, a fundraiser to help those in need within the Cleveland community.
Unbeknownst to Watt, not only would we meet the goal, but the student body exceeded it. "I said, 'Yes' because I knew full well [the students] couldn't do it," she said about the lofty fundraising goal.
An important requirement for her new look was that it wouldn't interfere with Bridging The Gap, Cleveland's showcase event for incoming freshmen. "These people didn't know me. I couldn't just show up with purple hair," said Watt, the school's special projects coordinator.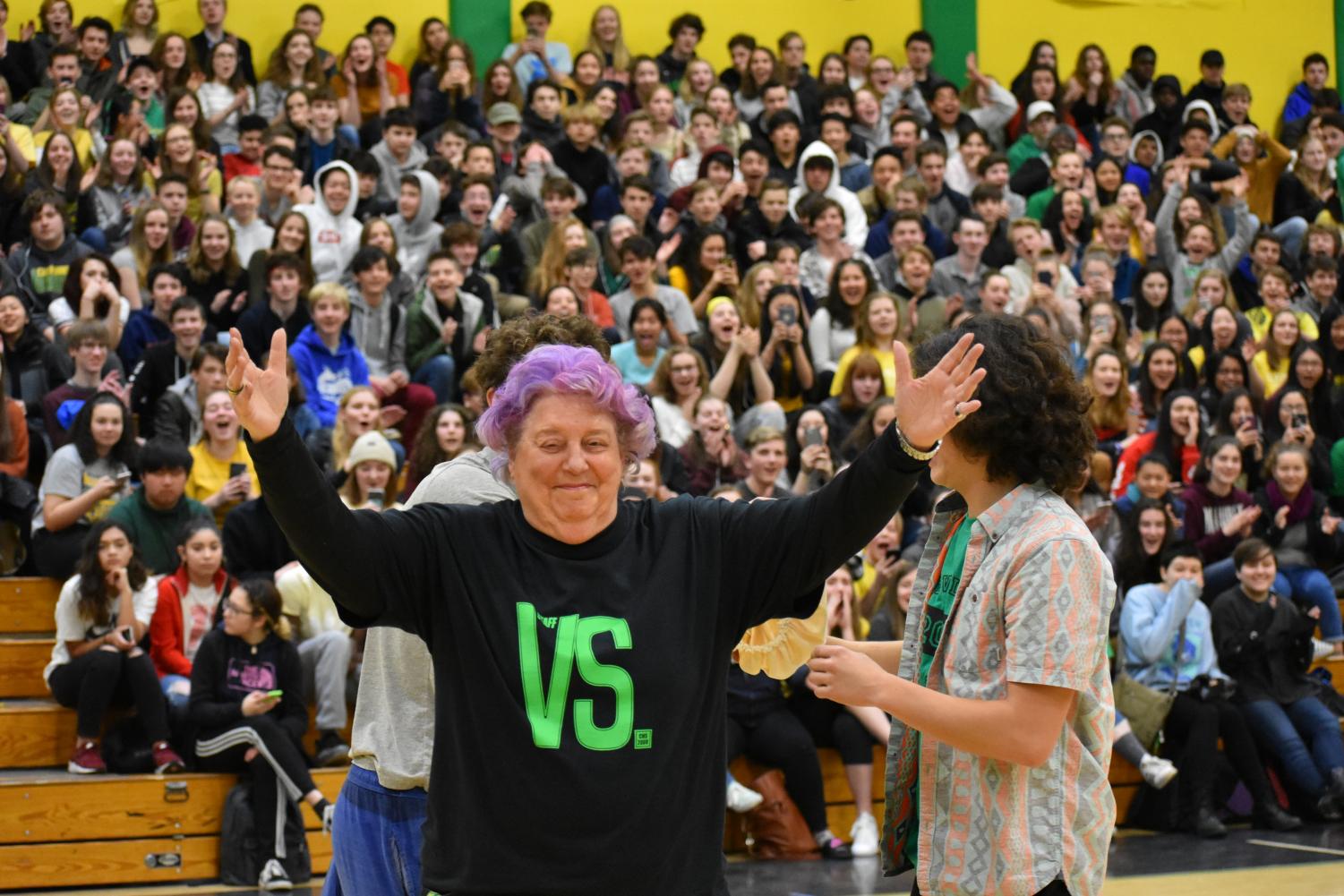 Watt decided to unveil her hair at the assembly, and she enlisted Harry Melanson-Shaw, a fellow hair-dyer, to help her complete the look. "I want full credit given to Harry. He was awesome," said Watt. She also stated that he picked the perfect product for her hair because it wouldn't stay in for a long time.
The dying process actually began the morning of Versus, and she put a shower cap on her head throughout the assembly's 50 minutes. Unfortunately, her vibrant hair wasn't yet dry at the unveiling, causing it to clump and be thick and heavy. However, the stoic hero stuck it out and revealed her lavender locks to the delight of the student body at the end of the assembly.
She showed off her look all day Friday and at the auction that evening. Sadly, her crazy hair came to an end that night due to the fact that she had an important meeting Saturday morning. However, if there is any takeaway from this event, Watt said she was happy to keep her word.