Cleveland Speech and Debate Earns Sixth State Championship
The Cannibals, under the direction of head coach Patrick Gonzales, have won the title six times in the last seven years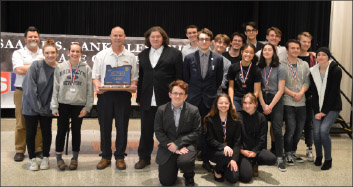 They did it again.

The Speech and Debate team won its sixth state title in seven years when they bested Westview 91-84 April 20.

The win avenged last year's second place finish to rival Lincoln in both state and the district meet. Head Coach Patrick Gonzales had a strong team with 17 of 23 qualifiers scoring points.

Oz Johnson-Congleton won two state titles in Poetry Reading and Prose Reading, and Henry Hawking and Quinn Samouilidis won state in Parliamentary Debate.

"They're awesome, they're in a great program. I think Gonzo's a big part of that. But the students care about it, they work hard, so it's not surprising to see that they've been that successful," said Ben Harrison, a student teacher at Cleveland, and a volunteer coach for the team, when asked what he thought about their win.

Since they had just finished with the district competition, Gonzales gave them a rest for awhile. Then, after Spring Break they started up again and would practice in front of other classes to give them a new audience.

In terms of goals for state, Gonzales said that originally their goal was to be in the top five – that's who gets the trophies. But, they changed their goal to third or higher halfway through the year when they realized that they would be in the top three.

About the win, Gonzales said, "This group really deserves to win it. I mean it just happened to go to a nice group of kids. It doesn't always happen that way, so that was exciting." He continued to say that the seniors in the group are really close to each other and there's a great dynamic.

"This was a very close-knit senior group," he said. They've all had their own personal losses in their lives and this family here is something that really helped them through their last three or four years. They're just really close and really good to each other."

On the plans for what the next step in Speech and Debate is, Gonzales says that they're planning on reviving and mentoring other high school's debate teams.

"We're always a service, we're just known as a nice team, so really I think next for us is to just help other kids to find this world which is so amazing and fantastic," Gonzales said.