"Saturday Night Live" Is Back From the Comedy Graveyard
Hang on for a minute...we're trying to find some more stories you might like.
"Saturday Night Live" returned Sept. 29 for its 44th season. The show featured guest host Adam Driver and artist Kanye West performing his latest tracks. After the critical destruction of the last season, SNL definitely needed a face lift, and luckily it looks like they may have gotten one. Season 43 was filled with lackluster episodes jam-packed with un-funny and bland jokes that just felt like the writers had given up. This was obvious in sketches like "Aidy B & Cardi B" and "A Kanye Place." Because of this, when entering the newest season, I went in with a layer of precaution.
The first episode, of course, opened with a parody of the Kavanaugh hearing, the cast playing all of the various senators featured in the real-life event. The moment actor Matt Damon walked out as Kavanaugh, I knew I was in for a good time. Damon was the perfect representation of Kavanaugh, at least for SNL standards. The 13-minute sketch did a great job focusing on the most absurd and interesting parts of the hearing, like Kavanaugh's strange calendars or all the comments from Kavanaugh on his fondness of beer. The writers showed some of their best work in this cold open by never going too over the top, but still making an enjoyably crazy re-creation of the hearing. Kyle Mooney, a member of the SNL cast, was a standout as Senator John Kennedy who had a very funny interaction with Damon. In terms of the rest of the cast, they all did their job fine, though nothing amazing. I was extremely pleased by this first sketch.
After a fairly disappointing monologue from host Adam Driver about his reaction to what the cast did over the summer, the sketches started to play out. Overall, the sketches were a very mixed bag. The first sketch titled "Fortnite Squad" was a weak attempt at satirizing the popular game. Other than one funny line from Adam Driver's character about trying to reconnect with his son, the sketch was not very entertaining.
The next sketch, "A New Kyle," was about cast member Kyle Mooney trying to be more like fellow cast member Pete Davidson. Although the sketch had a strong beginning, it failed when it became too fictionalized and decided to be about Mooney and Davidson having a gladiator-style fight instead of the initial joke.
The following sketch named "Coffee Shop" had an interesting idea that was actually pretty funny, but the two main characters played by Adam Driver and cast member Cecily Strong were so annoying and aggravating that they almost ruined the whole sketch. There were still amusing jokes, but it was mediocre overall.
Then there was the sketch "'80s Party," which was probably my favorite of the whole episode as it followed an assorted group of individuals at a 1980s college party all saying or doing things that would later be shown to have ironic consequences or happenings. This sketch was very good for many reasons, one being that it followed a certain theme throughout, but still made silly and different jokes that all worked well off each other. Another reason it worked so well was how it didn't try to reference any modern day events and instead it just decided to be a funny and timeless sketch. I think that those are the perfect rules of the best SNL sketches.
After a long stream of sketches, a performance from Kanye West ensued followed by the Weekend Update. The weekend update, a segment of the show that stars cast members Colin Jost and Michael Che, is similar to the monologues that you would see on tonight shows where the actors run through the biggest news of the week, throwing in jokes at every chance they get. Other than the best sketches of the night, this was the funniest part of the show as it demonstrated the best of what SNL has to give. Whether it was the impression of Serena Williams by Leslie Jones or the interview with Pete Davidson about his engagement with singer Ariana Grande, it was all comedy gold. The weekend update always has something fun and inventive to give and has two extremely charming hosts. It's no wonder why it's a fan favorite.
Returning to the sketches, the first was named "Career Day." This sketch featured a class learning about different jobs from the parents of the students. Although I didn't think this was one of SNL's best sketches, it was pretty good. Driver did a excellent job as a parent presenting the job of an oil baron. His role was like an exaggerated version of Daniel Day-Lewis's character from the film "There Will Be Blood," yelling various lines like, "Now what does a oil baron do? The answer, crush your enemies!" Because of Driver's ridiculously fun acting, the whole sketch was very entertaining.
The final sketch of the evening was titled "Neo-Confederate Meeting,"  which had a group of Neo-Confederates talking about moving to a new place because they thought America had too many immigrants. With such a political set-up, you'd expect for the jokes to be just as political, but surprisingly there was only one, simple joke the sketch focused on. While it would seem that having only one joke would hurt the sketch, the repetitiveness of it actually worked to help the scene and make it feel tidy and witty. While every sketch had its moment, I would suggest going on YouTube and watching the ones recommended here, because it's not worth sitting through the rest to get to the gems.
Kanye West first performed the track "I Love It" with rapper Lil Pump. This performance might as well have been one of the sketches because it was one of the funniest things the show had to offer. To start, both of the artists wore costumes that resembled water bottle brands, and did sad, little dances while carrying the bulky suits on their shoulders. To make it even more insane, the lyrics were changed to make a cleaner version since the song featured such explicit words. The new lyrics made the song sound like a Kidz Bop remix and even more childish than it was before. Finally, hearing Kanye West and Lil Pump's real voices without autotune was like listening to a sixth grade talent show, voice cracks and all. The best part of the whole thing was hearing the laughter of the audience in the background. The other two songs performed by him were not terrible, one called "We Got Love" featuring a rapper and actress by the name Teyana Taylor who completely outshined West, and the other song named "Ghost Town" with Kid Cudi and 070 Shake that actually had a genuinely nice sound.
Overall, this first episode was a very average episode. Although better than any episode from last year's season, it still had a mix of lousy and superb sketches. Despite this, episode one of season 44 was a light in the darkness of what it has been for the last few years, so because of that, I'll continue watching. I don't know that I suggest this whole episode, but I suggest watching the best sketches and the Weekend Update on YouTube. I don't necessarily believe this season will be amazing, but I can say that I believe it can be better than last season.

About the Writer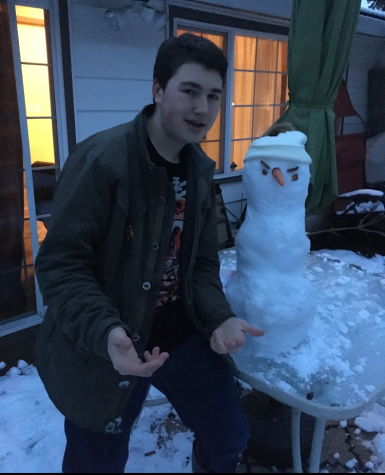 Graham Jones, Reporter
I'm Graham, and this is my first year as a reporter for the Clarion. I'm currently a sophomore at Cleveland, and I want to write reviews for the Clarion...