Tastebuds
Hi! We're Shelton and Sophie. This year, we're bringing you a comprehensive review column that lets you know which local restaurants are worth a visit. Each issue, we'll pick a type of food, then select three businesses around Cleveland to review. Each business gets rated on a five star scale in a variety of categories, which range from atmosphere, to taste, to convenience. In honor of the end of summer, we chose ice cream for this year's first edition of Tastebuds. At each shop, we ordered their most popular flavor and the flavor we thought was the wackiest. Happy reading!
Salt & Straw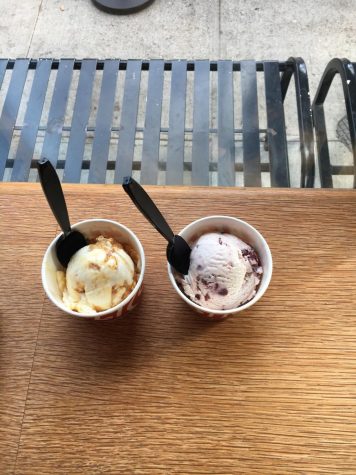 Atmosphere
Salt & Straw was cozy and boho chic. The exposed wood and earthy toned fabrics hanging from the ceiling added to the overall feel. Despite the several windows, it was a little dark for our liking. We believe a trip to an ice cream shop should feel light and summery, not sleepy. However, if you're looking for somewhere brighter to enjoy your ice cream, the outside seating area is complete with plants and an abstract art piece.  …3.5 cones
Selection
Salt & Straw has a reputation for having only weird flavors, catering to hipsters with little consideration for the rest of us. After all, sometimes we don't want vinegar or blue cheese in our ice cream. However, once we actually took a look at the flavor selection, we were pleasantly surprised. The 17 flavor options have something for everyone, including vanilla, brownie, and snickerdoodle. And if you're feeling adventurous, you can always give "Pear with Blue Cheese" or "Coconut Jam and Rice Crispy Treats" a try. … 4 cones
Price… 2.5 cones
Single-$4.10
Double-$6.10
Split scoop-$.50
Taste
We started off with Salt & Straw's very first and most popular flavor, Sea Salt with Caramel Ribbons. We enjoyed the gooey caramel mixed with the sweet vanilla, but the sea salt overpowered the other flavors. The second flavor we tried was Bone Marrow and Smoked Cherries. The smoked cherries were interesting, but the bone marrow didn't add anything to the dish. We feel as though its main purpose was to entice adventure-seeking customers into giving it a try. However, similar to clickbait, it wasn't nearly as exciting as promised. Overall, we weren't blown away by these two flavors, and felt neither delivered the typical deliciousness of Salt & Straw ice cream. … 3 cones
Convenience
We've all seen what Salt & Straw looks like on a Saturday night… let's just say it isn't pretty. That being said, we can assure you that the shop looks a whole lot less daunting at 3:30 p.m. on a school day. The line was limited to only one or two people, making it a totally manageable wait, and we were able to find a nice spot right away. The problem is, we're aware that this experience is completely out-of-the-ordinary for a trip to Salt & Straw, which is usually crawling with tourists and foodies. …3 cones
Salt & Straw is known for its atypical flavors, but it also has something for the less adventurous. If you're tired of the usual chocolate or strawberry, Salt & Straw has your back. But if you see an alarmingly long line forming, as it so often does, you may want to head to one of our other picks.
Eb & Bean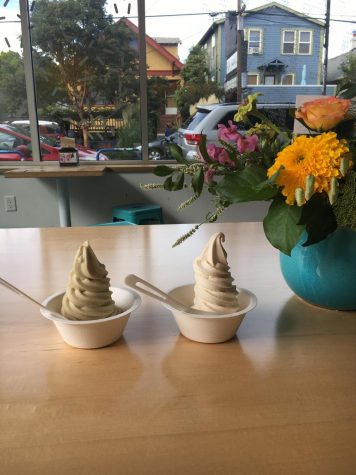 Atmosphere
Even on the coldest winter day, Eb & Bean will have you feeling warm and fuzzy. With its calming blue color scheme and bright natural lighting, the shop feels like summer again. The light music left us feeling relaxed, and bonus points for the creative wall art and bouquet of fresh flowers on every table.… 5 cones
Selection
At only seven flavors, we weren't impressed with the selection. What they did have was interesting enough, but left something to be desired. While the frozen yogurt options were limited, Eb & Bean provides more than 30 different toppings, with an assortment of sauces, sprinkles, nuts, and other goodies. However, the toppings don't make up for Eb & Bean's lack of flavor variety. …2 cones
Price…3 cones
$3.95 for a small
$4.95 for a large
Taste
We all know the song; it's "I scream for ice cream" not "I scream for frozen yogurt." Most of us agree, ice cream is the tastier of the two. Eb & Bean was already at a disadvantage because of this, but we were pleasantly surprised by the two flavors we tasted. We tried Pistachio (their most popular) and Earl Grey Caramel (the wackiest). The saltiness of the Pistachio was unexpected, but delicious, while the Earl Grey Caramel was delicately balanced and satisfyingly light. Both flavors were definitely yummy, but let's be honest; they would have been better as ice cream. ..3.5 cones
Convenience
Eb & Bean is about a 15 minute walk from Cleveland, making it the perfect after school destination for a sweet treat, but not really accessible during lunchtime. The shop makes up for the distance with its short line, plus there are plenty of places to sit. Its location on a main street allows for dinner and shopping options right next door. … 4 cones
Eb & Bean is definitely easy on the eyes, ears, and taste buds. Not only does it provide a tasty after school snack, but also a fun place to eat it. This frozen yogurt shop is all about the sundae, providing customers with a tower of swirled soft serve and a wide array of toppings. However, if you're looking for a classic scoop of ice cream, this may not be the place for you.
Fifty Licks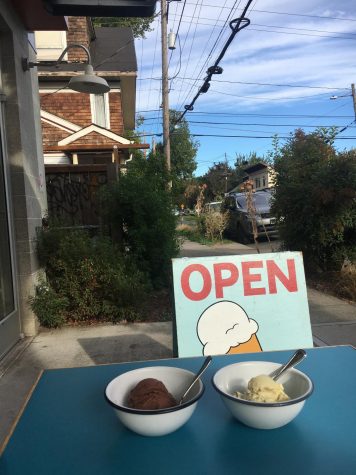 Atmosphere
Fifty Licks was chock full of bright colors and pretty lighting. We loved the windowsill plant arrangements, marble countertops, and most of all, the entire wall dedicated to a TinTin comic collage. The outside seating area was pretty and featured lots of ice-cream themed decor. … 5 cones
Selection
With 16 flavors to choose from, Fifty Licks is pretty solid when it comes to selection. Unlike Salt & Straw, the unconventional flavors were there to be genuinely enjoyed, not just to be wacky or alternative. Fifty Licks creates their flavors in the real spirit of ice cream deliciousness, with a nice balance between the classic and creative. …4.5 cones
Price…2.5 cones
$4.25 for a classic
$7.65 for a double
Taste
Because Fifty Licks was the last place on our list, we were expecting to be completely sick of ice cream by the time we made it there. However, Fifty Licks was the only place that had us scraping the bottom of the bowl. The first flavor we tried, Chocolate as #&!* was creamy, rich, and dark, delivering everything a good chocolate ice cream should. Next was Alma Lemon Basil Ganache, which perfectly combined a handful of flavors that didn't seem like they should go together at all. It was light, tangy, and refreshing, with a surprisingly strong basil aftertaste. These two flavors surpassed our expectations by a long shot. We would love to give Fifty Licks even more, but unfortunately we're limited to only… 5 cones
Convenience
Fifty Licks had no line and plenty of spots to sit. Out of everywhere we reviewed it was the closest to Cleveland and the most feasible for a lunchtime visit. That way you can make the whole school jealous as you walk back, ice cream cone in hand. …4.5 cones
Fifty Licks left us wanting even more ice cream, despite the fact that we had already eaten six scoops between the two of us. Even though the price of a cone is high, we have a feeling Fifty Licks will be our new go to. The selection is excellent, the flavors delicious, and the atmosphere fun and exciting, which makes it worth spending the extra 15 to 30 cents. While we thoroughly enjoyed each scoop of ice cream, we both agree that Fifty Licks was the clear winner of the three.