One Act(s) and Three Successes
Cleveland's drama students successfully put on the One Acts Nov. 9-11 despite the challenges the participants faced.
The first One Act of the night was "Twitch," written by Stephen Gregg and directed by seniors Anaïs Lowe and Natalie Alper. Next was "The Tales of Professor Jonathan P. Ducksworth," co-written and co-directed by juniors Nate Davis and Owen Atlansky. "Cinema Limbo" was written by Wade Bradford and directed by sophomore Sarah Powell.
All the One Acts faced challenges to put on their show, including lack of rehearsal time, and productions had to go to extra lengths to rehearse. To work around scheduling conflicts, students practiced in their houses as well as parks.
"We just sort of had to put our faith in them," said senior Ashton Hanson, who played Jonathan P. Ducksworth in "The Tales of Professor Jonathan P. Ducksworth."
Junior Ella Stout, the stage manager for "Twitch," explained how it was nice to know that when the drama department needed help, support came in many forms. "We all just worked together and Nicole Seely, who was substituting for the drama department, was super helpful, and we got a lot of help from Jan Watt," Stout said.
On opening night, the hard work from the students paid off on stage. "Twitch" centered on a couple suspicious of their new next door neighbors who didn't know how to interact with people. In the end they were discovered to be aliens from space that had crashed on earth and were trying to go home. Sydian Mikesell and Kate Daley played the aliens; Luxy Castilleja and Tucker Hoffman played the suspicious couple. All four did a great job to illustrate the story with bright metallic costumes for the aliens and great acting from all the participants, resulting in a successful weekend for "Twitch."
In the second show of the night, Hanson's Professor Duckworth tried to put on a one man show but was continually interrupted by characters like the janitor (sophomore Aiden Heavener), the magician (sophomore Lily Jones, the health inspector (junior Jess Orkin), and the lawyer (senior Abbie Fonseca). With so many characters and such short time it can be hard to create an act that can be easily followed by the audience, however the cast and the directors, Nate Davis and Owen Atlansky, did a great job and the performance was well loved by the crowd.
The last act of the night was "Cinema Limbo" and it followed the conversation of two young adults played by senior Sophie Freinwald-Fishman and sophomore Andrew Rehmann. The chemistry on stage was good and the effort by the actors and director could be seen.
"Each One Act was great. They showed off the strong suits of everyone involved. Every night was high energy, keeping the audience entertained," said Atlansky.
The audience was nearly full every single night and the performances raised more than $700 dollars for the department.
The One Acts are a great opportunity to try something new without lots of pressure. They are only 15-30 minutes each and everyone gets to be on stage. It was senior Ashton Hanson's first year doing One Acts. "I wasn't going to audition but Tucker Hoffman and Luxy Castilleja convinced me to audition and I am so happy that I did," said Hanson, adding, "I had a little experience from last year when I was a stagehand on the production of 'Legally Blonde.' As a senior I was a little nervous jumping into a new social environment, especially since they all have had a couple years doing this together, but I felt instantly welcomed."
Cleveland junior Sydian Mikesell acted in "Twitch" and said, "Everyone is an actor really. You just have to presume a character. You don't have to have any experience to be in a One Act."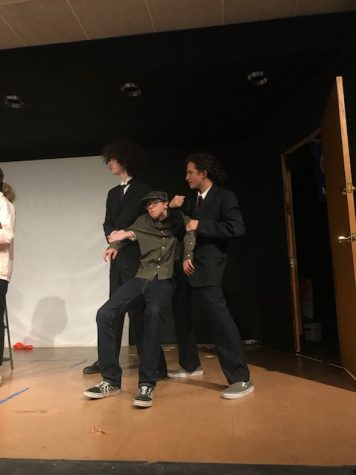 Co-Directors Owen Atlansky (left) and Nate Davis (right) come onto stage to play a role in their One Act.