Clarion Over-Under: Winter Issue
Hello Cleveland Clarion readers,
As Commentary Editor-in-Chief, I regard it as my utmost responsibility to bring stimulating discourse to the public. A good commentary is thorough, with a multitude of supporting evidence that strengthens the author's argument. But sometimes, the most polarizing and influential opinion pieces are the most simplistic. This is the notion that bore this section: Clarion Over-Under. If you strongly disagree with the ranking of one (or more) of the items on this list and want to explain yourself, or have a submission for next issue, we encourage you to contact us through our website or DM us on Instagram @chsclarion to make your voice heard. Enjoy!
Yours Truly,
Mirabella Miller
OVERRATED:
Beards
"They are too mainstream, now everyone has one because they are following the trend." – Mr. Sorensen
Lucky Charms
"Lucky charms are overrated because you have to eat all the boring pieces to get to the marshmallows, and the marshmallows aren't even that good." – Mia Johnson, Reporter
Pink Floyd
"Basically all of their songs are an unorganized mess of music." – Graham Jones, Reporter
Dutch Bros
"Dutch is overrated because most of their drinks are too sweet, too sugary, and too expensive. Their coffee is also just not good quality. It is hyped up too much." – Jennifer Singh, Reporter
New Seasons Mac & Cheese
"I think it is greasy and I'm pretty sure they put mayo in it, which isn't cool." – Sophie Weir, Editor-in-Chief
Catcher in the Rye
"It is supposed to be relatable, but it's just not. Holden is too whiny and calls people 'phonies' too much." – Shelton Bowman, Copy Editor
Yerba Mates
"They just don't taste that good, and $3 isn't an adequate price for a drink that doesn't taste that great. I'd rather make my own tea at home." – Kira Chan, Editor-in-Chief
Christmas Music
"It is repetitive and predictable, and there are way better ways to get into the holiday spirit." – Mirabella Miller, Editor-in-Chief
Billie Eilish
"I think her music is fine, people are just really obsessed with her as a person and praising her every move, and I don't think anybody really deserves to be praised like that." – James Roach, Reporter
UNDERRATED:
Patrick Brown, Clarion Reporter
"Patrick Brown is a hardworking, good looking, and intelligent being. He deserves respect in our school and society." – Finn Kemper, Reporter
The Clarion
"The Clarion is underrated because it is the best newspaper ever." – Madeline Sweet, Reporter
Cabbage
"I think cabbage is associated with negativity, and I just don't appreciate that. Cabbage slaw on a taco? It's so good. Coleslaw, sauerkraut, kimchi, it's all good." – Sophie Weir, Editor-in-Chief
Los Gorditos
"Great prices and giant servings. There are so many options on the menu and the name is really cute. It's never busy." – Lainie Pennington, Editor-in-Chief
Renting Movies from Movie Madness
"It is underrated because it provides human connection instead of just sitting alone and streaming. They also have really cool artifacts from movies that you can see." – Madeline Sweet, Reporter
Dabbing
"While some may dismiss the dab as an amateur dance move or a played-out trend, I regard it as an exquisite reaction to almost any life situation. It is perfect for lightening the mood or getting attention, two things I love to do." – Mirabella Miller, Editor-in-Chief
Tiny Desk Concerts
"They are an intimate setting, so you get to see the artist more acoustically without all the extra stuff in a studio. Also, they are just cute." – Lainie Pennington, Editor-in-Chief
Dirt
"People think dirt is so gross, but it's so important and everything we need depends on good dirt." – Sophie Weir, Editor-in-Chief
Chocolate Milk
"The truth is everyone loves it, but very few people actively buy it and look for it and appreciate it. But I think we all know that if they did, they would be happier." – Shelton Bowman, Copy Editor
About the Writer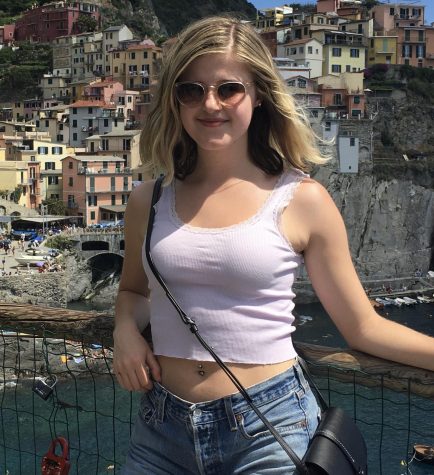 Mirabella Miller, Editor in Chief
I'm Mirabella Miller, and I am the editor in chief of the commentary section. This is my third year on the Clarion, and I am a currently a senior at...