Students with Published Works
LAUREN WOODHOUSE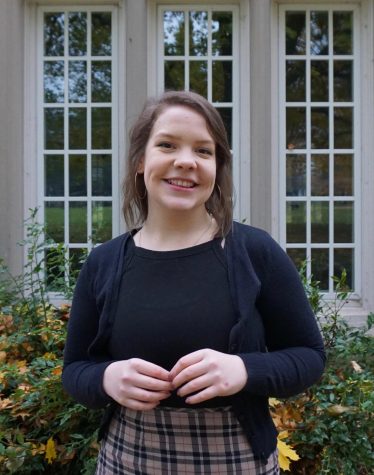 As of October 2018, senior Lauren Woodhouse can officially say she's in the company of Emma Watson, Jameela Jamil, Keira Knightley, and Alicia Garza. Along with these famous activists, her writing was published in "Feminists Don't Wear Pink and Other Lies," an anthology of essays written by women from all different walks of life. It includes an array of commentaries and personal stories, while "exploring what it means to be a woman from every point of view," according to the book's website.
The project was curated by Scarlett Curtis in partnership with GirlUp, an organization which seeks to empower and educate young women all over the world. Woodhouse's position as a GirlUp teen advisor is what won her this once-in-a-lifetime opportunity. She chose to write a short piece about the intersectionality of classism and feminism, and how we can mold feminism to address the needs of all women, rich or poor. According to Woodhouse, this message was inspired by personal experience.
"I grew up with a single mom ー and for a while we were struggling," said Woodhouse. "It made me think more about how women from different socioeconomic classes aren't included enough in feminism. If we all work together then we can overcome this obstacle together, and work to fix other problems that marginalized people face."
Not only is Woodhouse's involvement a contribution to feminism, it's also a huge personal accomplishment. She says she never expected to be featured in a book at such a young age, much less alongside such influential women. "Feminists Don't Wear Pink" has made a big splash across the country in part because of these notable names. In fact, in December Jimmy Fallon interviewed co-contributor Saoirse Ronan about the book on national TV, garnering increased media attention and countless readers.
"It's really been an honor to be featured in something so powerful, my name is right on the back of the book and everything ー I'm a published author now and it's crazy," said Woodhouse.
ELLA SORENSEN AND TIFFANY VO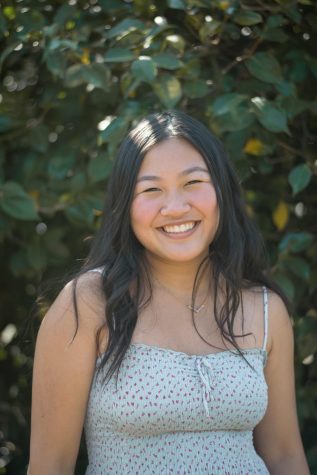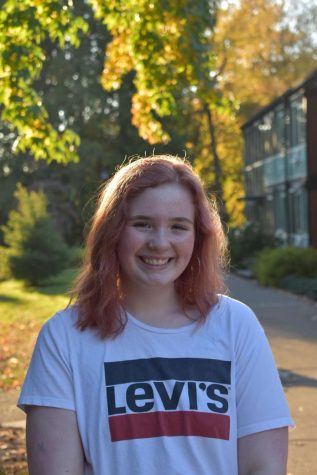 Seniors Ella Sorensen and Tiffany Vo both had published poems under their belt by their sophomore year of high school, and both through the same Portland-based program. Writers in the Schools (WITS) partners with public schools in Multnomah county by sending professional writers into English classrooms, where they teach mini-lessons encouraging students to tap into their creative voice. Students who take part in these lessons are invited to submit their work for publication in the annual WITS anthology of poetry, prose, drama, comics, and more.
In her freshman year, Sorensen submitted a cento poem she had written in class, which was published in the WITS 2015-16 anthology "Casually Bringing Monsoons." Cento, which is latin for collage, is a poetic form made up of lines from other poems written by other poets. She chose a handful of poems about music, and pieced together a new, entirely unique piece of writing.
"At the time, music was something that was really important to me," said Sorensen. "My freshman self turned to music when I was feeling all sorts of different emotions, so I wanted to do something to represent how much music meant to me."
Vo took part in the WITS program her sophomore year, and got a poem of her own published in the 2016-17 anthology edition "Galaxies on the Ground." Her poem was a retelling of her life through a series of vague, but poignant memories. She says it's very intimate because it was originally written only for herself, not for an audience.
"I was at that stage where nothing was really moving in my life, and I felt kind of static," said Vo. "I started thinking about the person I was becoming, and how I had gotten to that point. The poem became a very honest capture of my life."
Vo says she's thankful WITS gave her and her classmates an opportunity to dip their toes into creative writing, because it's generally not emphasized in public high schools. Instead, we tend to write a lot of research papers and essays, which Vo says are very stale forms of writing.
"I think it's important we have dedicated time and space throughout our high school career to write just for the fun of it, and to express ourselves. Everyone needs that." said Vo.
VEDA CARMINE-RITCHIE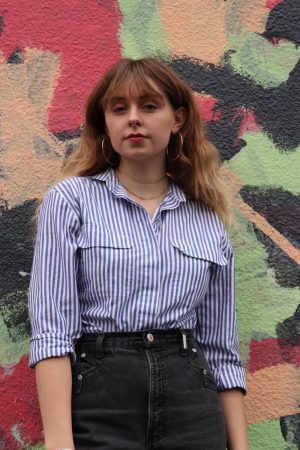 Senior Veda Carmine-Ritchie says she finds solace in her poetry. For her, writing is less of a conscious decision and more of an emotional reaction. It's how she translates her thoughts into something she can make sense of.
"Writing poetry is important to me because I think it's really hard to convey exactly what you're thinking when you're speaking to someone. When I'm writing, I can phrase things exactly how I want them to be understood. It turns into something you can edit and keep forever," said Carmine-Ritchie.
After several years of writing, Carmine-Ritchie submitted a handful of poems to PDX native, independent zine "Window Cat," which features work from local poets. They selected three poems to feature in their January issue, which you can find on shelves at Powell's bookstore on Hawthorne. She says these three poems are all freeform, and stay true to the themes she generally writes about.
"They're about love and my life and self-reflection, like a memoir," said Carmine-Ritchie. "They're also about creating imagery to create an emotion, which is my favorite thing to do in poetry."
According to Carmine-Ritchie, having published work will drive her to keep on doing what she loves and to keep on taking chances with her work.
"I write so much poetry, and at some point I just decided I don't have to wait to submit all of this, I'm just gonna go for it. Having them accept my work was empowering in a way ー I think it's going to be very motivating." said Carmine-Ritchie.