Charlie Abrams and Jeremy Clark: Our Future is Our Fight
The Freshmen environmental activist duo helped organize Friday's Climate March
Charlie Abrams and Jeremy Clark, Cleveland freshmen, have been friends since fourth grade. You may not expect the two teens to be influential activists, yet that's what they are. The two have testified in front of the PPS school board, at the Oregon State Capitol, and have lobbied in Washington D.C. They were sent to Sweden two years ago as finalists in the Children's Climate Prize. They started their own blog in fifth grade and recently, they started a youth-led nonprofit environmental activism organization called Affected Generation.
"Affected Generation is an organization we founded. It organizes different youth movements, such as Youth Lobby Days, and the Global Climate Strike," said Abrams.
The goal of their organization is to make youth voices heard in the fight against climate change. But don't be fooled by that headline grabbing goal: the two have focused, specific goals influenced by cold, hard facts to combat climate change.
"Companies in Oregon pollute over 25,000 tons every year, and bills we push for aim to change that," said  Abrams, while explaining the fight for the carbon cap in Oregon.
To fight this problem, the two lobbied lawmakers to put a cap and trade on the emissions of the biggest companies and polluters in Oregon. Their work helped to pressure lawmakers to introduce a bill that would put a cap and trade system into place to regulate carbon emissions. Not only that, three years ago, Abrams testified in front of the PPS board to require climate justice education in PPS schools. They succeeded, and the policy was put into act. However, PPS failed to actually enforce the curriculum, and earlier this year, Abrams testified again to enact the bill.
The Global Climate Strike on March 15 is their latest project. "This is an international event happening this Friday. Youth from all over the world are walking out or skipping school altogether to show support for this issue," Clark said.
The march originated in Sweden and was created by Greta Thunberg, a teenage political activist. She started a strike on her own, camping out in front of the Swedish parliament building, and has since gained a mass following, inspiring more than 1300 marches in over 100 countries. It all culminated in a planned worldwide march on March 15. The Portland march takes place at 11 a.m. at City Hall.
"The demands are that we stay in accordance of the Paris Climate Agreement and keep our average global temperature increase under 1.5 degrees Celsius. We also aim to make the Clean Energy Jobs bill as strong a bill as possible, which is a cap and invest program that environmental organizations are working on right now," Clark said. "We're expecting to have over 1,000 youth come out from every PPS high school, and we hope to see you there."
About the Contributors
Patrick Brown, Sports Editor
I'm Patrick, and I'm a Senior at Cleveland. This is my third year as a reporter on the Clarion. I look forward to writing news and arts stories this year....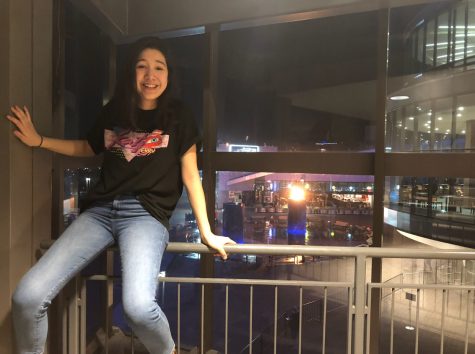 Becca Roso, Digital Editor
I'm Becca Roso, and this is my third year on the Clarion. This year I'll be the digital editor, and I'm currently a Senior here at Cleveland. My favorite...