Boys basketball season ends against Aloha
The Cleveland boys basketball team (14-11, 8-8 PIL) ended its 2015 postseason campaign Feb. 27 in a 71-62 loss against Aloha (9-16, 4-10 Metro) at home in a play-in game for the OSAA 6A playoffs.
Cleveland did not help itself by surrendering a double-digit fourth quarter lead to Lincoln in the regular season finale on Feb. 24. If Cleveland had taken care of business in that game, they would have clinched fourth place in the PIL standings and with that a pass through the play-in games directly to the playoffs.
Nonetheless, the narrow miss of an automatic bid to the playoffs gave Cleveland the number one seed of the play-in round and a preferable matchup with eighth-seed Aloha. For a large majority of the game, the score stayed true to the two teams' rankings, but in the second half, Aloha played its best Lincoln impression by coming back from 12 points down.
"We really played a great three quarters, a great three and a half even, but then lost it at the end," said head coach Don Emry. "We sure did lose a lot of confidence towards the end of the season of our ability to finish games…We weren't able to make free throws down the stretch and guys made a lot of mistakes."
Emry was not kidding when he said the team was playing well throughout the first three quarters. Cleveland was clicking behind a balanced scoring output from its star players. Senior guards Malik Austin and Nick Hull scored 16 and 14 points respectively, while junior Stellan Roberts chipped in 12 points.
While Aloha hung with Cleveland the first three quarters and got close to the lead a number of times, Cleveland seemed to be in complete control. When the Warriors' home team went up 12 with 5:30 left in the third period, that control reached a peak. But only three minutes later, that firm grip vanished.
With the score 50-42, a technical foul called on Austin after the team had a regular two-shot foul called on them gave Aloha four consecutive free throws. Momentum had shifted.
Then in the fourth quarter, Aloha continued to inch closer to the lead before they finally surpassed Cleveland with under three minutes left. Aloha did much of their damage behind the star play of senior 6' 8'' center Steven Boswell, who dropped 36 on the game. "We kinda played, just played slow. And I think we took for granted that we had the lead, and then we just kinda let it slip away," said senior Danny Carr.
After Aloha took the lead, Cleveland went cold, and Aloha capitalized on their free throw opportunities ballooning Aloha's win to a bigger-than-it-appeared nine point margin.
The loss put a close to a Warrior basketball season earlier than expected after the potential this team showcased and the stretches of brilliance they had throughout the season. The team tied the school record for the most single-season wins in the seven years coach Emry has been at the reigns, and notched impressive wins at Reynolds and Lincoln, while playing tough fourth-ranked Jefferson  at home. "We could have done a lot better…It sucks that it ended the way it did, but [these seniors] were a really good group of guys, and I'm glad I got to play with them," assessed Carr.
The way that this year's team and group of seniors were able to compete with any team in the state has definitely progressed the Cleveland basketball program forward. The results may not have panned out the way the team wanted them to this year, but the program is now in position to make things happen in March.
Leave a Comment
About the Contributor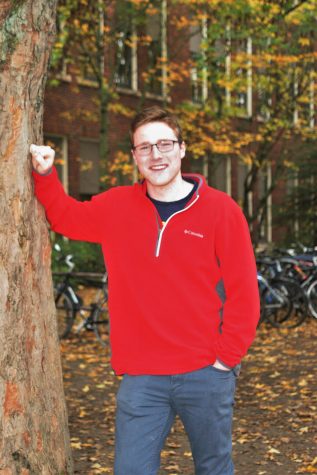 Conor Bergin, Editor-in-Chief
Position within Newspaper: Editor-in-Chief

Graduation year: Class of 2017

Favorite thing to do: Hang out with my brothers

Favorite book: Harry...