A Month in Movies: Winter 2020 Edition
Knives Out – Knives Out is a modernized and re-energized version of the long-past dead genre of the murder mystery. It's perfect blend of comedy and intrigue makes for a hilarious, shocking, and sometimes even heartfelt experience in the cinema. It's elaborate and detailed set design is not only visually pleasing, but sets the quirky yet sophisticated tone of the film in just its opening titles.
Though the entire cast is made up of top-billed actors such as Jamie Lee Curtis and Chris Evans, the main focus is on somewhat new-comer Ana de Armas and supporting actor, Daniel Craig. Ana de Armas is a great underdog protagonist, bringing an innocent light to a film mostly made up of devious and sinister characters. Daniel Craig is equally as likeable as a Southern detective with a near comic accent and a wit quicker than Sherlock Holmes. The rest of the cast get their moments to shine, but they never level up to anything more than side characters.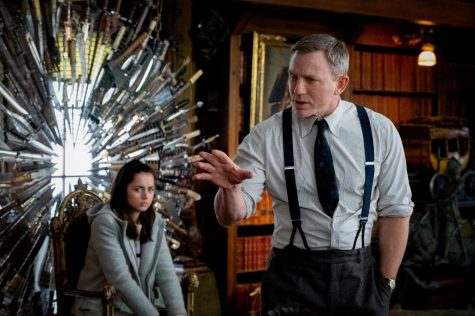 The film plays out differently than most mystery flicks, having big reveals in just the first act, but instead of losing steam because of it, the writers use these big reveals to elevate the tension and drama of the next two acts. The stakes that face the characters are never overshadowed by the humor of the film and are taken seriously when they need to be. The picture also has just enough political commentary as to not bash you over the head with it, but to enforce a powerful message about class systems and ignorance. 
Knives Out is the perfect film for the holidays . Instead of projecting the illusion that family reunions are loving and warm occasions, the film wears the truth on its sleeve, forcing you to watch a cold, backstabbing family attempt to solve the murder of their eldest relative. A cynical delight from beginning to end, Knives Out is sure to please anyone looking for a smart mystery with a touch of humour.  
Uncut Gems – Comedian Adam Sandler does not have the best track record when it comes to his cinematic catalog. Though he has shown he can be a great actor with his performances in films like Punch-Drunk Love, Sandler is better known for his comedic wrecks like Jack and Jill. Among the failures on his list of film appearances, Sandler's most recent performance in the film Uncut Gems stands out as his best. 
Uncut Gems is the sixth film of the Sadfie Brothers, who had critical success with their last film Good Time. The directing duo evolve their craft in their most recent feature, using a larger budget and a bigger cast to create a film that bursts at the seams with anxiety. Every moment is perfectly crafted to tense every nerve and muscle in the body. The cross between the shaky handheld camerawork and overlapping sound layers mirrors the chaotic events that play out on screen and produces a stomach-turning emotion that feels just right for a movie like this.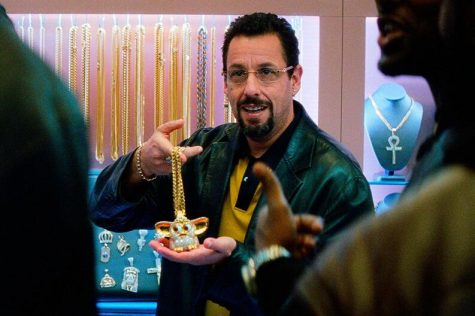 Sandler thrives in the dramatic role of Howard Ratner, a jeweler and obsessive gambler who lets his risk-taking ways put him in extremely difficult situations. Much like the Safdie Brothers previous film, the main character is not much of an admirable hero. He often takes risks for his own personal gain that put the people around him in danger as well as himself. Despite this, Sandler is still a character that you want to root for. He is able to bring so much charisma and charm to the role with his dramatic as well as comedic acting abilities. The Safdies allow Sandler to express vulnerability in the film, which makes his character even more believable. There is a powerful scene in the film with Julia Fox's character where Howard finally breaks down from stress and starts crying over the situation he's in. This scene is very impactful as you rarely see Howard not on top of things. The audience perception of Howard changes once this scene occurs.
Adam Sandler isn't the only gem that shines in the movie. Actors like Eric Bogosian, Idina Menzel, Lakeith Stanfield and even retired NBA player Kevin Garnett all are great in their respective  roles. But the real standout is Julia Fox as Howard's business assistant and comforting friend. At first she feels like she only exists to support Howie, but she quickly is transformed into her own character with a different set of morals than Howard. Her performance is especially admirable as she's able to keep up with all her big-league co-stars.
Uncut Gems is best enjoyed when you know little going in. The whole film builds up to an ending that's incredibly satisfying giving the audience a lot to think about after the credits roll. Uncut Gems is a stressful, devastating, and touching experience worth seeing on the big screen.
Cats–  The 2010s have delivered moviegoers with some of the most expensive dumpster fires in history. Some examples include The Emoji Movie, Suicide Squad, and most recently Cats. But what separates Cats from the previous examples is that it holds value. Yes, Cats is good, or at the very least enjoyable, and deserves to be seen by the masses.
Once the frightening trailer dropped for Cats, many questions surfaced about the plot. Why are humanoid cats singing? What's the story? What's the meaning of life? Cats answers only two of these within its runtime so for context here's a summary of plot: Cats follows the cult of jellicle cats where they compete in a singing competition, trying to prove to this world's God that they are worthy to go to the cat heaven to be reincarnated for a better life. So essentially for 119 minutes cats sing and dance about how depressed they are non-stop. This breakneck pace of the movie adds to the surrealness, never giving the viewer an opportunity to digest what's happening. 
The main reason Cats is so watchable is because it's indescribable. Without doubt, weirder than anything else I've seen in theatres. The talent behind the movie is insane. You have Taylor Swift, Jason Derulo, Idris Elba, Academy Award winner Tom Hooper, and hundreds of professional dancers in catsuits so it's a bit shocking that THIS was the result. One thing is for sure, the filmmakers were more than aware of the type of movie they were making. They did not hold back when making Cats insane.
Just some examples off the top of my head would be when the Taylor Swift cat drugs everyone with catnip and they all begin to vibrate uncontrollably. An even better example is just 15 minutes in where the "Old Gumbie Cat" eats humanoid cockroaches off the bottom of her table. These moments are consistent throughout the entire film, diminishing any dry moments the film may have.
Probably the only genuinely good thing about this is the music. So many songs go hard such as "Jellicle Songs for Jellicle Cats" and "Mr. Mistofelees." It's especially commendable to make musical number after musical number not boring. Yes, the nightmarish visuals do assist with this but the music stands on its own. The songs are catchy, fun, and switch it up when you're just about done with the song. However, the movie is at its most boring when a slow song is happening. I don't think anyone needed to hear "Gus: The Theatre Cat" slowly sing about his boring life. Thankfully these slogs are far and few between, keeping Cats fast and entertaining.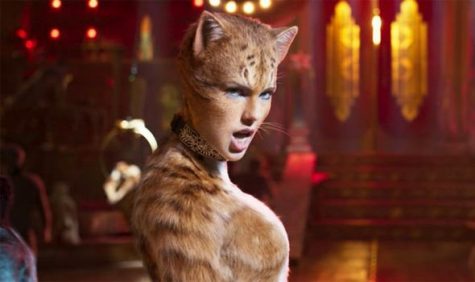 Despite the devastating first impressions from its trailer, Cats is a one of a kind experience that shouldn't be missed. As ironic as this sounds, Cats gets a strong recommendation, especially if you plan to see it with friends. If you're on the edge to see this for whatever reason, take a leap of faith and enjoy the trip.