Interim Principal Paul Cook settles in to his old post
Leo Lawyer shocked the school by announcing his sudden resignation during a staff meeting held before school on Feb. 12. Shortly afterward, he sent out an Email addressed to the Cleveland community stating "… this decision is the right one for my family and me at this time."
But that Cleveland community is what drew a former principal back to the school. Paul Cook, who previously served as Cleveland's principal for 13 years, has taken the principal's chair during the ongoing search for a permanent replacement. And he couldn't be happier to be back.
Cook grew up in Southeast Portland, graduating from Marshall High School in the late 1970s. Marshall was also where he began his career in education, teaching for 12 years before being promoted to the position of vice principal. He first transferred to Cleveland as a vice principal before beginning his 13-year tenure as the school's principal a year later.
During his time at Cleveland, he implemented many programs we now take for granted. Chief among these was the Field Project, which still impacts the Cleveland community today through the high quality turf field that is enjoyed by many athletes and non-athletes alike. Cook and the community raised over a million dollars for lights, the turf, and the track. All of the money was raised by the community. The alumni, staff and even students contributed. 
"It really brought the community together and we have a great venue now,"  Cook said.
After the efforts by the Cleveland community, PPS launched a district-wide Fields Project because, as Cook tells it, "They said no principal should have to take the lead on raising money for the track."
It made him realize how much this community gives back, and he says that is the reason he's returned to Cleveland, to give back. He plans to retire for good after this interim period. 
The Foundation, Freshmen academies, and the Chinese Immersion Program were also established under Cook's oversight. He is quick to say that it was not him acting alone, but the faculty, students and alumni who were also instrumental in bringing these influential changes to our school.
Cook says that coming back to Cleveland he still sees a "strong and vibrant" community that has welcomed him back with open arms.
Steve Nims, a history teacher who taught at Cleveland during Cook's first run as principal, said, "This is my 30th year teaching and Paul Cook is amongst the top two or three, if not the best principal I've ever had." Nims added, "He inspires confidence, and I think he brings out the best in people."
About the Writer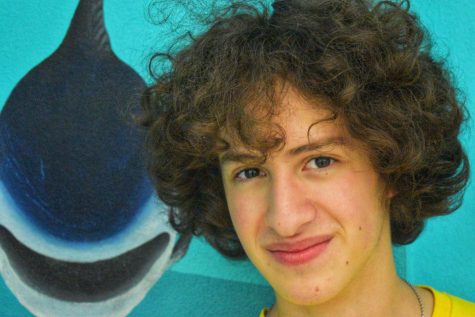 Nate Davis, Photographer / Videographer
Hi my name is Nate Davis, this is my first year on The Clarion. This year I'll be working on photo essays and producing Grover in The Evening!